KAMAZ is the pride of the domestic auto industry. Cars of this brand not only surpass foreign counterparts in terms of their technical characteristics, but also cost an order of magnitude cheaper. Relatively recently, a new medium-duty dump truck has appeared that meets modern environmental requirements. It is on him that you should pay attention, to analyze in detail the technical characteristics of KamAZ-43255. In this article, this car is discussed in more detail.
Urban Dump Truck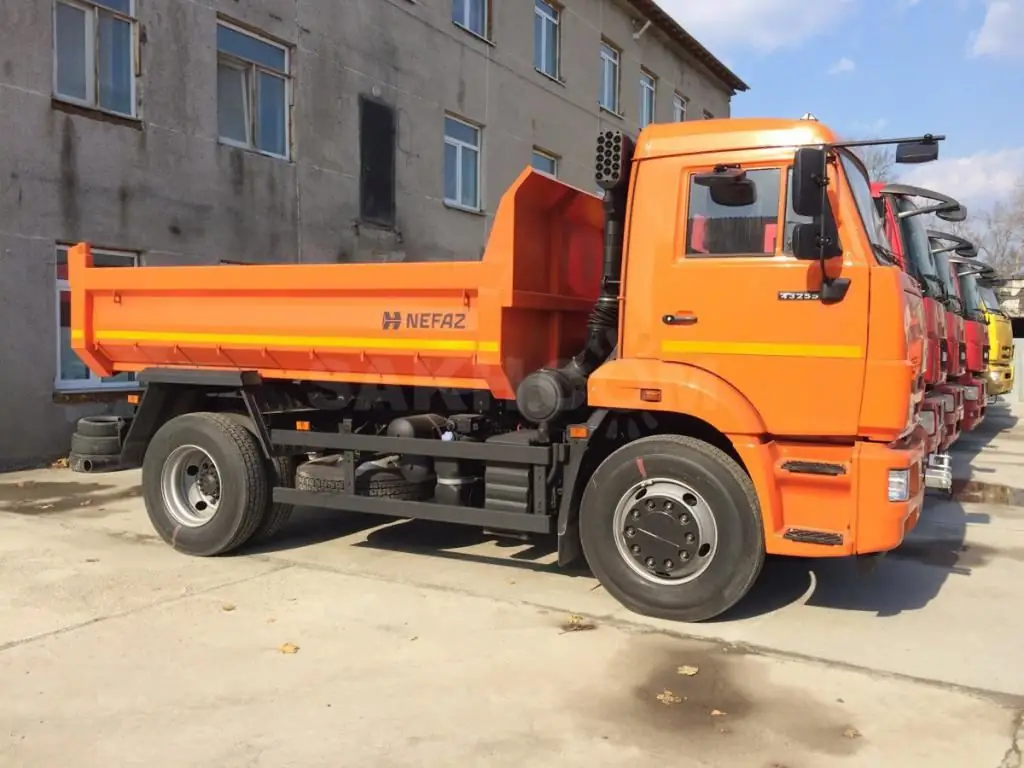 Technical characteristics of KAMAZ-43255 allow us to call this model urban. This medium duty vehicle is one of the most compact and agile trucks in its class. The dump truck received a 4x2 wheel arrangement, which is based on a model with an index of 43253. Itsthe main purpose is the transportation of industrial, bulk and bulk cargo.
Technical characteristics of KAMAZ-43255 make the dump truck universal, because its base can be upgraded for various special equipment, for example, utility vehicles. In comparison with model 43253, the operational resource has significantly increased, which, in turn, was reflected in the service interval. This only says one thing - the car has become more reliable.
The next thing you immediately pay attention to when analyzing the technical characteristics of KamAZ-43255 is fuel consumption. It has dropped significantly. According to the designers, the dump truck became more economical by 10%, and this did not affect its carrying capacity, which, on the contrary, increased by 8%. In summer, a car consumes 22 liters of diesel fuel for every hundred kilometers. In winter, the consumption rate is 24 and a half liters.
Body and engine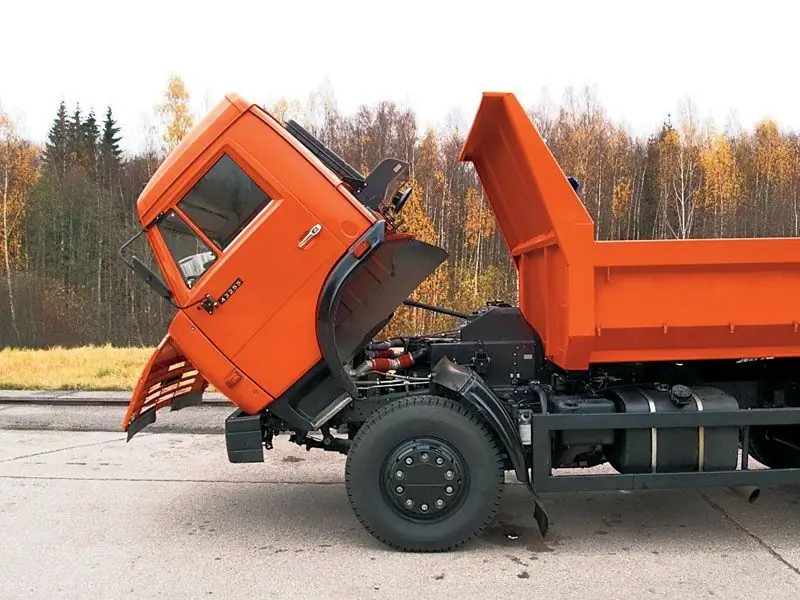 KamAZ-43255 is a two-axle dump truck equipped with an all-metal cargo platform with a volume of 6 cubic meters. m., with a hydraulic lifting mechanism that can be operated directly from the cab. It is worth noting that the cabin has become more spacious and comfortable. Most drivers note that it has become more convenient to work on a dump truck and, first of all, they highlight the well-thought-out location, as well as the design of the gear lever.
This is far from the last cardinal change in the cabin of a medium-duty dump truck. Serious improvements touched the dashboard, which was covered with safety plastic.All devices are turned to the driver at a special angle, which makes it easy to read them even in direct sunlight. The control panel, on which the switches are located, is located to the right of the driver and is deployed towards him. Now you do not need to reach out to, for example, turn on the supply of warm air to the cab.
The next thing you pay attention to when getting acquainted with the technical characteristics of KamAZ-43255 is the engine. This model is equipped with a Cummins turbocharged 6-cylinder diesel engine that meets Euro 3 environmental standards. The volume is 6700 cm3, and the power is 208 liters. With. Engine cooling - intermediate, supercharging.
Technical characteristics KamAZ-43255: control
Despite the fact that this is a real dump truck with a carrying capacity of 7 tons, it is a pleasure to drive it. The vast majority of drivers note the good work of the hydraulic booster, as well as the comfortable steering wheel, which has a rim balanced in thickness and an acceptable diameter. The car boasts relatively small dimensions, which greatly affects its maneuverability.
Technical characteristics of KAMAZ-43255 a3 allow the use of a dump truck not only in construction or agriculture, but also in other areas, for example, in utilities. It can easily move both on public roads and on yards, country roads.
General Features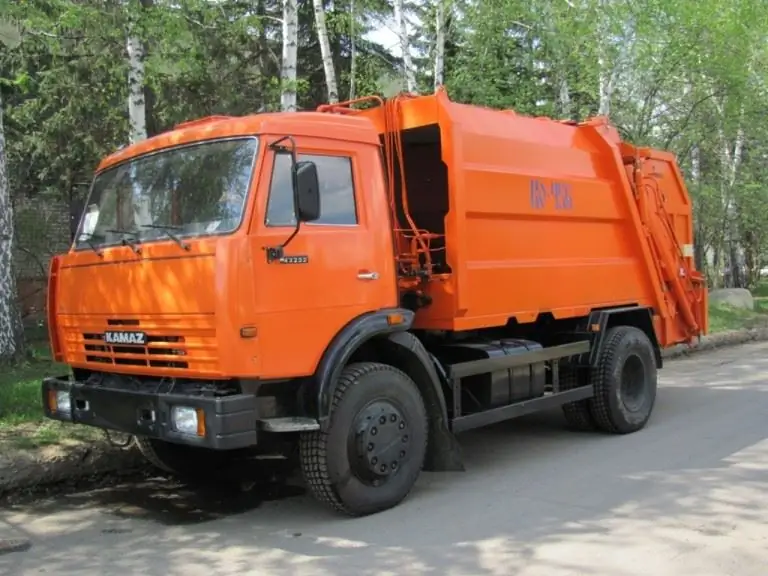 Dry specificationsdump truck KAMAZ-43255 are as follows:
Maximum load capacity - 7 t.
Gross weight – 14.9 t.
Curb weight – 7.07 t.
Wheel formula - 4x2.
Length - 6.09 m.
Width - 2.5 m.
Height - 2.92 m.
Wheelbase - 3.5 m.
Engine - Cummins 6lSBe210.
Volume - 6700 cm3.
Type - diesel.
Number of cylinders – 6.
Environmental standard - Euro 3.
Power - 208 hp s.
Pros and cons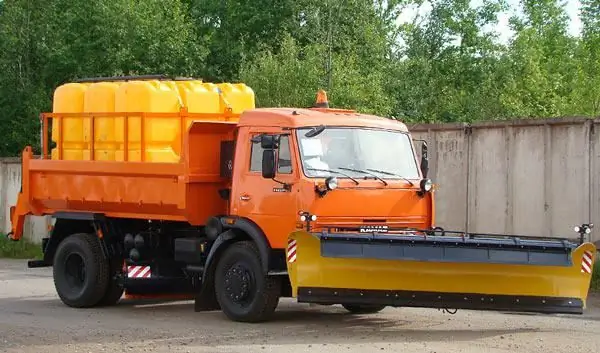 Among the main advantages of the new model are ease of control, maneuverability of the dump truck and ergonomics of the driver's workplace. All this greatly increases the efficiency of a cargo vehicle. It is impossible not to pay attention to its cost, which is several times lower than foreign analogues.
If we talk about the disadvantages of this model, we can note the low cross-country ability on soft soils, off-road, as well as weak acceleration dynamics.
Popular topic