Progress does not stand still, so the use of LED lamps for car headlights is no longer a curiosity in our time. Due to their bright light and low power consumption, which is about 10 times less than incandescent lamps, such devices are increasingly being installed in car headlights. It is this topic that the article will be devoted to. We will talk about the advantages and disadvantages of this technology, about the varieties of LED lamps and, most importantly, about the legality of self-installing lamps of this kind in the standard optics of a car.
LED in car headlights
Modern cars are equipped with more than fifty different lamps and LEDs, but headlights play an important role, of course. They consist of the main parts, such as a body, a reflector, a diffuser and a light source itself. At this time, there are also incandescent lamps, gas discharge lamps and xenon lamps. Xenon is not inferior to the brightness lighting option we are considering, but in the price category everything isotherwise.
LED lamps for car headlights were the first to be installed by Audi.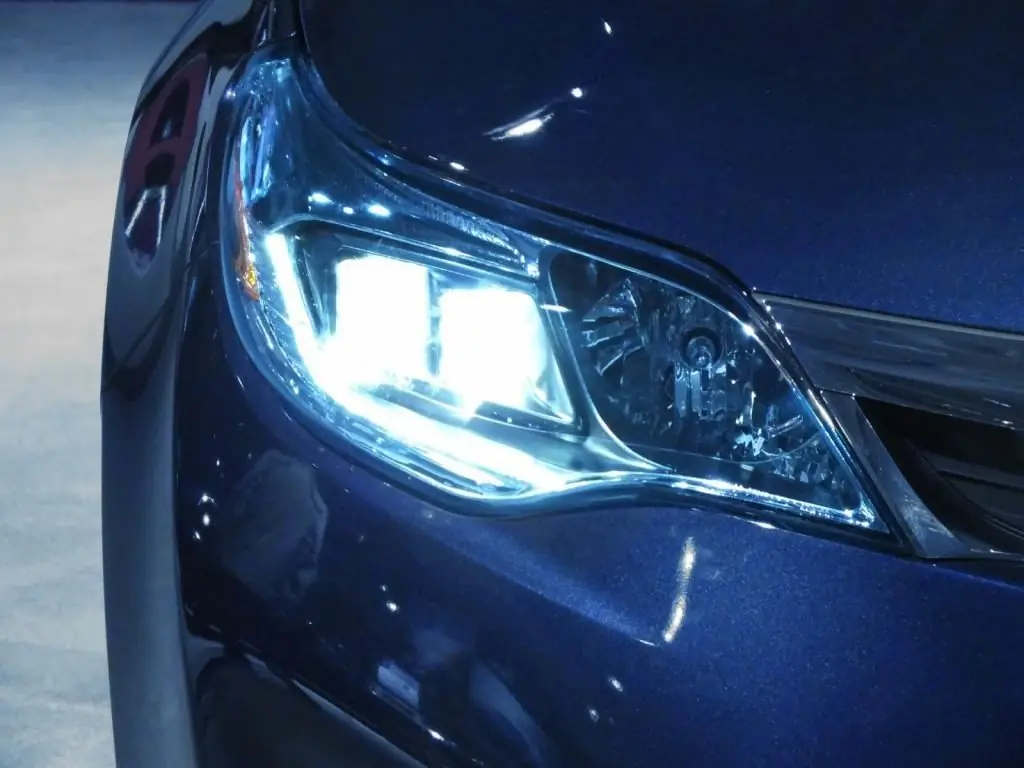 Advantages and disadvantages of LED lamps for car headlights
Long operating mode, perhaps, is one of the main advantages of LED lamps. In the declared characteristics, it reaches 50,000 hours. And if the lamp is never turned off, it will shine with the same brightness for five years. An important plus of such lamps is that they are not afraid of vibrations, they do not have filaments and inert gas.
Also, LED lamps do not heat up as much as incandescent lamps, respectively, the plastic elements of the headlight will not become unusable with a long service life. They are eco-friendly and fireproof.
Like any other, LED-lamps also have their drawbacks, which at least include their cost. Despite this, every year the price for them is gradually falling, and the quality and power are growing. There is another small drawback - this is the fear of high temperatures, but this does not apply to insulating designs. Manufacturers of LED lamps are often silent about the degradation of the crystal, which, in turn, loses its original brightness after some time. From year to year, it falls and is lost at least 30% of the original.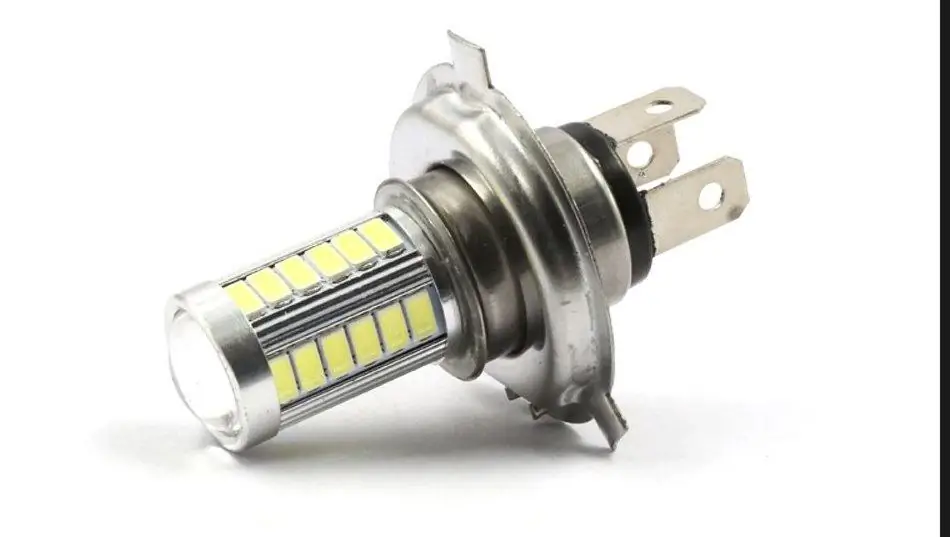 LED headlights with H4 base
The design feature of H4 LED lamps for car headlights is that two powerful LEDs are combined in one lamp. Diode dippedthe light is located at the top, and the far diode, respectively, at the bottom.
Most cars are factory equipped with headlights for spiral filament bulbs, so when choosing LED headlight bulbs, you need to take this into account and pay attention to the size of the diode. It should be no larger than the size of the lamp filament.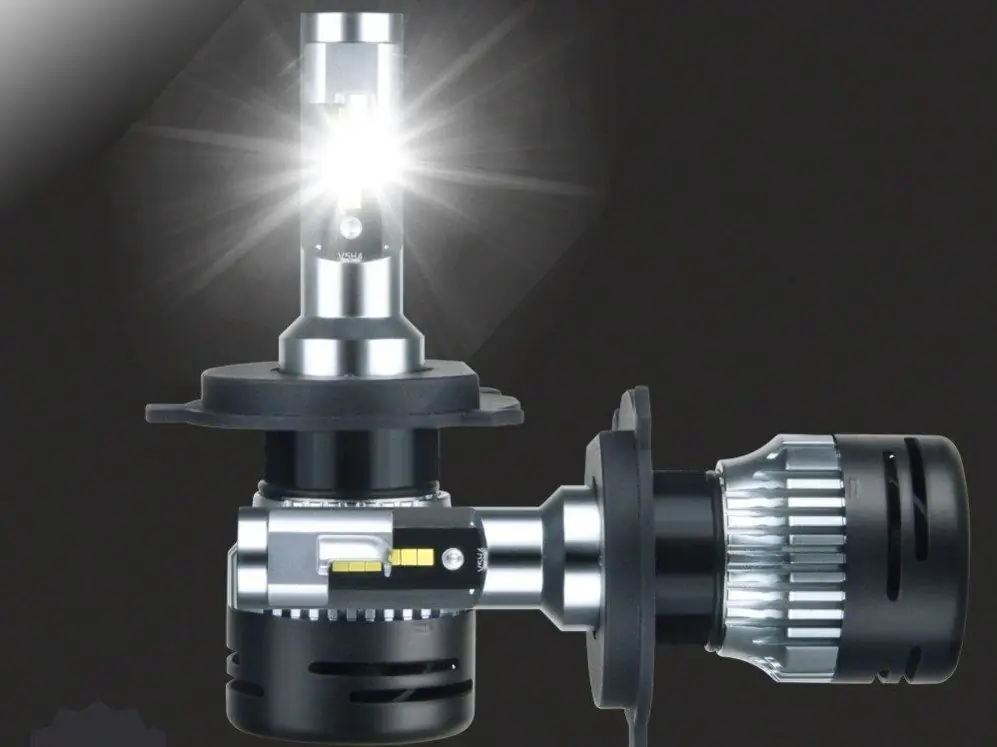 At present, the widest selection of LED headlight bulbs for H4 car headlights is offered on the Internet. Their price category can range from one thousand rubles and above. Often, Chinese manufacturers overestimate their characteristics for better sales. A cheap diode rectifier is installed in the lamps, and not a high-quality driver, like branded and expensive LEDs. Therefore, when choosing an LED lamp for car headlights, reviews about them play a key role. It's simple, for which products they are positive, that one is worth taking. Of course, the price for them will be slightly higher than their counterparts, but they are of better quality.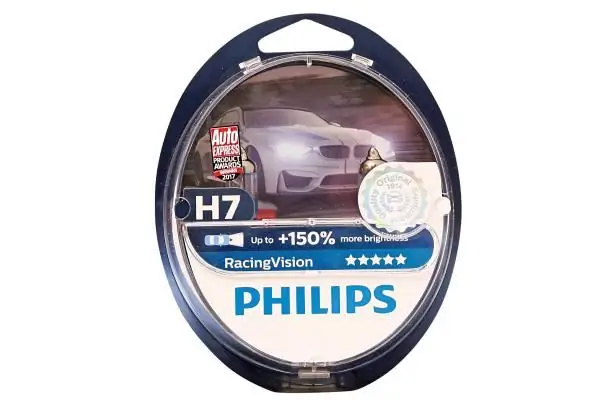 LED H7
LEDs are gradually replacing gas discharge lamps, so over time, it is possible that optics will only be produced with LED lamps and newer technologies, such as laser options. But the time has not yet come to that, and people change the head light of their car on their own. LED lamps for H7 car headlights are installed in standard optics. In terms of popularity, H7 lamps are second only to H4 lamps. Install them for low beam. The difference between the former is that they are structurally easier to manufacture than lamps.with H4 base.
KOITO
There are famous LED lamps for car headlights "KOITO". They have proven themselves since the fall of 2016. The LEDs of this brand are of high quality, provide excellent illumination of the roadway at night, which allows you to move safely.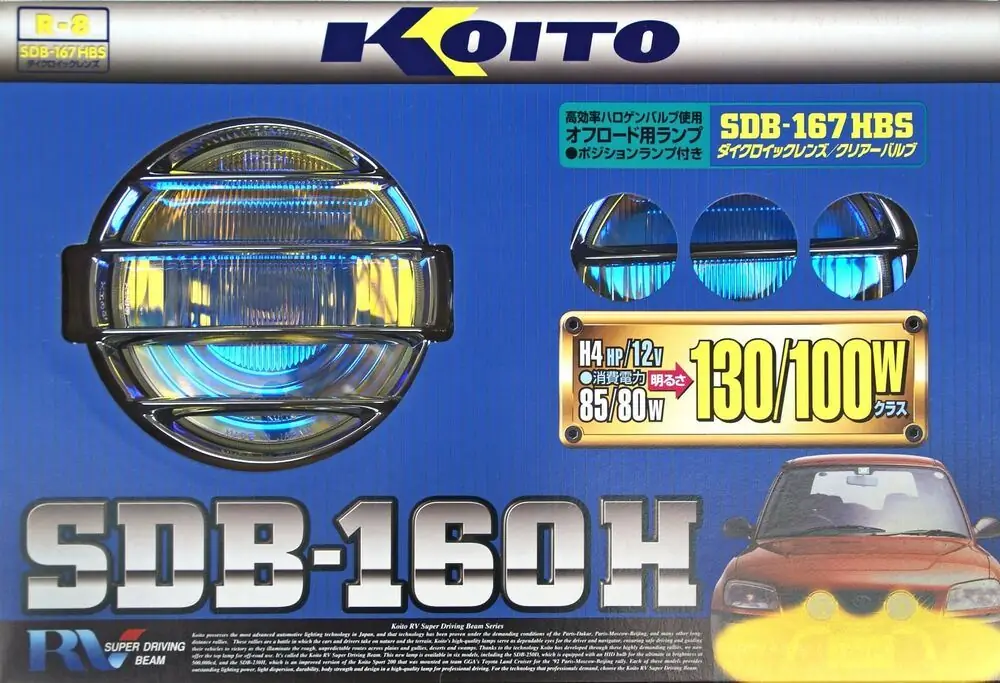 The Japanese company, like other companies, also manufactures additional LED lamps that are installed for interior lighting, turn signal repeaters, room lighting, luggage compartment, fog lights. For the latter, KOITO manufactures special lamps of the Ultimate series. They comply with technical regulations and standards. The advantage of these lamps is their long service life, which reaches 10 years, as well as their brightness and good illumination of the road. You can choose LED-lamps with a yellow luminous flux, with which no fog is terrible. The company gives a year warranty for these lamps.
The legality of self-installation of LED in standard optics
The design of the standard headlight is designed for an incandescent lamp, so the installation of LEDs often does not bring the desired result. In addition, they blind oncoming drivers. This affects the safety of movement.
There is a technical regulation that refers to the labeling of dipped and high beam lamps. And the discrepancy between the marking and standard lighting is its violation. Even if the LED base is identical to the halogen lamp. The requirements of the regulation includethe color of the lights, which should be white. LEDs in most cases have a luminous flux exceeding 2,000 lumens, and this again is a violation of the regulations. It is not so easy to identify an LED in a standard headlight, unlike xenon. This can be explained by the fact that the latter has an ignition unit located under the hood of the car. On the road, such checks are extremely rare, and LEDs can be quickly replaced with conventional halogen lamps before inspection.
In order to legally use LED-lamps in your car, you must install a special headlight entirely. Of course, it will not be possible to find them for every car, because they are not provided by the manufacturer. Among all modern lamps at this time, factory diode light is one of the most expensive.
Reviews
Reviews of LED lamps are mostly positive, all buyers note the efficiency of their work and, importantly, a long service life, unlike standard lamps. Perhaps the only drawback is the high price. However, even here one can argue, since a cheap lamp will last less. So in the end, LED-lamps fully justify themselves.
Recommended: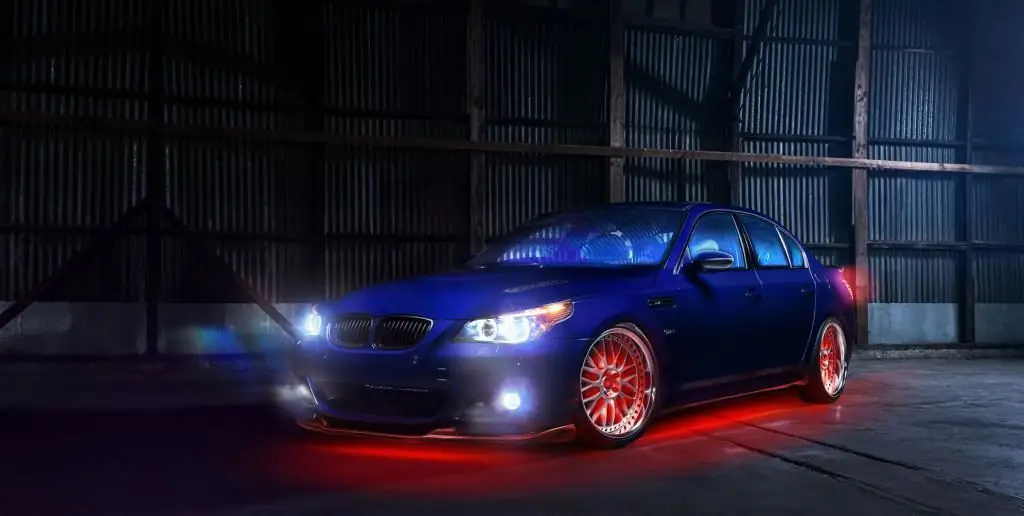 The modern world implies the same advanced technologies. Not so long ago, car manufacturers didn't even think about the type of bulbs they put in the headlights of cars that rolled off the assembly line. But time went forward, new technologies appeared that did not bypass the lamps. If twenty or thirty years ago no one knew an alternative to halogen lamps in car headlights, today this is no longer the case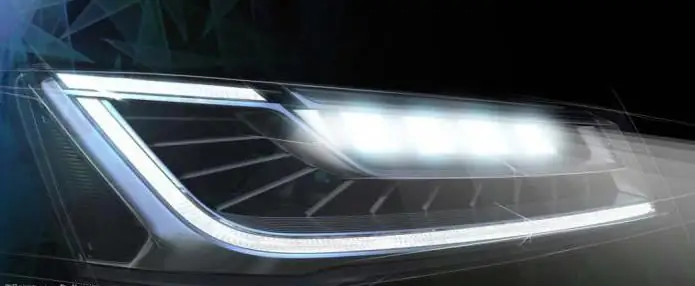 Today, diode lighting devices are very popular. This is due to their special qualities during operation. Can LED bulbs be installed in headlights? Consider in the article
Today, many people or families have enough road transport. To ensure maximum safety, the driver needs excellent visibility of the situation on the road. To do this, you should take care of good lighting. Gas-filled lamps for cars, LED or halogen, which ones are suitable, and how do they differ?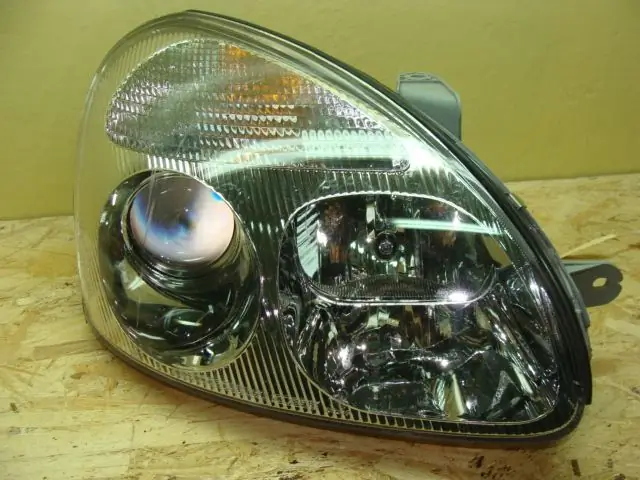 Not every car is equipped with good optics, which allows the driver to feel confident on the night road. Owners of inexpensive brands independently modify the headlights, making them more modern and bright. Lenses are excellent for these purposes, especially since the installation of a lens in headlights is available to everyone
Fogting headlights is a fairly common problem that drivers and owners of a wide variety of vehicles often face. At first glance, this defect does not seem so critical, and its elimination is often shelved. But all the insidiousness of this problem lies precisely in the fact that it manifests itself most clearly at the most inopportune moment