For exactly 6 years, the Taganrog Automobile Plant has been mass-producing budget off-road vehicles "TagAz Tiger". As a basis, Russian designers took the platform of the Korean Ssang Yong Korando car. Despite the fact that the novelty has more than half of reliable Korean spare parts in its design, it has not received much popularity in Russia.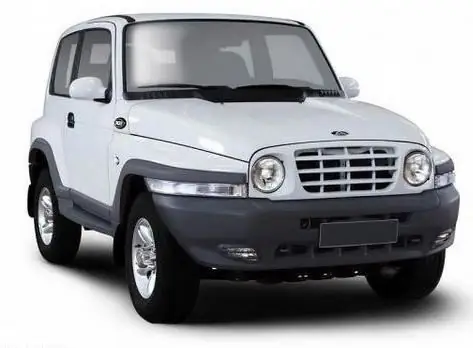 Design
Tiger cars have a very interesting appearance. Such an SUV will clearly attract the attention of the public and will not get lost in the gray mass of other cars. In the front there is a massive bumper with integrated triangular foglights. Above it, the radiator grill was successfully located. On the sides are round headlights and wide turn signals. However, along with their unusualness, Tiger cars are very outdated in appearance. This design was popular in the 1970s (remember the Jeep Wrangler, does it remind you of anything?), with the exception of plastic body kits and roof rails.
In profile cars"Tiger" with its compactness resemble more a hatchback. Moreover, the trunk of the novelty has the smallest volume - 350 liters. This is even less than some hatchbacks. Not a single SUV and crossover can boast of such "capacity".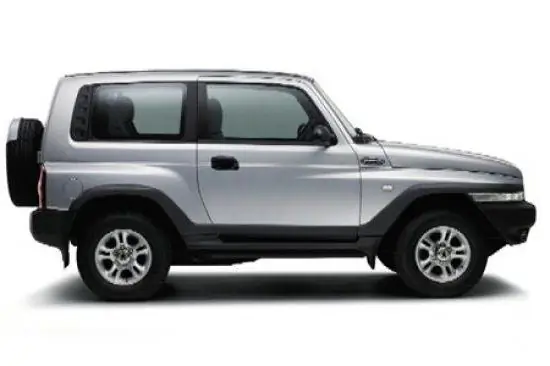 Specifications
It should be noted that Tiger cars are produced in several body variations, each of which is equipped with its own line of engines. So, five-door SUVs are equipped with a gasoline engine with a capacity of 150 horsepower and a displacement of 2.3 liters. Three-door modifications are equipped with two diesel units. Among them are power plants with a volume of 2.6 and 2.9 liters and a capacity of 104 and 120 horsepower, respectively. Three-door Tiger cars can also be equipped with a 150 and 220 horsepower gasoline engine. As for transmissions, the buyer has no choice but a mechanical "five-speed". The exception is AT5 modifications. They are equipped with a 4-band "automatic".
"Tiger"-car: price and equipment
The cost of a Russian SUV directly depends on the configuration. This way:
"Tiger", a car in the basic version of MT1, costs about 470 thousand rubles.
MT2 equipment costs from 626 thousand rubles, depending on the equipment.
MT8 – from 680 thousand rubles.

tiger car price
It is worth noting that all configurations are equipped with disc brakes (front - ventilated, rear - with a mechanismparking brake), anti-lock braking system (ABS), 3-point adjustable seat belts and hydraulic power steering.
Good news for motorists will be a variety of body colors. In total, the buyer can choose one of 6 color options. The domestic SUV "TagAz Tiger" is offered in white, beige, silver, black, dark blue and dark red.
Conclusion
Given the cost and level of technical equipment, we can say that Tiger cars are a serious competitor for Chevrolet Niva, but the latter for some reason remains more popular on the Russian market.
Popular topic