Motor vehicles of the Russian company Irbis, created taking into account the difficult Russian conditions, have proven their reliability in practice. Combining freedom of movement, dynamism, cross-country ability and unpretentiousness, Irbis scooters were able to gain popularity among motorists not only in Russia, but also in many other countries.
One of the company's most successful models is the Irbis LX 50 scooter, which combines practicality, elegance and excellent cross-country ability. A massive frame and a considerable weight of 100 kilograms do not prevent the model from looking spectacular, attracting attention with its appearance.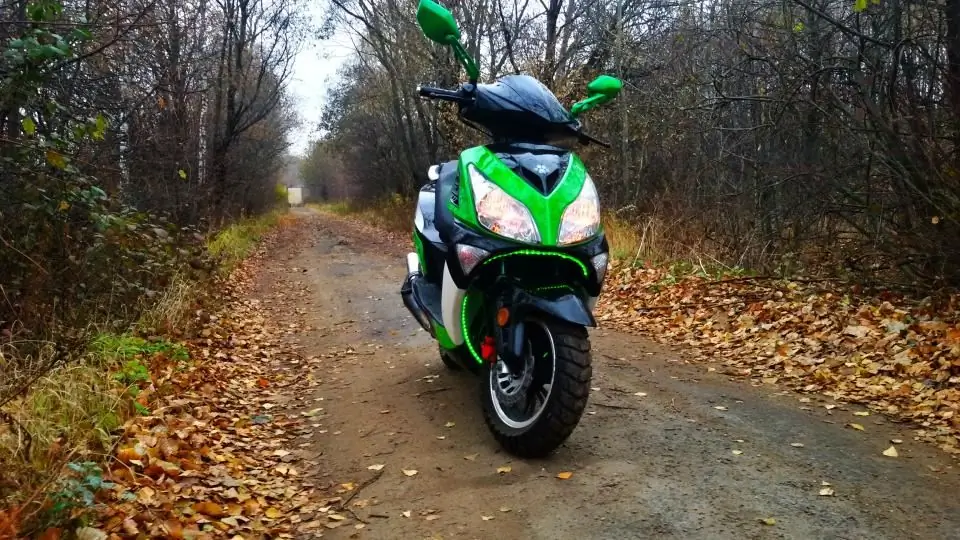 Review Irbis LX 50
The sporty design of the scooter catches the eye at first sight: the resemblance to a sportbike sets the Irbis apart from its competitors. Large front optics is not only a decoration of the model, but also excellent lighting equipment, illuminating the road in the dark. The maximum speed of the scooter is 90 km / h, which is quite good for a motor vehicle of this category. The motorcycle is two-seater, there is an additional seat for a passenger, however, the extra load affectsacceleration dynamics.
Irbis XL 50 is equipped with off-road 12-inch tires, which increases its maneuverability and allows you to move on dirt roads, and a two-stroke carburetor type engine paired with an electronic ignition system.
Since Irbis positions its products as an all-terrain road motorcycle, the engineers equip the scooter with a reinforced suspension, which cannot but rejoice and make you want to try it on a dirt road. Other features of the model include an alarm system, a remote engine start function, aluminum wheels, a tachometer, front disc brakes and a telescopic front fork.
Comfortable landing thanks to the large comfortable seat, which reduces the load on the lumbar region and allows you to comfortably cover long distances on a scooter. The dashboard of the Irbis LX 50 is informative and ergonomic: all instruments are at the driver's fingertips. Due to the fact that the scooter cannot be categorized as a compact motorcycle, you will have to get used to the controls. The braking system is smooth and effective: stopping even at high speed without jerking. Front mounted disc brakes, rear - drum.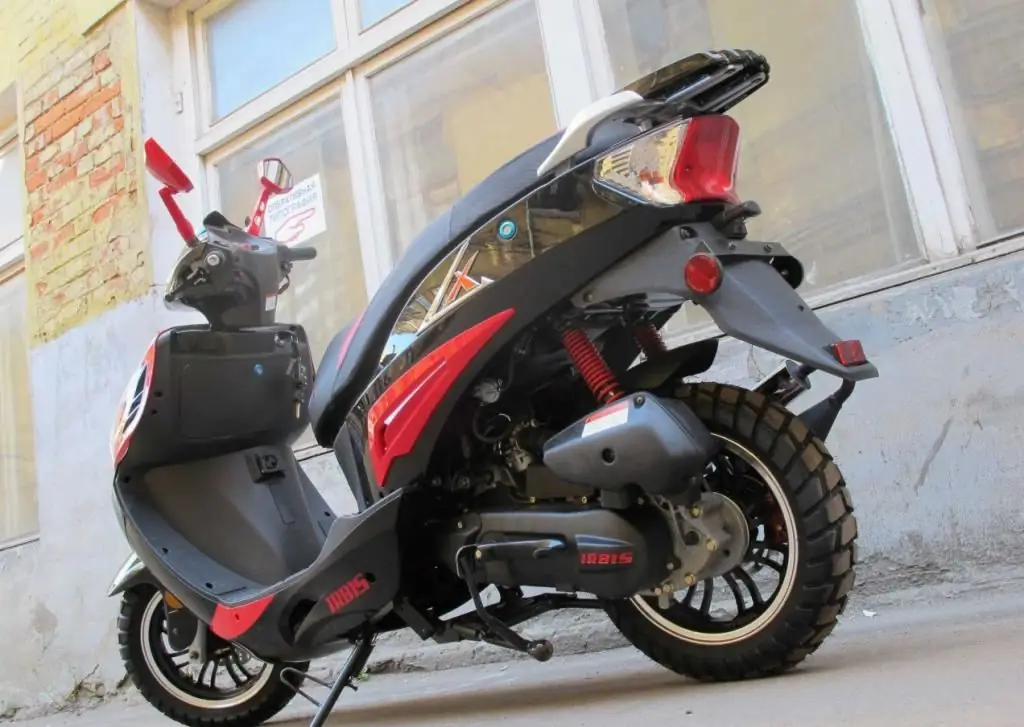 Key Features
Dimensions of the scooter - 1920x690x1145 millimeters.
The volume of the fuel tank is 6 liters.
CVT transmission.
Dry weight - 100 kilograms.
Duro off-road tires.
12-inch aluminum wheelsdiscs.
Warranty - a thousand kilometers or six months from the date of purchase.
Cost
Irbis scooters are distinguished by an affordable price, which is their advantage. The LX 50 model today can be purchased from official dealers and other motorcycle dealerships for 40 thousand rubles, which is an acceptable cost for such a vehicle.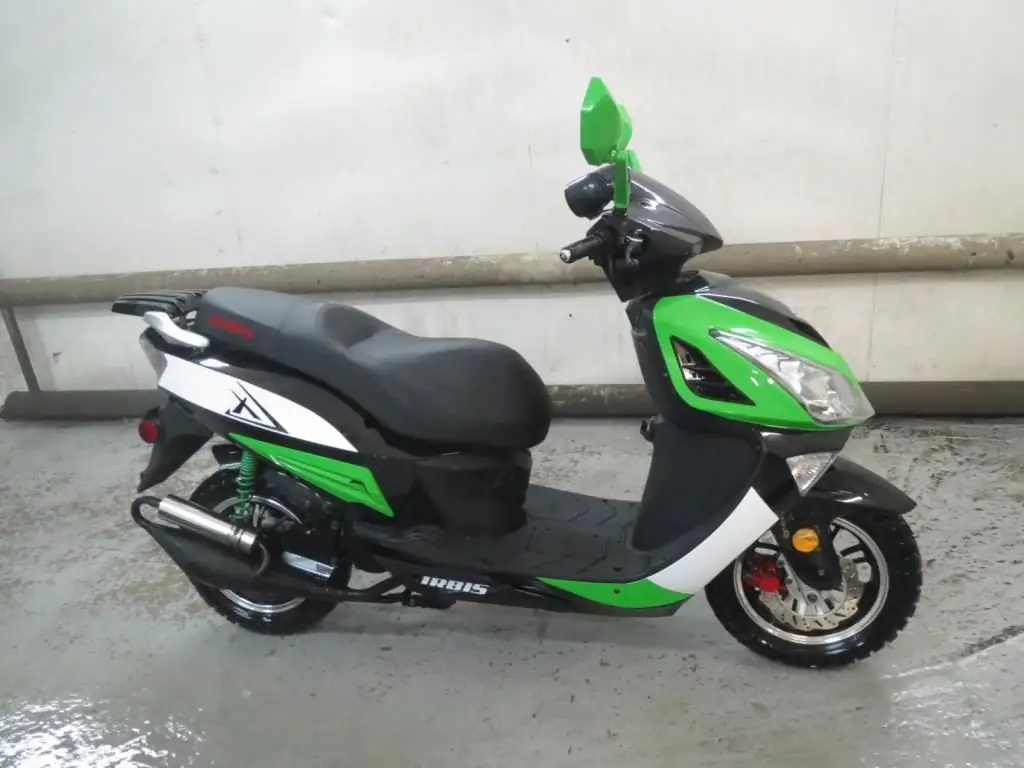 Specifications
The Irbis LX 50 engine with a capacity of 4.7 horsepower is characterized by unpretentious maintenance and ease of repair, low weight and compact dimensions, especially in comparison with four-stroke counterparts. It has good economy, which is a definite advantage.
Six-liter fuel tank allows you to travel long distances without refueling.
Efficient and reliable braking system provides fast braking on any road surface. Disc brakes are installed at the front, drum brakes at the rear. The front discs are not deformed and remain operational even after long trips and heating, they are easy to operate and have a long working life. The placement of the rear drum mechanism ensures that it is protected from dirt and dust.
The front and rear tires are 120/70-12, so you can ride the scooter not only on paved roads, but also on dirt roads.
Road irregularities are softened by two rear shock absorbers;
Integrated alarm system providesthe safety of the scooter and its protection from theft. The remote engine start function allows you to quickly start it, which is appreciated by motorists.
A variator is installed on the Irbis LX 50, which greatly simplifies the control of the scooter and allows you not to worry about switching gears;
Comfortable fit and maneuverability of the moped are guaranteed by its considerable dimensions. The negative side of this is the considerable weight and difficulty with management for the first time after purchase and start of operation.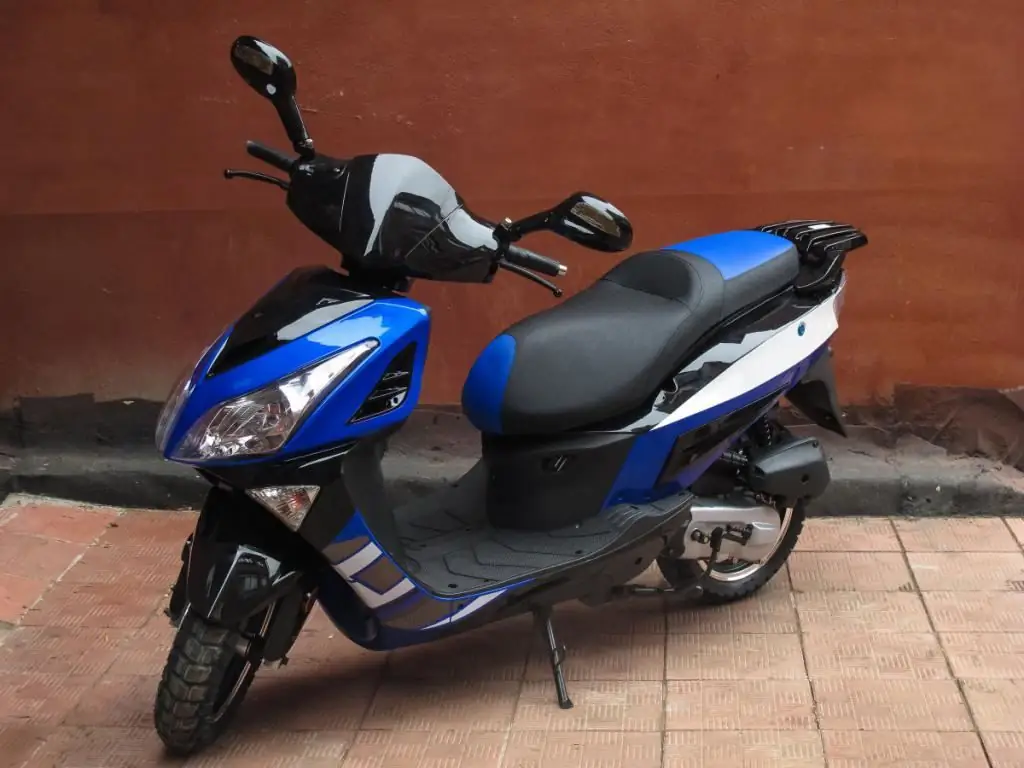 Irbis LX 50 reviews
Motorists consider the main advantage of the Irbis scooter to be its cross-country ability and the ability to operate both within the city and off-road. Engine power is sufficient for fast and maneuverable driving: in a straight line, a moped can be accelerated to 75-80 km / h, provided there is no strong headwind. Quite long distances of several tens of kilometers LX 50 travels confidently, does not overheat and does not have high fuel consumption: on average, 4.5 liters are consumed per 100 kilometers with a full fuel tank of 6 liters.
The gearbox oil needs to be changed every 500 kilometers, the air filter is practically not polluted while driving in the city and does not require special operating and maintenance conditions.
The brake system of the Irbis LX 50, according to the owners, is excellent: the scooter stops quickly and smoothly from any speed and on any road surface, including slippery and wet.
Podriving a moped is incredibly light and comfortable, it easily overcomes dirt roads. The steering wheel does not pull to the side even when overcoming sections of the road with mud.
The seating position is comfortable, additional comfort is provided by a small backrest. Legs during the trip can be both bent and extended. The dashboard and controls are ergonomic and close at hand: tachometer, speedometer, oil and fuel gauges, alarm button.
LX Advantages 50
Effective design.
Built-in alarm system.
Extra passenger seat.
Rich basic equipment.
Duro off-road tires.
Excellent acceleration and top speed.
Reinforced reliable suspension;
Affordable price.
Flaws
Quite high fuel consumption.
Frequent occurrence of minor breakdowns.
Recommended: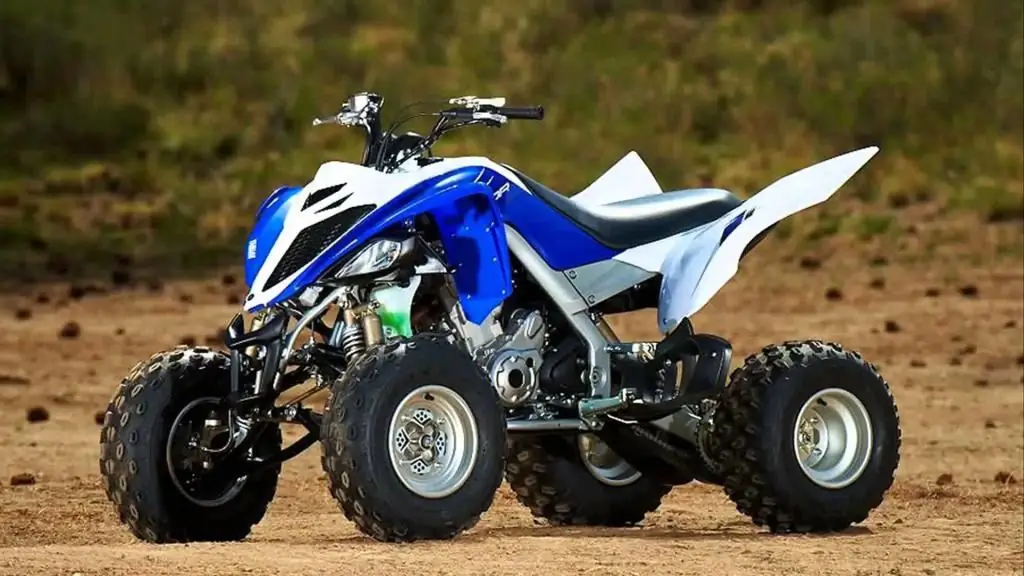 Japanese company Yamaha, specializing in the development and production of motorcycles, is not limited to motorcycles and develops scooters, snowmobiles and ATVs. One of the best ATVs of the Japanese company is the all-terrain vehicle "Yamaha Raptor 700"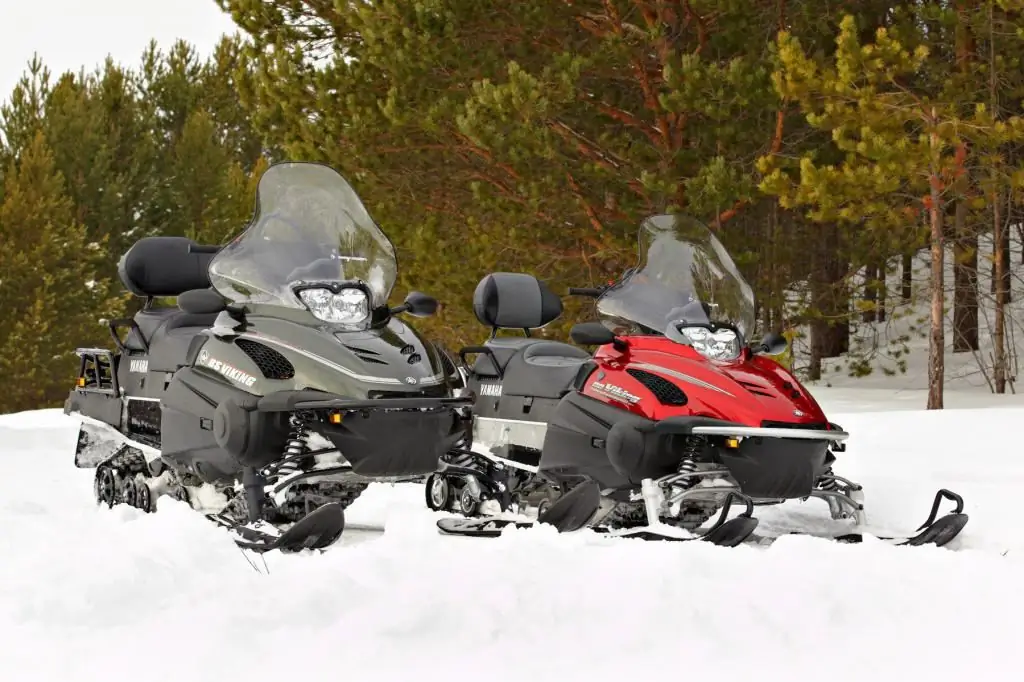 "Yamaha Viking Professional" - a real heavy snowmobile, designed to conquer mountain slopes and snowdrifts. From the curves of the front bumper to the roomy rear luggage compartment, the Yamaha Viking Professional literally speaks of its utility snowmobile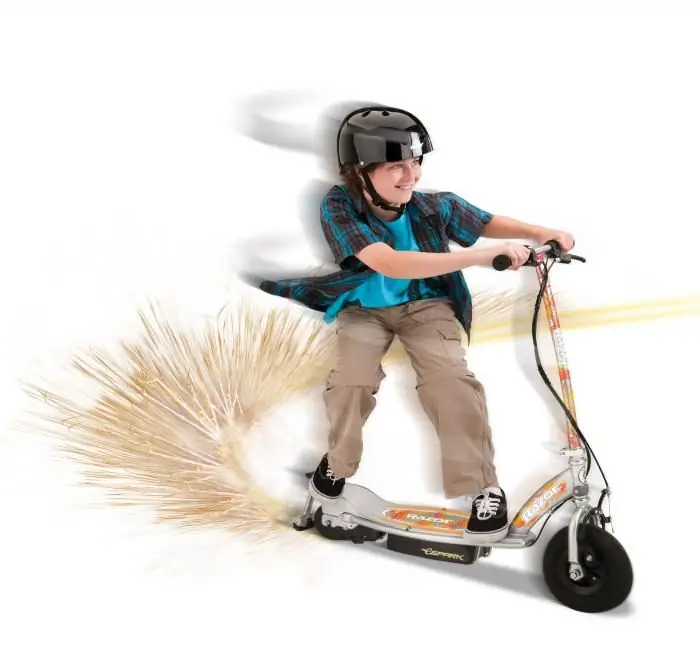 No matter which electric scooter you choose, it will allow you to enjoy relaxing walks in the park or immerse yourself in the world of outdoor activities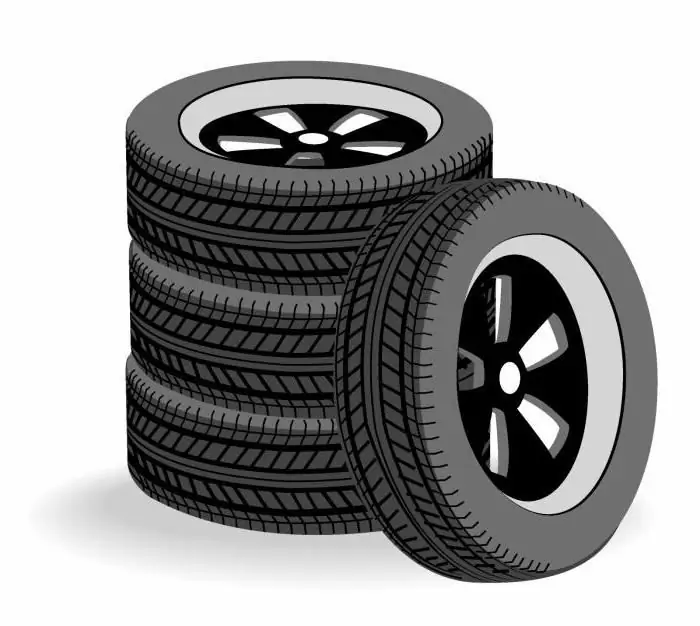 German companies are famous in the automotive industry. They always produce quality products that last a long time. This can be seen if you get acquainted with the cars of BMW, Mercedes-Benz and others. However, quality tires are also produced in Germany. One such manufacturer is Continental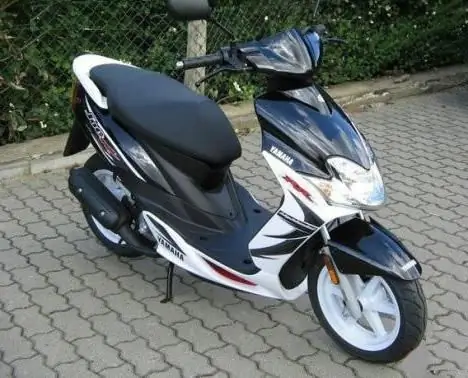 The Yamaha Jog scooter is a model of the Japanese concern "Yamaha" with a pronounced sporty character. Designed for use on city streets. The moped has good maneuverability, sometimes it can be aggressive