It must be said that the Toyota Land Cruiser 80 is so firmly entrenched in the automotive market that its popularity can hardly be overestimated. Since 1988, this car has consistently earned the trust of drivers and by 2014 it has not lost it. Even despite all the financial cataclysms that have occurred in the global economy, the SUV has never lost its leadership in sales. His high performance allowed him to compete even with such a monster as the Range Rover. The developers created this model with an eye on off-road and specifically for the Russian consumer. This idea was fully justified. There are also Cruisers adapted for Arab, European and Chinese consumers, but they are almost never sold in Russia.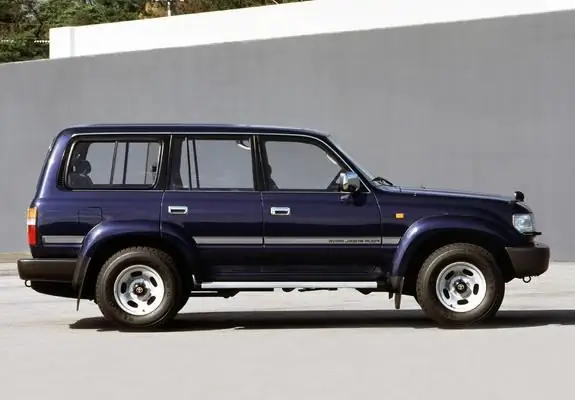 The simplest configuration of this SUV, that is, equipped with a minimum of electronics and the absence of ABC, is used in many countries as a military vehicle. Some states have a standing army equipped with these all-terrain vehicles. This use of the car is due to high cross-country ability and high traction force. This is a real professional all-terrain vehicle,with high road adaptation and no less high level of comfort.
Package
The following equipment "Toyota Land Cruiser-80-VX" is distinguished by a leather interior, high-quality velor trim and wooden inserts in the control panel. Also, as in the luxury model, it has a skylight and a high-quality acoustic system. Wide wheels and alloy wheels are luxury exterior indicators. After restyling in 1994, the luxury SUV received ABC and airbags. The GX package is characterized by a velor interior and center differential locks. The manufacturer integrated steel pipes into the front doors, which compensate for the force of impact in a collision. In addition, this equipment is distinguished by the presence of cross-axle differential locks.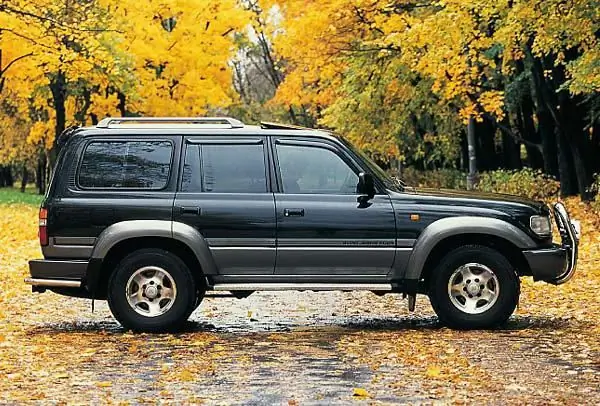 Specifications
First of all, it must be said that "Toyota Land Cruiser-80" is an all-wheel drive SUV, that is, the car has permanent all-wheel drive. The engine capacity of this SUV is 4164 cubic cm, and the gross weight is 2960 kg. Further, the Toyota Land Cruiser-80 has the following technical characteristics: the wheelbase of the car is 2850 mm, the front track dimensions are 1595 mm, and the rear track is 1600 mm. The one-piece welded frame and high-quality shock absorbers perfectly move all this power. The car is very large and heavy, but there are very few equals to it.
The SUV's fuel tank holds 95 liters. Consumptionfuel in urban conditions has an indicator of 16 liters per 100 km, and on the highway the car consumes 9 liters. Average fuel consumption on the combined cycle is 12 liters per 100 km, which is not much for such a large car.
Chassis
Such a characteristic as the engine of the car "Toyota Land Cruiser-80" is presented in three six-cylinder modifications: gasoline, diesel and turbodiesel. Cruiser engines can be carbureted, they were equipped with SUVs until 1992, and they had a power of 190 hp. with., and injection power of 205-215 liters. With. In addition, all engines of these vehicles are equipped with two accumulators, throughput plugs and a spiral accumulation grid. All this ensures high-quality engine operation even at low temperatures.
The engine "Toyota Land Cruiser-80" (diesel) has a volume of 4.2 liters, it is also presented in several modifications, that is, with a capacity of 120 liters or more. With. up to 136 l. with., and there are turbocharged diesel engines with a capacity of 165 liters. With. In addition, there is also a 24-valve diesel engine with a capacity of 170 hp. With. The speed of 100 km / h this type of engine allows you to develop in 12.5 seconds. It is also worth noting that for Russian operation, a special valve is installed on these engines to compensate for the shortcomings of our diesel fuel. Almost all owners of this modification claim that they would never switch to a gasoline version, because diesel improves performance.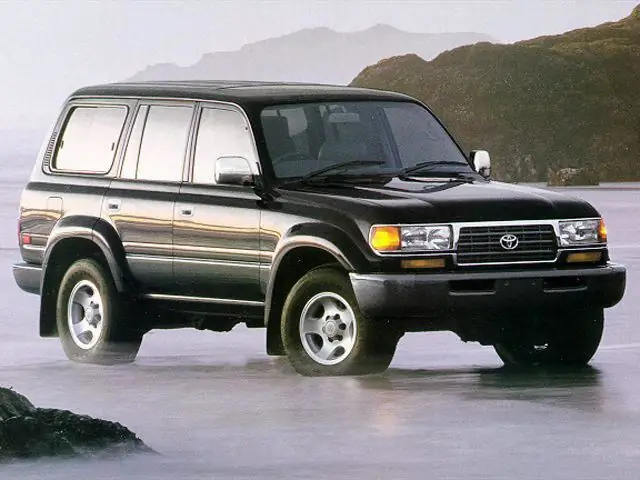 Front suspension features solid beam axle, transverse stabilizer bar and coil spring. The braking system of the SUV is disc both on the front brakes and on the rear. And the rear suspension has a continuous beam, a transverse stabilizer and a coil spring. Thanks to this steel suspension, this SUV is so fond of Russian drivers. He is not afraid of high curbs or deep holes.
General Features
The Toyota Land Cruiser 80, whose characteristics position it as a quality SUV, has five doors. The number of seats can be from five to eight, depending on the configuration, and the trunk volume is 832 liters. The wheels of the car are 15-inch, and this gives the appearance of stability. Since the cars of this brand in Russia are all of a considerable age, many owners resort to tuning to give the SUV freshness. The dimensions of the vehicle are as follows: body length is 4820 mm, height is 1890 mm, and width is 1930 mm.
I must say that this SUV is very fond of Russian hunters and travelers. Thanks to the combination of high cross-country ability and quite presentable appearance, outdoor enthusiasts perfectly use it for driving around the city. This model has two options for rear doors - hinged and folding, so even this nuance can be chosen.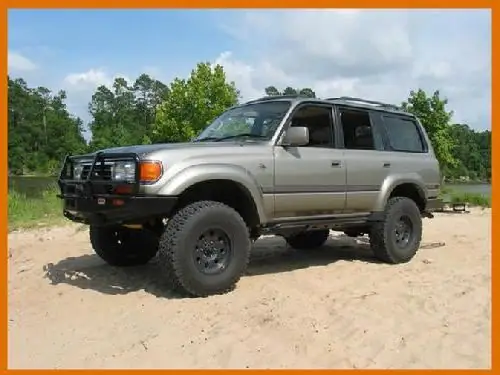 Dashboard
Dashboard deserves specialattention, it has all the necessary options, which are also located very conveniently. Indicators of fuel level and engine temperature are always in front of the driver's eyes. Not to mention the speedometer and other integral indicators of the dashboard. Motorists note that the gearshift lever on the SUV is located exactly where it is needed, and it switches clearly and conveniently. The only drawback of the instrument panel is the lack of a tachometer.
Management
Power steering allows the driver to drive the SUV in the most difficult conditions with confidence and without doubt. In addition, due to the fact that the steering is clearly debugged and coupled with traction, the car conquers any track easily. At high speeds, the steering shifts to turbo mode.
Even the speed of 130-140 km / h in this car is not felt, because the one-piece frame prevents shaking, and the steel suspension smooths out all the imperfections of the road surface. Moreover, in the presented SUV, the drive is adjustable, that is, all-wheel drive can be turned off as needed.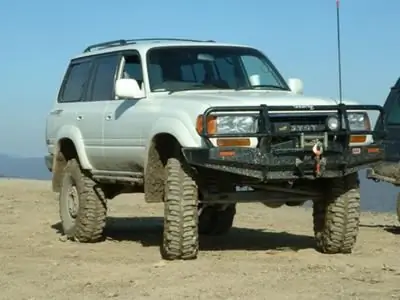 Parts
Since the Toyota Land Cruiser-80 was discontinued in 1998, all cars in Russia of this brand are only of that time. But the reliability and quality of this SUV is so high that it is still popular, and its sales have not fallen for many years. Therefore, motorists have no problem buying original spare parts. "Toyota Land Cruiser 80"can be completed with the necessary on numerous sites on the Internet. Moreover, all spare parts are delivered in the original. You also need to understand that this SUV has been on Russian roads for a very long time, and the sale of spare parts is already well established.
Owner Reviews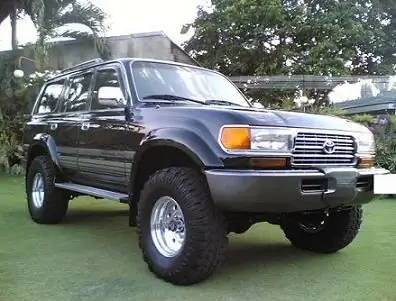 For many years, the Russians have been operating this car, and all the impressions of the owners can be found on all kinds of car forums. And it should be noted that in most cases the Toyota Land Cruiser 80 has the highest and most enthusiastic reviews. Experienced drivers state that the reliability of the SUV is unparalleled, and all the characteristics prescribed by the manufacturer are fully consistent with the declared ones. Moreover, many owners note that the car adapts well on our roads, that is, pits and potholes, snowdrifts and bottomless puddles are nothing to it. This, of course, speaks of its advantages. This car requires repair and replacement of consumables every few years, and with careful operation this can happen even less often.
Popular topic