In order for the owner of the car to have the opportunity to start the engine at any time, car batteries are used. They also serve as the main source of electricity when the engine is not running. Currently, batteries are divided according to their nominal voltage and are:
6-volt. They are used on light motor vehicles, and earlier, until the 1940s, they were used on almost all passenger cars.
12 volt. Currently installed in any motorcycles and cars.
24 volt. They are in demand for heavy rural vehicles, buses and trams, as well as diesel military vehicles.
The article will talk about one of the battery manufacturers. Hankook is a South Korean brand that has been able to conquer most of the world with its quality products. We will analyze the history of its appearance, consider in detail the batteries produced and give general advice on choosing quality products.
Hankook Story
In 1944, in Seoul, for the first time openeda small company of a South Korean brand called Isan Ltd.. After 8 years, in 1954, it is renamed Korea Storage Battery Ltd. (KSB) and remains so until March 2004. Hankook began manufacturing maintenance-free batteries in 1980. It is one of the few brands recognized in the world. The Hankook brand is currently owned by AtlasBX Co. Ltd. is a South Korean battery manufacturer that produces high-quality products that meet all international standards.
Hankook car battery applications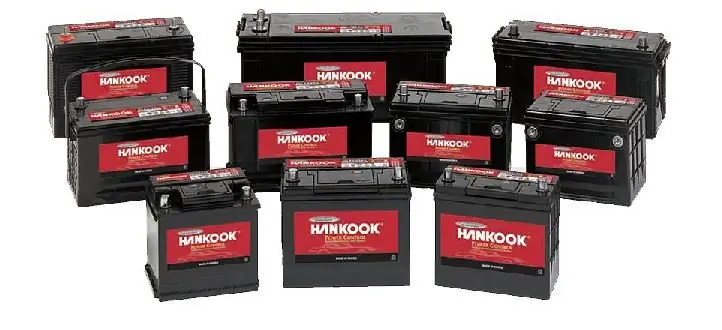 Currently, South Korea's Hankook batteries are used in more than 100 countries around the world. You can pick up a Hankook battery for almost any car. Imported SUVs, such as Mitsubishi Pajero, Nissan Pathfinder, Lexus RX, Toyota Prado and many other manufacturers are designed for powerful batteries. Hankook batteries just meet their requirements. This can be explained by the fact that the Korean manufacturer is famous for the quality of its products, durability and affordable price.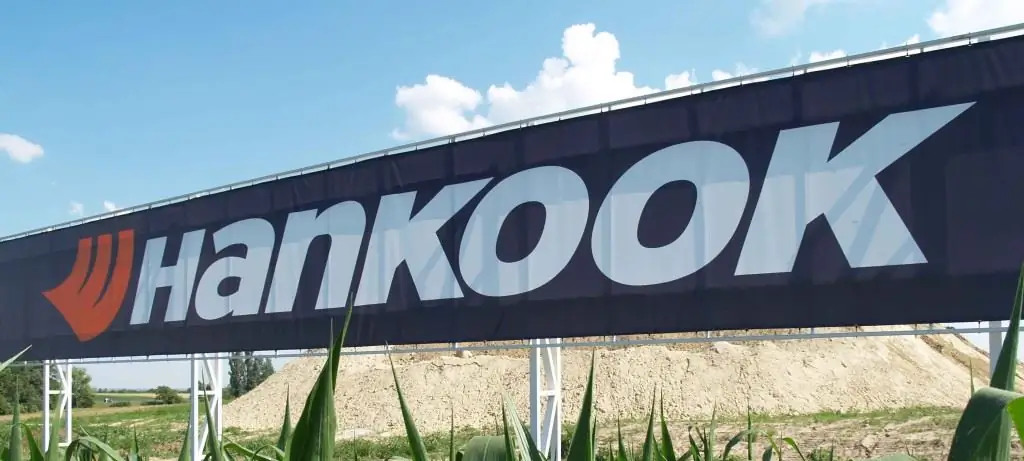 Like most other manufacturers, the batteries of this company are maintenance-free. During their operation they do not need topping up with distilled water. In the case of any Hankook battery there is a special eye - Magic Eye - indicating the state of its charge. If it is green, it means that the battery charge is full and notrequires recharging.
Battery life
Each Hankook battery has its own service life. It depends on how correctly to monitor it and carry out timely maintenance. In fact, with proper care, each battery will last quite a long time, but for now we focus only on the product in question - the Hankook battery.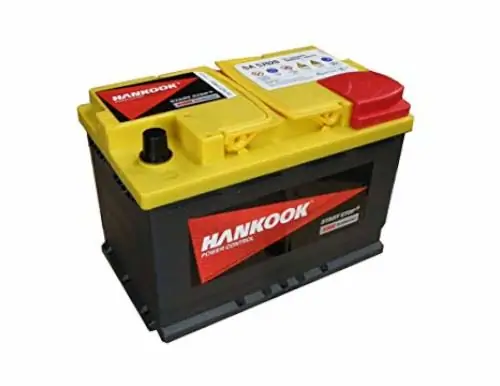 It is recommended to keep the battery clean because dirt and moisture contribute to its increased self-discharge. But, if this is not done, the battery may fail even during the first month of its use. After installing the battery on the car, it is advisable to check the voltage that the generator produces with an ordinary voltmeter. To do this, you need to start the engine, connect this device to the battery terminals. Its readings must be in the range from 13.5 V to 14.5 V, otherwise the battery will receive undercharging or overcharging. This directly affects its service life. If you follow the manufacturer's warranty obligations, then the battery will last at least 4-5 years.
Which battery to choose
At the moment when you have to choose a new battery, you need to pay attention to its capacity, starting currents, its manufacturing technology and dimensions. Its parameters must be correctly selected. An important role is played by the date of issue of the battery. It is engraved on the top of the case, so the "fresh" it is, the better.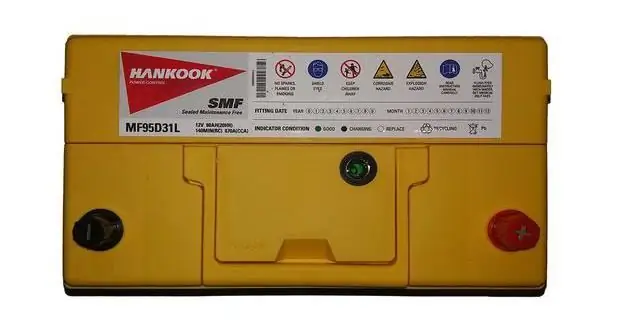 Whena new battery has been on the shelves in stores for a long time, it gradually loses its resource. Visually inspect the battery case for leaks. Terminals must not show signs of use.
Battery packaging
Hankook branded batteries are delivered to customer store shelves in original boxes. After you have purchased a new battery, it must be prepared for use. To do this, remove the transport polyethylene and protective caps. These elements are used only for the complete delivery of the battery from the factory to the customer. Then you need to check the level and density of the electrolyte. Density is checked at +20 °С, indicators should be from 1.25 to 1.30 g/cm3.
Hankook Battery Benefits
South Korea-produced batteries have a number of advantages, among which are:
high starting currents (which is important for the harsh winters of the northern cities of Russia);
increased vibration resistance of the body, which allows you to install them on almost any type of transport;
Korean-made batteries have a slow self-discharge when stored for a long time;
battery case is made of strong plastic and equipped with a convenient carrying handle;
with proper maintenance, its durability is more than 5 years.
As you can see, the South Korean company has gone to great lengths to ensure that their batteries make a positive impression on consumers.
Hankook Power Control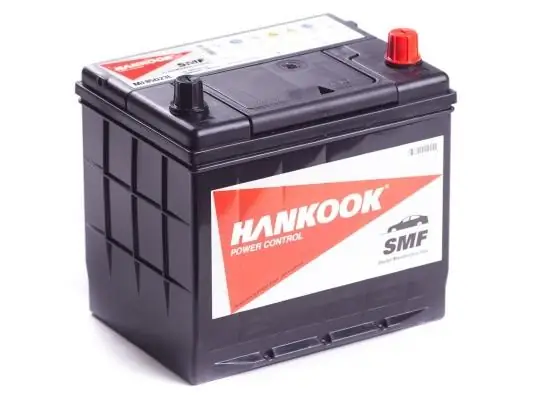 The Hankook 68 car battery is a low maintenance battery type. Its capacity is 68 A / h, which can be determined from the name, and the starting current is 600 A. The type of electrolyte used is acidic, the terminal arrangement is standard, the "+" terminal is on the right (it has, as it is also called, "reverse polarity"). Overall dimensions are as follows: length - 230 mm, height - 220 mm, width - 172 mm.
Battery Hankook 75d23l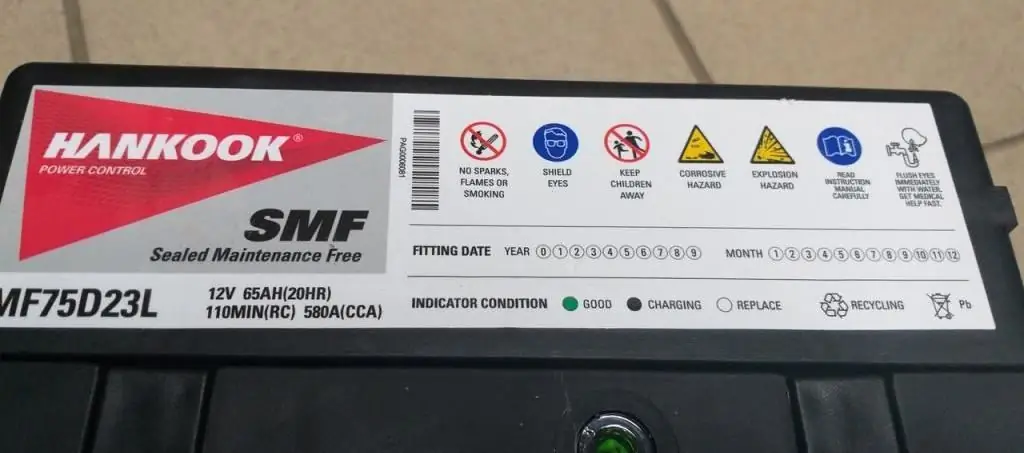 The Hankook 75d23l battery received its positive feedback almost immediately after it appeared on the shelves. Modern calcium technology provides it with reliable and durable performance. Lattices of plates are made on the X-Frame technology, it increases durability and productivity. This battery model is maintenance free, self-discharge resistant for long periods of storage and can withstand vibration.
Hankook car batteries are suitable for many brands, such as Subaru (Forester, Impreza, Tribeca, Legacy), Toyota (Celica, Rav, Land Cruiser, Corolla), Mitsubishi (Galant, Colt, Lancer, Eclipse), Mazda, Lexus, Honda, etc. Its capacity is 65 A / h, and the starting current is 580 A. Hermetically sealed cover, durable body and comfortable handle make it easy to move it. In addition, when buying any battery from the company, a 12-month warranty is given.
Should I take a Hankook battery?
Based on all of the above, we can conclude that reviews of Hankook car batteries always remainpositive. Batteries are in good demand and, having bought it, a person gets a reliable, durable battery for a relatively small amount of money. It does not require additional maintenance and has an indicator to control the charge. Installing such a battery in your car means providing it with a reliable power source for a long time.
Recommended: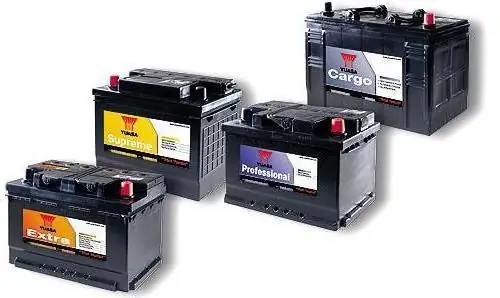 When car enthusiasts think about choosing a battery for their car, the first thing they look at is tests conducted by independent experts and various specialized agencies. However, the results show that even with the same parameters declared by manufacturers, products of different brands can have the same different characteristics. Everyone wants to buy the best battery and therefore you need to know how to choose it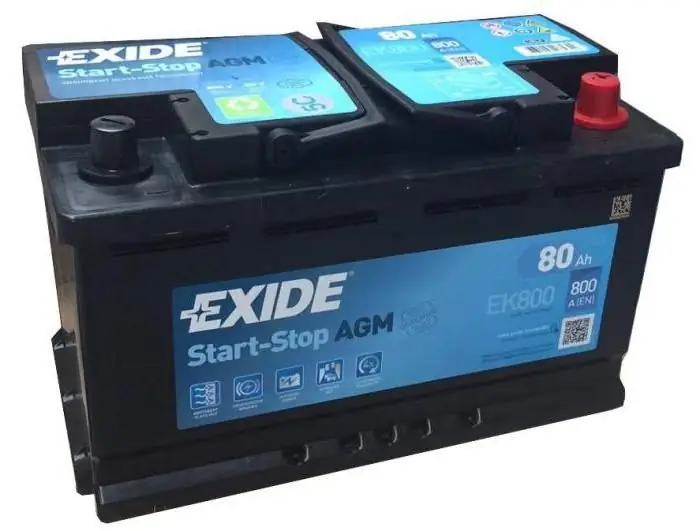 Exide car batteries: model lines, battery features of different series. The history of the company, a list of battery models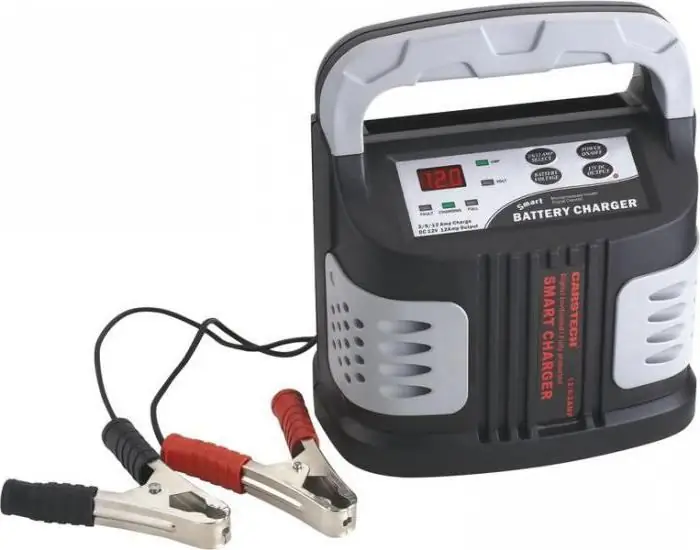 In the cold season, there is always a risk of running out of a car battery. A specialized charger will help save the car from turning into a cold real estate. Thanks to him, besides, you no longer have to, for the umpteenth time, seek outside help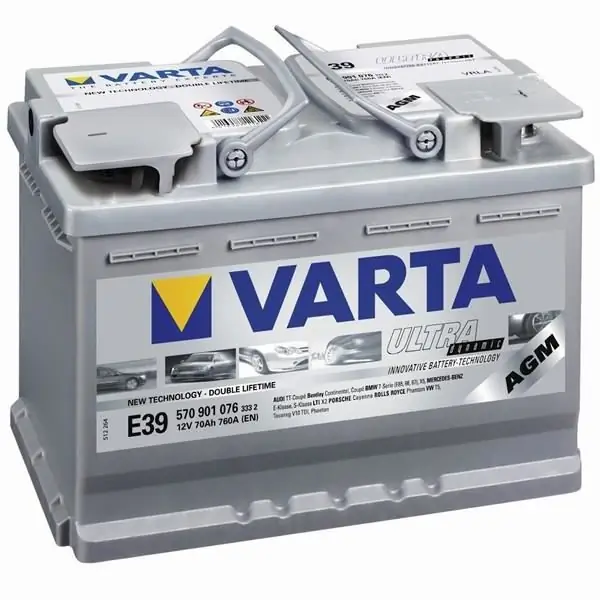 What car enthusiast is not familiar with the products of the German company "Warta"? Everyone has heard of this manufacturer at least once. Varta is one of the market leaders in batteries for cars, special equipment, motorcycles, and industrial equipment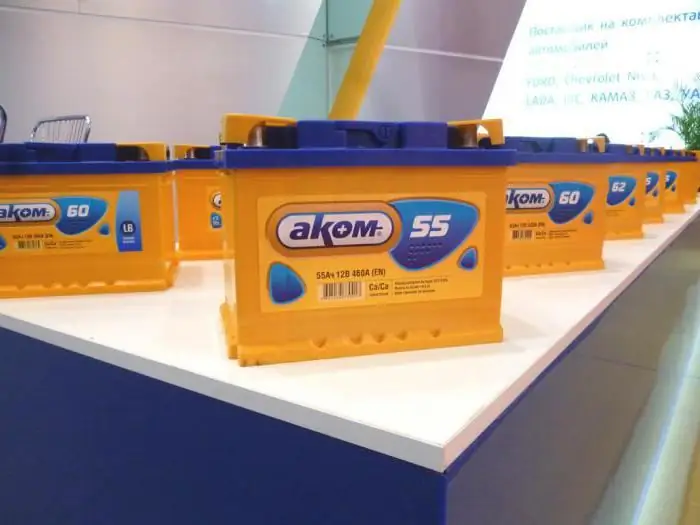 Modern car batteries receive very different reviews, because they differ not only in capacity, but also in important technical characteristics