The Italian company Industrial Vehicles Corporation has been supplying its models of trucks under the Iveco trademark (IVECO is the abbreviation of the company's name) to European and Russian roads for quite a long time. It is one of the world leaders in the production of commercial vehicles. Their models are distinguished by functionality and reliability, which are perfectly combined with the price.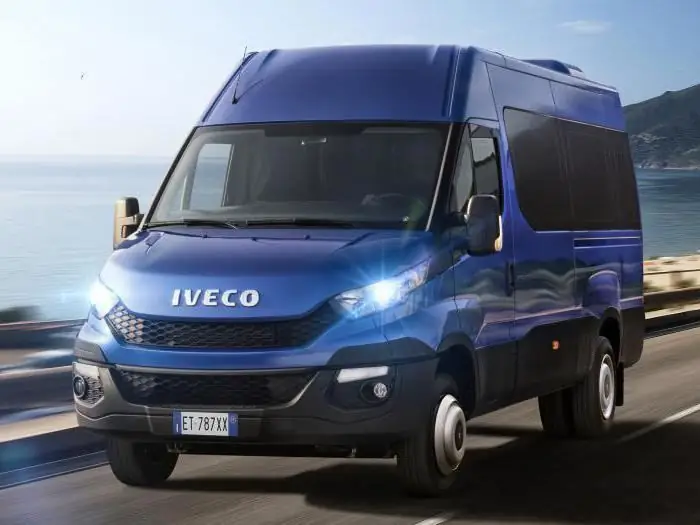 Main series
Iveco trucks, photos of which can be seen below, can be made in various bodies, with different types of cabs, chassis and other elements. They are suitable for transportation around the city, and for long-distance flights. In accordance with the needs, goals and financial capabilities, you can choose the right option for yourself. A variety of models allows you to do this. The entire range of models is divided into several series, which we will consider below.
Daily trucks
Commercial vehicles of this series are suitable for operation within the city. Their production began in 1978. Andis still going on. During this time, five generations of trucks have appeared. Unlike their competitors, all Iveco-Daily trucks have a frame structure. As a result, they are smaller in size and have a higher carrying capacity. In addition, this type of frame allows you to create SUVs with a 4x4 wheel formula on its basis.
Currently, the manufacturer offers three options:
Iveco-Daily vans are distinguished by the ability to install sliding doors on either side, even from two at once. The rear doors are hinged, able to open 270 degrees. This design facilitates the process of loading (unloading). It has three configurations, differing in dimensions, weight and carrying capacity. The latter, it is worth noting, can range from 1310 to 7000 kilograms.
The height of the van can also be changed due to the air suspension. An independent suspension with shock absorbers and springs is installed in front. Another option is a torsion bar front suspension. Rear suspension air or spring.
Iveco-Daily trucks, designed as a van, can be equipped with power units (there are nine in total):
with a volume of 2.3 liters and a power of 106 to 146 horsepower
three-liter, from 106 to 205 horsepower;
3-liter, gas-powered, delivering 136 horsepower.
They are equipped with a six-speed gearbox, manual or robotic.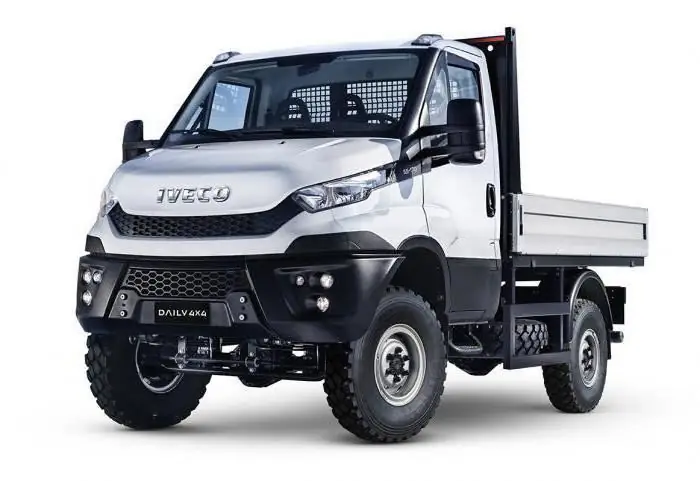 The Iveco-Daily chassis also has nine options. The frame is characterized by increased strength and a flat surface that allows you to conveniently place superstructures or equipment of various types. Most often installed:
flatbed with or without awning;
refrigerators;
campers.
The Iveco-Daily SUV has good cross-country ability, which makes it possible to use it in various conditions. The high ground clearance also contributes to this.
Iveco-Trakker trucks
Models of this series are mounted on an off-road chassis. Suitable for installing mixers, dump trailers, utility vehicles and so on. Models differ in the correctly selected distribution of weight along the axes. Vehicles in this series can be used in harsh environments.
Eurocargo Series
Cars in this series are the average option. Their carrying capacity ranges from one and a half to ten tons. The most popular trucks from the Iveco manufacturer are 5 tons, which are usually used to work around the city or region.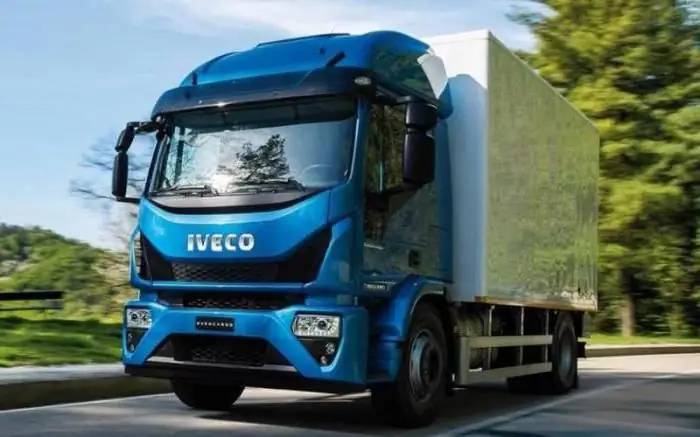 Various bodies can be installed on the chassis of cars of this series: manipulators, garbage trucks, sweepers and so on. This greatly expands the scope of these types of trucks.
Technical parameters - power units from 170 to 280 horsepower, transmission can also be selected from several options.
Iveco-Stralis
Models of thisseries belong to the class of truck tractors with a large load capacity. Trucks "Iveco-Stralis" are designed for long-distance and international flights. They are distinguished by a high degree of safety, economy and comfort. Power units are installed with a capacity of 420 to 560 horsepower. They are complemented by a 12 or 16 speed gearbox. The wheel formula is presented in three versions: 4x2, 6x2, 6x4. The buyer can choose the modifications suitable for him.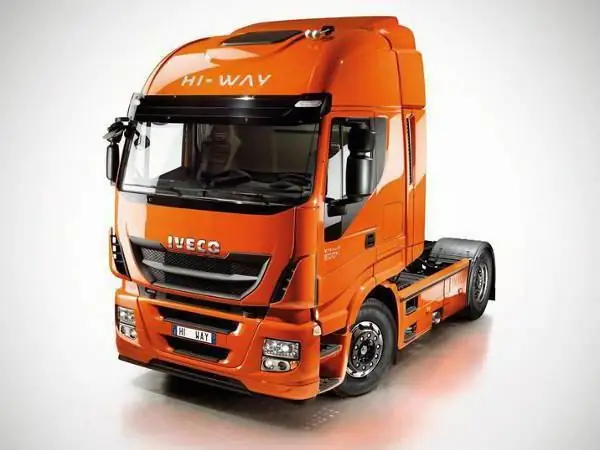 This line of trucks is represented by three options:
AC - for international flights. The cabin can be high or low. There are two sleeping places for rest.
AT - for intercity flights, the cabin has one berth for the driver.
HELL - for the transport of goods around the city, the cab is only suitable for day work.
As you can see, Iveco trucks are represented by a wide range of models. Together with good performance and affordable price, this makes them leaders in the field of commercial vehicles.
Popular topic