Cars of the South Korean company KIA Motors stand out from the total mass of cars on Russian roads with their original design. Domestic motorists are especially attracted to crossovers in the line of KIA cars.
The range of SUVs is diverse, they all have increased cross-country ability, high quality and excellent technical characteristics, comfort and interior design, its equipment and, most notably, quite reasonable prices.
Crossover "KIA Sportage"
One of the most popular Korean crossovers in Russia is the stylish, high-security, comfortable KIA Sportage. Today, the market is already the third generation of an SUV. It has an improved control panel, excellent interior trim, a reliable wheelbase.
All-wheel drive five-seater SUV can be equipped in different modificationssix-speed automatic or five- and six-speed manual transmission, 150 hp petrol or one of three 115, 136 or 184 hp diesel engines with a maximum displacement of 2.0 liters.
Sporty Korean accelerates to 100 km/h in 10 seconds, fuel consumption under different loads does not exceed 8.5 liters per 100 km, the top speed in the top version is slightly below 200 km/h.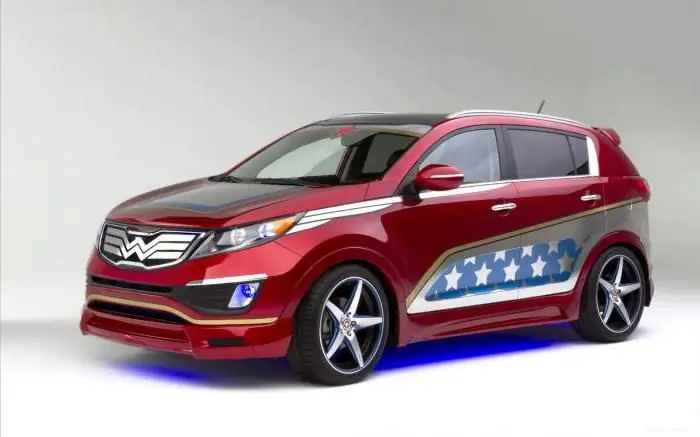 Externally, the KIA Sportage crossovers attract attention with the style of an aggressive streamlined silhouette. And inside they are distinguished by high quality upholstery materials and excellent sound insulation, comfortable ergonomic seats, fairly large trunks, with a volume of more than 560 liters.
Seven configuration options distinguish this KIA model. The crossover, even in the basic Classic version, has a leather steering wheel, climate control system, airbags, a multimedia center, rain sensors, an immobilizer, etc.
Crossover "KIA Sorento"
Sportage and Sorento are, as it were, the golden mean among KIA SUVs common in Russia. Crossovers, the lineup of which includes both the compact eccentric Soul and the full-size Mohave, which has not found its niche in Russia, have become especially popular thanks to the mid-size Sorento.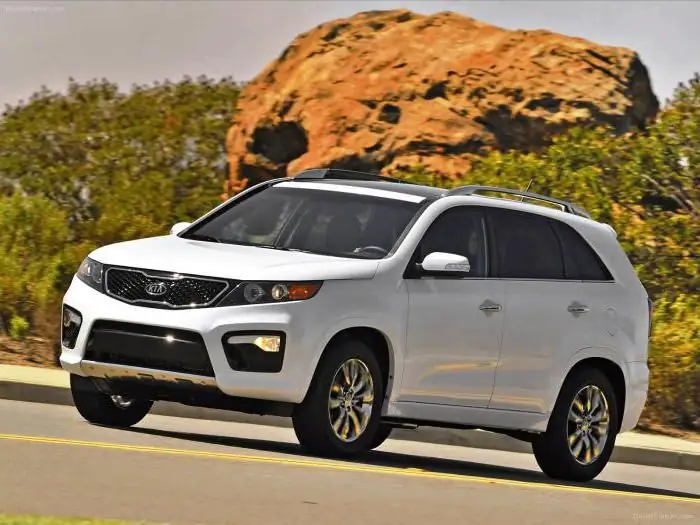 This brutal SUV is considered the most attractive crossover in the KIA lineup.
Crossovers "KIA Sorento" can be assembled in 5-seat and 7-seat versions, rear- andall-wheel drive version with a six-speed manual and automatic gearbox, gasoline (175 hp and 2.4 l) and turbodiesel (197 hp and 2.2 l) engines that accelerate the crossover to 195 km/h.
Dimensions Sorento - 4, 7 ×1, 9 × 1, 745 m, ground clearance - 18.5 cm.
The appearance of a solid modern car turned out to be so successful that it undergoes only minor changes. Even the new crossover "KIA Sorento 2016" did not receive significant differences in the exterior.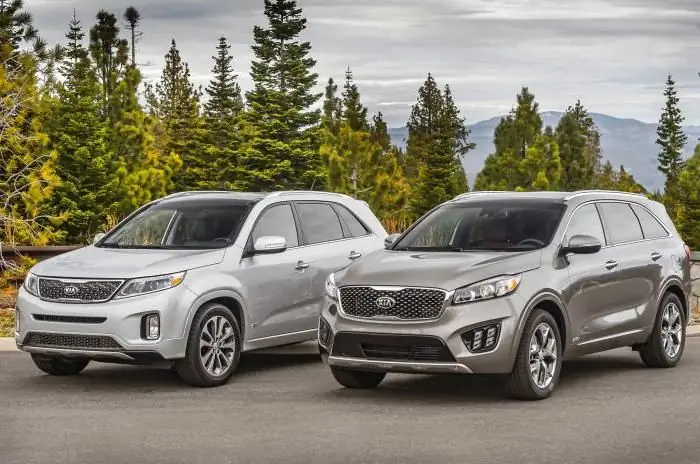 Dense fabric or natural leather can be used in the upholstery of chairs. The front seats are made with lateral support, equipped with ventilation and many settings. The rear seats are equipped with child seat anchors.
In the 7-seater version, the trunk volume is only 285 liters, but if the rear seats are removed, it increases to almost 1050 liters.
"KIA Sorento" is rightfully considered one of the safest. In addition to passive safety features (airbags, curtains and belts), it is equipped with ESC stability control, VSM active control, ESS emergency braking warning, anti-lock ABS and HAC hill start assist.
A popular crossover is produced in Comfort, Luxe and Prestige trim levels.
KIA Mojave Crossover
This rugged full-size SUV, which appeared on the roads in 2012, did not attract the attention of KIA fans. The crossover is bulky (its dimensions are 5, 9×1.9 × 1.76 m), a fair weight and high fuel consumption, whether it be gasoline or diesel fuel.
True, and the corresponding engines are installed on it: gasoline, with a volume of 3.8 liters and a power of 275 hp. or a three-liter diesel engine with 250 hp. They accelerate the SUV to a speed of 190 km/h.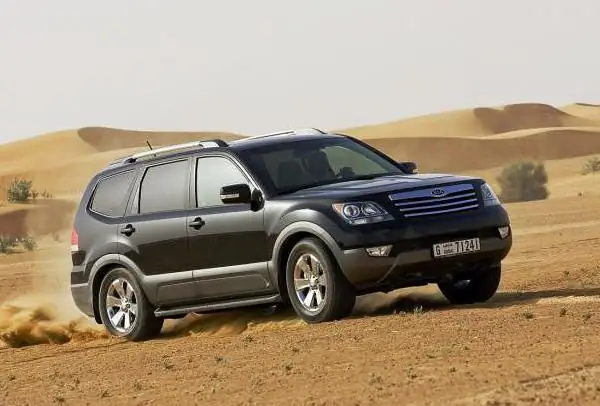 This is a one-of-a-kind KIA model. The crossover, whose engine characteristics are amazing, as well as the eight-speed automatic transmission complete with a diesel power unit, is undeservedly bypassed by the attention of Russians. Its rugged appearance is offset by luxurious interior design with an abundance of genuine leather and interesting instrument panel lighting.
With the impressive dimensions of the car, the trunk holds only 350 liters, however, due to the third row of seats, it can be significantly increased. Mohave is offered in two versions, almost equally luxurious, Premium and Exclucive.
In the USA, an NCAP crossover crash test was conducted. According to its results, the car was recognized as safe.
KIA Soul
Experts have been arguing about the belonging of the compact KIA Soul to crossovers since its inception. Youthful, unlike other KIA models, the front-wheel drive crossover has high cross-country ability, significant ground clearance for a small car and the ability to install wheels from R16 to R18.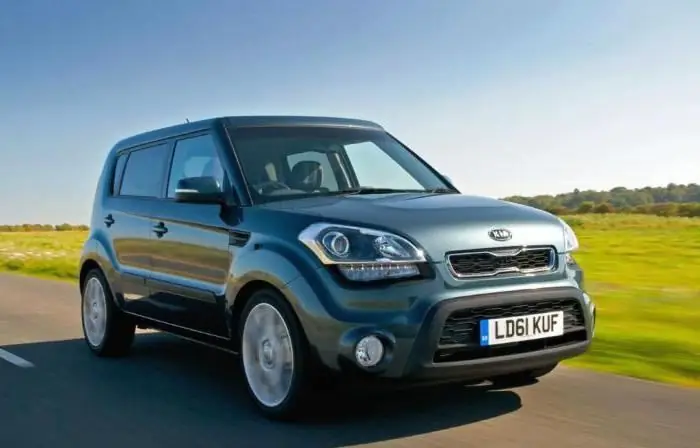 Soul is equipped with two engine options - gasoline and diesel, with a volume of 1.6 liters and a power of 128 hp,which work with six-speed manual and automatic gearboxes and can accelerate the car to a maximum speed of 182 km/h.
One of the main advantages of a small SUV is very economical fuel consumption. In the combined cycle, it consumes 7.3 liters of diesel fuel or 6.2 liters of gasoline per 100 km. The electric power steering can operate in one of the modes: normal, comfort or sport.
Dimensions "KIA Soul" 4, 14 × 1, 8 × 1, 61 m, ground clearance - 0.15 m, wheelbase - 2.57 m. Side mirrors are equipped with a built-in heating system, electric adjustment drive and can fold when parking.
Salon, despite the small size of the crossover, quite roomy, its trim is made of high-quality soft materials. Heated seats and rear window, dual-zone climate control, an ergonomic dashboard, an eight-inch display on the center console, push-button engine start make the operation of Soul as comfortable as possible. The trunk with the rear seats folded down to a flat floor holds 1.5 thousand liters of payload.
According to the results of crash tests, the car is in the lead among class B cars.
New Kia Track'ster crossover
On the basis of KIA Soul, the Korean company has created a new crossover that looks very similar to it. It was presented to the public at the Chicago Auto Show in the spring of 2012.
The off-road vehicle has a powerful 250-horsepower two-liter engine, a six-speed manual transmission, a powerful Brembo brake mechanism with ventilation, racingseats for driver and passenger.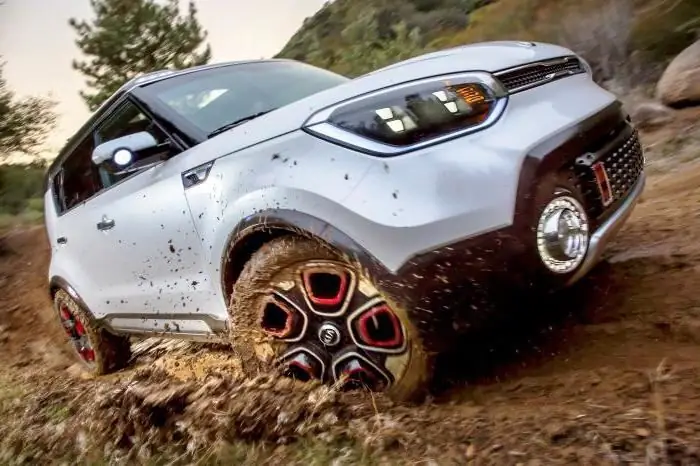 Whether the novelty will appear on Russian roads is not yet known.
Crossover KIA Venga
If all motorists in Russia have been talking about crossovers for more than a year, at least those for whom comfort, off-road qualities and a stylish look for affordable money are important, then KIA Venga has not yet found wide distribution.
A family car is being assembled for city trips in Slovenia. The front-wheel drive crossover is equipped with a five-speed manual or automatic transmission.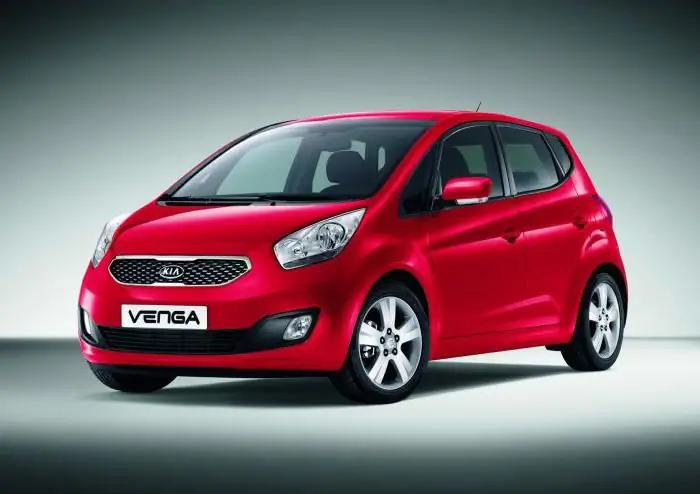 Power units are represented by petrol and diesel engines of 1.4 and 1.6 liters with a maximum power of 128 hp
Venga is one of Kia's compact cars. The crossover has dimensions of 4.07 × 1.76 × 1.6 m, clearance - 0.156 m, wheelbase - 2.6 m. Its appearance is quite original and attracts attention, and the interior decoration and equipment do not distinguish it. among brothers in the model line. The rear sofa to increase the volume of the trunk can be folded both completely and in a ratio of 3: 2.
Like other representatives of KIA, Venga received the maximum number of points when passing safety tests. In terms of environmental friendliness, it is considered one of the best in the world.
Reviews about KIA crossovers
The "boring" monotony of reviews can be considered a big plus for KIA Motors - there are no negative ones among them. All drivers praise, regardless of model: engine efficiency (we are not talking about Mohave),security level, high noise isolation, reliability, easy operation, build quality and appearance.
Some discrepancies in the characteristics are most likely caused by the subjective perception of the driving characteristics of these cars by drivers.
Korean crossovers are growing in popularity. They are already able to compete with the best representatives of their class of Japanese and European manufacturers. KIA Motors does not stop there. Every few years, crossovers of all models are updated and improved, and their prices grow quite insignificantly. The model line is also getting wider. You can choose a crossover for a gentle girl, and for a self-confident brutal man, for trips around the city together or with a company out of town and off-road.
Recommended: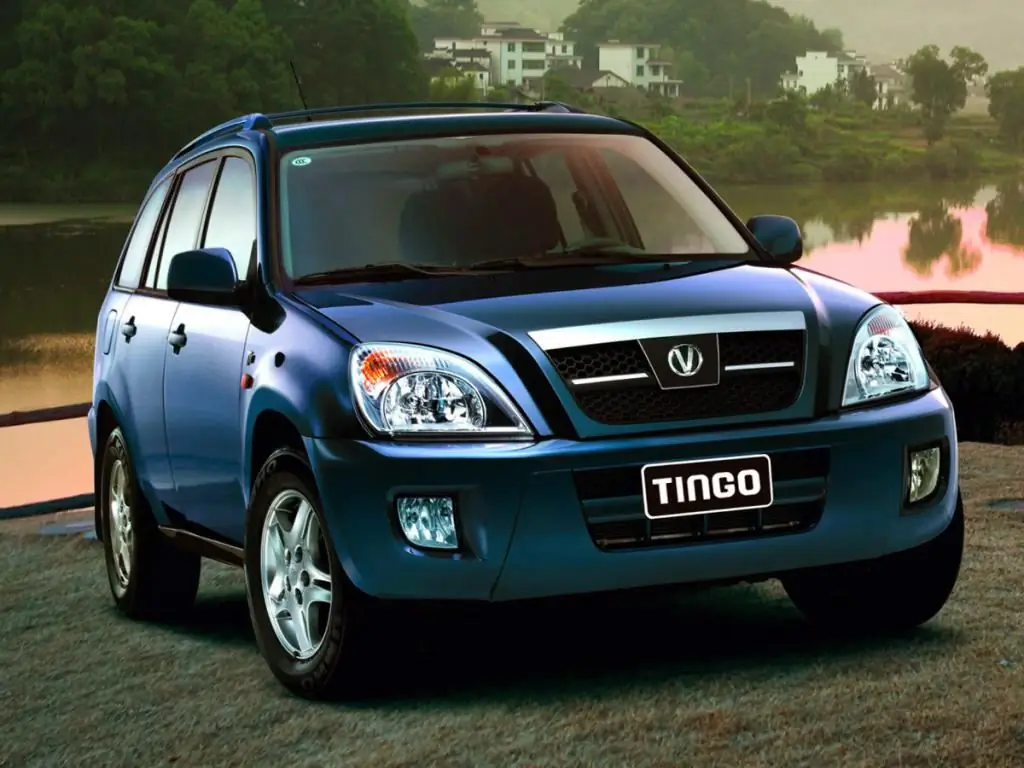 Vortex car: owner reviews, lineup, features, manufacturer, pros and cons, engine, suspension, interior. Vortex machine: technical specifications, build quality, design, device, modifications, photos, history of creation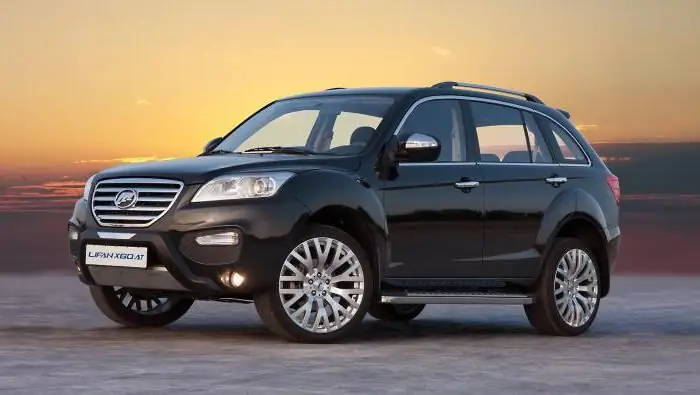 The Lifan company has been producing SUVs for several years now. Indeed, crossovers have recently become more and more popular. However, not every person has the means to buy an SUV manufactured by a famous company. And the company "Lifan" offers very budget and good options. And it's worth talking about them
Brand brands "Skoda" are distinguished by stylish and modern design solutions, good technical parameters, strong running gear and economical fuel consumption. Salons are assembled from high-quality and solid materials, ergonomics are verified in them to the smallest detail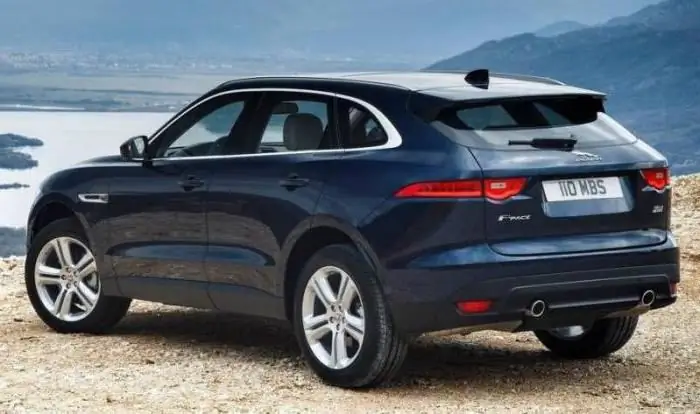 The article is dedicated to the crossover from the company "Jaguar". The features of the model, characteristics, as well as user reviews are considered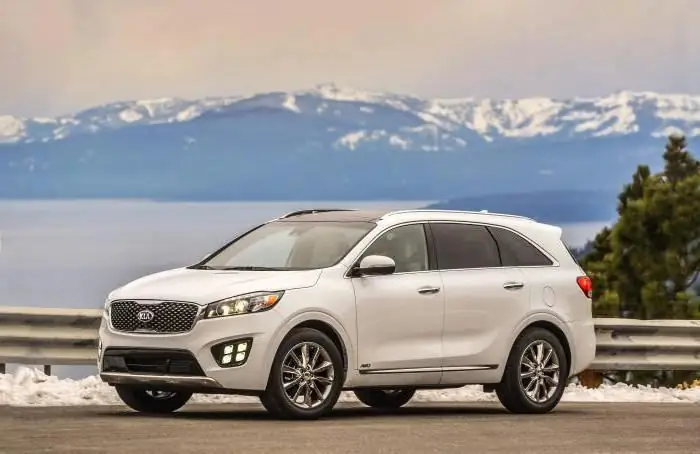 One of the recent novelties on the market is the Sorento Prime, a car from the Korean manufacturer KIA. The car was released in 2015, and since then it has not ceased to be a sales leader. In its category, the car shows some of the best performance, which is fully described below