Most modern farms are equipped with various types of equipment, which allows you to speed up the conduct of all types of work while increasing productivity and efficiency of the process. One of these machines is the Caliber minitractor, which is optimally suited for processing small and medium-sized areas. We will study its characteristics, features, as well as reviews of the owners.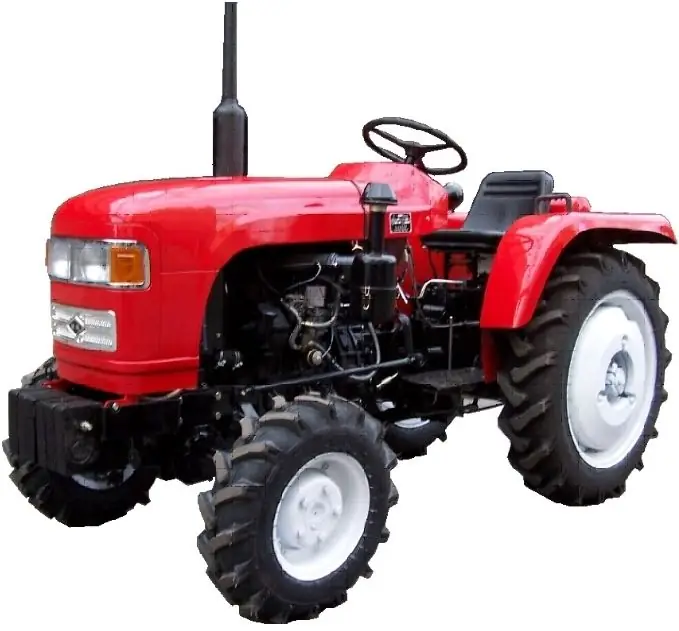 General information
The manufacturer of minitractors "Caliber" creates equipment at production facilities located in Russia. The machines are practical, reliable and easy to maintain. Along with wide functionality and easy control, the equipment has a decent build quality, which makes it possible for analogues to compete directly. The model range of the category under consideration is constantly replenished, four full-fledged cars have already been developed in the line.
Minitractor "Caliber"120
The design features of such a unit include the fact that manufacturers have equipped a heavy diesel walk-behind tractor with wheels and some additional elements. The result is a multifunctional vehicle equipped with ergonomic controls, power take-off, electric starter ignition, mechanical transmission.
The car has decent cross-country parameters, is compact and mobile. A rotary cultivator and a plow are supplied as standard. Users in reviews of the Caliber minitractor note that it has an affordable cost, it starts up without problems even in severe frosts. Such a model has a 12 horsepower engine and is capable of performing a wide range of work, including on virgin soil. Additional functions include clearing the area of snow, as well as the use of a variety of attachments.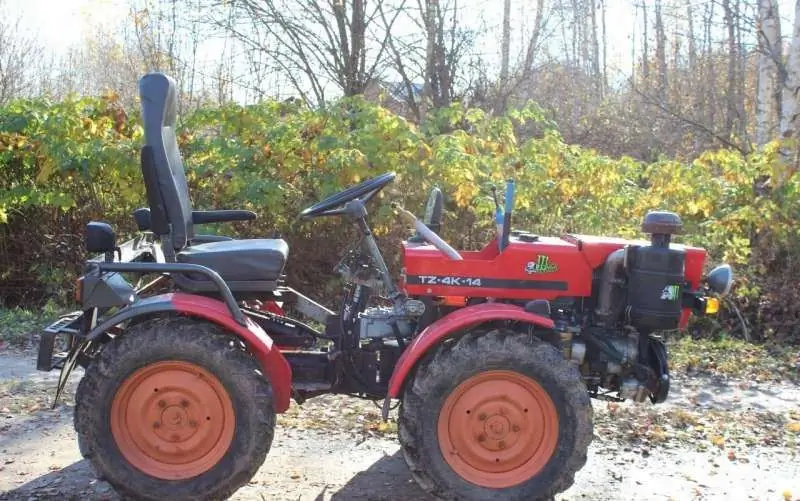 Features
The Caliber minitractor MT-120 has the following technical parameters:
wheel formula - 4 x 2;
design weight – 0.4 t;
length/width/height – 2, 14/0, 9/1, 17 m;
maximum speed (forward/backward) – 17.0/2.2 km/h;
motor type - diesel single-stroke four-cylinder engine with liquid cooling;
power - 8.8 kW;
lubrication - oil pump system;
start - electric starter;
main gear - cylindrical outer element with spur gearing;
brakes are foot operated drums.
According to owner reviews, reliability and decent build quality guarantee trouble-free operation of the machine for a long time, taking into account regular and proper maintenance.
Model 150 in brief
The Caliber minitractor in this version is equipped with a 15-horsepower diesel engine, which is started from an electric starter. The wheel drive remained the same as that of its predecessor (4 x 2). The upgraded cooling system prevents the engine from overheating in hot weather.
The multi-speed gearbox allows you to select the optimal working speed, depending on the surrounding conditions and soil type. The mass of equipment is 0.4 tons. The popularity of the modification is due to its wide operational capabilities, largely due to ergonomics and the presence of a power take-off shaft. Consumer feedback on this model is almost identical to the 120 version, as they differ slightly from each other.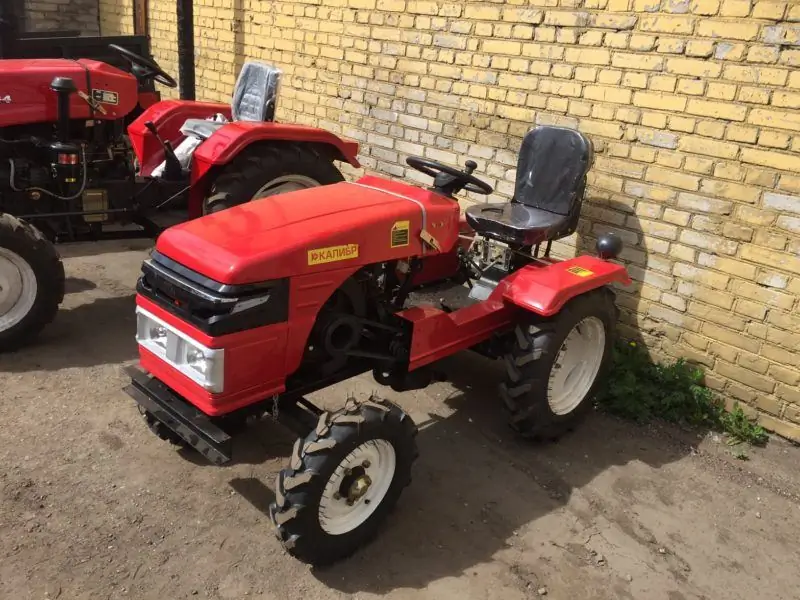 Episode 244
The Caliber 244 minitractor has a 4 x 4 all-wheel drive. This solution makes it possible to actively work on viscous soil and virgin soil. The cross-country ability parameter is increased by a reinforced motor with a capacity of 24.5 horsepower. Attachments are aggregated directly with the power take-off shaft. This nuance partially compensates for the speed of rotation of the equipment, despite the increased weight of the machine up to 700 kilograms.
The following are the maincharacteristics of the technique in question:
weight with accessories - 1, 18 t;
length/width/height – 3, 01/1, 56/1, 96 m;
adjustment of the operator's seat - available;
number of gears - 6 forward and 2 reverse;
start - electric starter;
cooling - water system;
hitch connection - rear;
drive type - full;
power - 18.4 kW;
motor - diesel with a pair of cylinders and four cycles.

Modification of the minitractor "Caliber"
MT-304 version
The specified version is more for professional use. This is due to the presence of a motor reinforced in power, a heated cabin, and increased functionality. The equipment is focused not only on the agricultural sector, but also on the needs of public utilities. The first model of this machine was put into production in 2012 and is actively used in the relevant fields.
Technical indicators of the model are given below:
wheel formula - 4 x 4;
length/width/height – 3, 01/1, 56/1, 96 m;
working base - 1.54 m;
road clearance - 26.6 cm;
weight – 1.2 t;
power unit - water-cooled diesel engine with a pair of cylinders (4 cycles);
power parameter - 22.6 kW;
steering - mechanical control;
PTO speed - 540 rpm;
speed limit - 31.4 km/h.

Description of the minitractor "Caliber"
Attachments
The considered varieties of the Caliber minitractor can be equipped with the following types of attachments:
The cutter is used to create a homogeneous composition of the upper part of the soil, mixing the soil layers. With this technique, active elements are mainly used that interact with a hydraulic pump.
Plower. This unit combines a cutter and a harrow, is able to mix soil formations and grind rock.
Cultivator. Serves for marking beds for planting crops.
Harrow. Crushes large stock left after milling.
Plow. It develops and plows the plots, preparing the territory for planting. The unit in question can work with a pair of plows at the same time, which increases productivity.
Trailers. Significantly facilitate the transportation, loading and unloading of various household and utility goods.
In addition to these devices, "Caliber" in any design aggregates with a snow plow, mowers of various types, potato planters and other devices.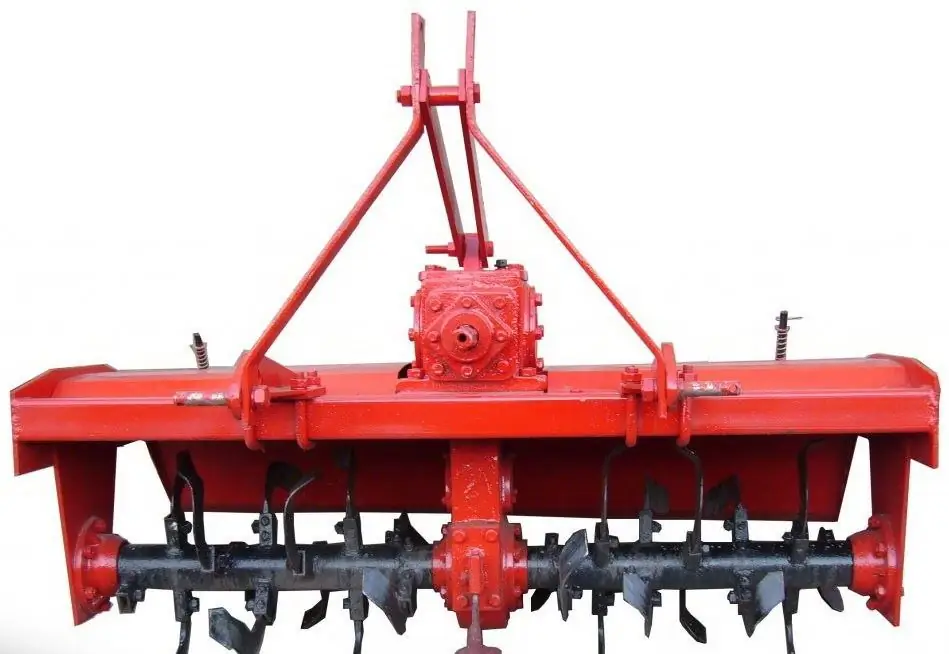 Reviews on the Caliber minitractors MT-244 and 304
In their responses, users point out several points that affect the reliable and correct operation of the equipment in question:
Diesel fuel intended for refueling the tractor must be free of impurities and clean.
Lubrication of motorelements are recommended to be produced with semi-synthetic oils such as 10W-30, transmissions - Tap or Tad.
Replacement of fuel and lubricants must be carried out every 500 hours of operation (transmission unit) and 200 hours (motor unit).
Also, the owners are advised, when certain malfunctions occur, to check the presence and quality of diesel fuel, make sure the fuel unit is in working condition, check the spark plugs and adjust the fuel supply.
Recommended: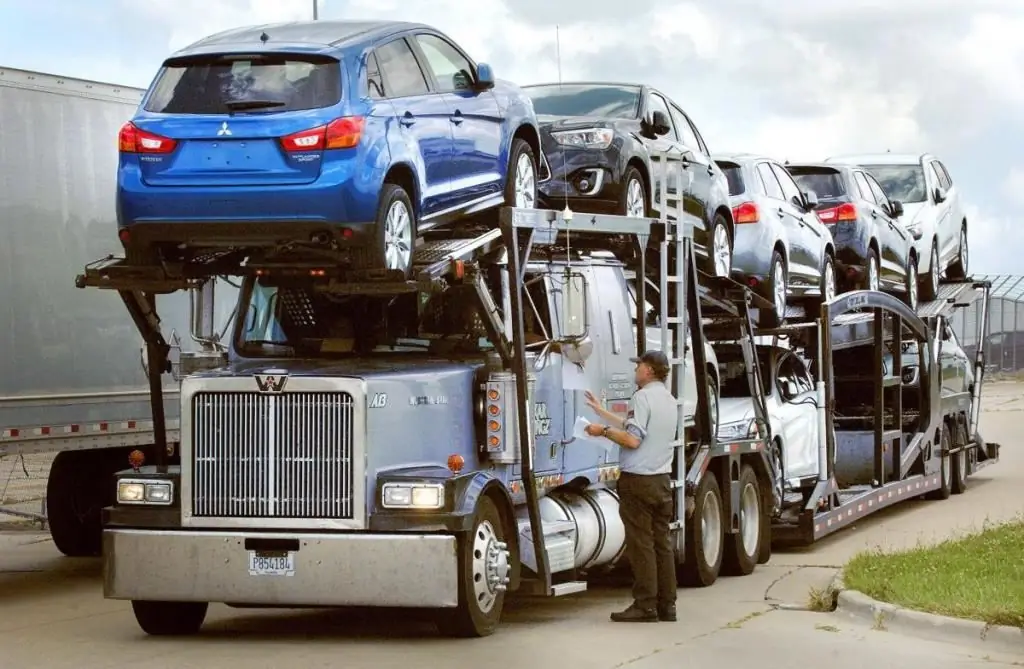 The article presents a brief history of the company "Mitsubishi Motors". In the text you can find the model range, technical specifications and the most famous car models of this company. Also in the text you can find reviews about the car of this company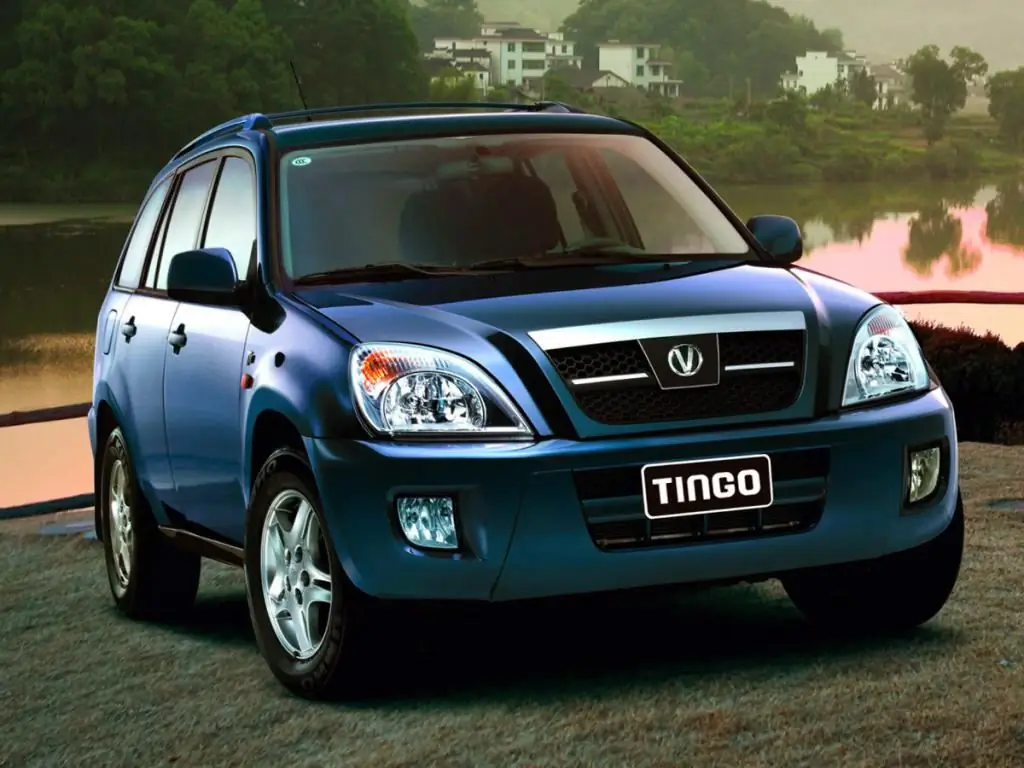 Vortex car: owner reviews, lineup, features, manufacturer, pros and cons, engine, suspension, interior. Vortex machine: technical specifications, build quality, design, device, modifications, photos, history of creation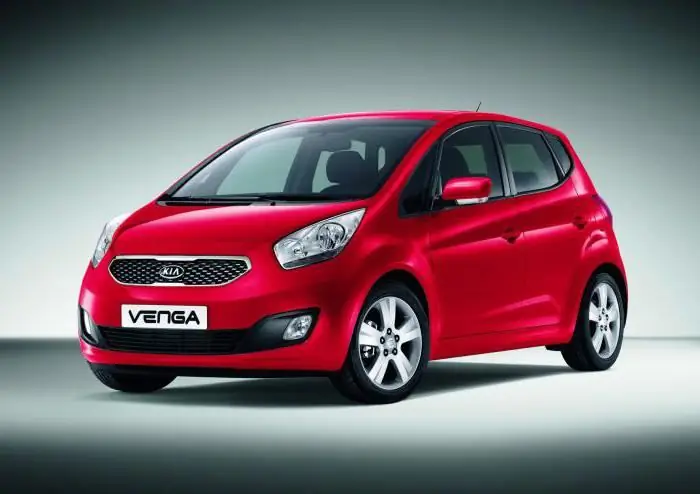 Cars of the South Korean company KIA Motors stand out from the total mass of cars on Russian roads with their original design. Domestic motorists are especially attracted to crossovers in the line of KIA cars. The range of SUVs is diverse, all of them have increased cross-country ability, high quality and excellent technical characteristics, comfort and interior design, its equipment and, most notably, quite reasonable prices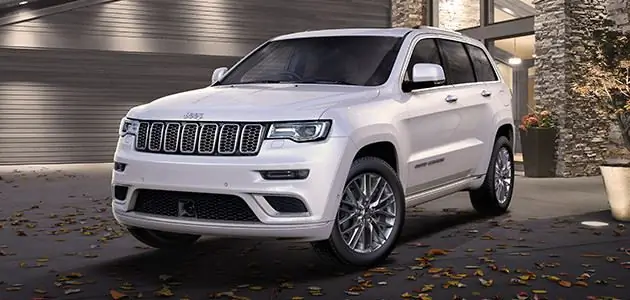 What is a Jeep? It's not just a car. This is an entire era. The history of the brand and the lineup of the company, a description of popular models of the Jeep brand, as well as generalized reviews of the owners - read about all this in the article
Brand brands "Skoda" are distinguished by stylish and modern design solutions, good technical parameters, strong running gear and economical fuel consumption. Salons are assembled from high-quality and solid materials, ergonomics are verified in them to the smallest detail