The Chrysler PT Cruiser is a retro-styled compact car that debuted in 2000 as a hatchback. In 2005, convertibles also began to be produced. This original car has become quite popular. Over the entire period of production, about 1.35 million copies were produced.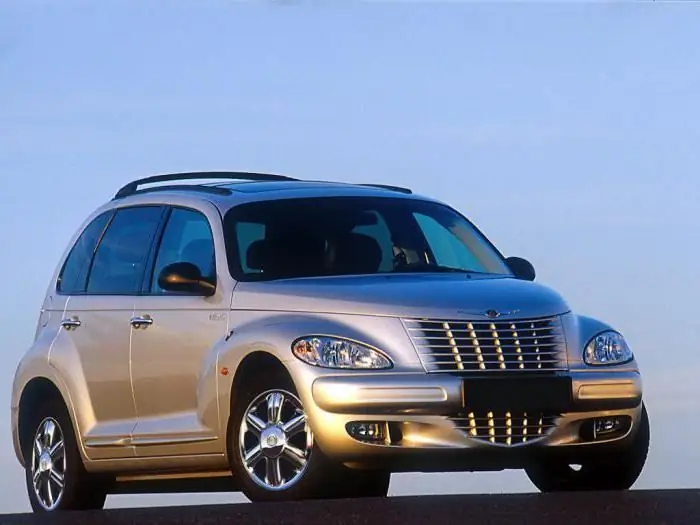 Design
The main highlight of the Chrysler PT Cruiser is its original appearance. Firstly, the car is made in a fastback body, that is, it has a sloping roof that smoothly passes into the trunk lid. Secondly, the model was so difficult to classify that they decided to add the abbreviation "PT" to the name, which stood for "personal transport".
The sloping roof and protruding fenders aren't the only design features that draw attention. The image is successfully complemented by a radiator grill with horizontal slots, chrome moldings, wheels and a gas tank hatch, a spoilerin the back.
It is worth noting that models produced after 2005 look more dynamic, even sporty. It is noticeable how the lines of the bumpers are rounded and the rear optics have changed. Now the headlights fit into the image more harmoniously - the designers decided to enclose their lower edge in a jagged outline.
Salon
Chrysler PT Cruiser boasts an original and attractive interior. It is decorated no less interesting than the exterior design.
It is worth noting the power window control buttons located on the center console. The gearshift lever is chrome-plated, and it also has a clock, which is quite unusual. The console with two cigarette lighters installed in the middle is symmetrical, and this is no coincidence. The specialists decided that such a panel would help to quickly adapt to right-hand traffic, since the steering wheel can be rearranged to the right side, if necessary. By the way, it is equipped with hydraulic booster.
The back row of seats deserves special attention. Its back is foldable. Therefore, if there is a need, then the rear sofa can be transformed so that there will be several times more luggage space (1800 liters). In a hatchback, the "basic" volume of this compartment is 620 liters. Convertibles, of course, have much less - only 210 liters.
By the way, the cabin has a lot of different drawers, niches, shelves and pockets. So small things can be decomposed into them. Needless to say about comfort, even if there are even three 12-volt sockets in the cabin of this model!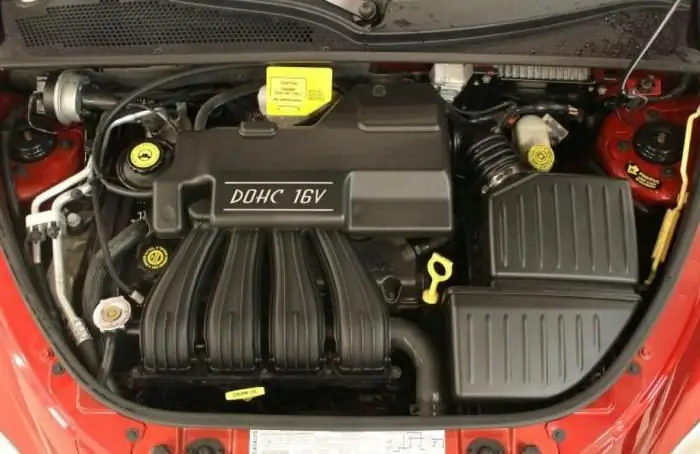 Specifications
Under the hood of the car "Chrysler PT Cruiser" was originally installed 116-horsepower 1.6-liter engine. A more powerful version was also offered - 143 hp. With. and 2.6 l. Each version was offered with both "mechanics" (5 speeds) and "automatic" (4 steps). Models with a 1.6-liter engine could not boast of good dynamics, but the 143-horsepower engine made it possible for this rather heavy car to accelerate to 100 km / in just 10 seconds. Its maximum speed reached 195 km/h.
And for European buyers, the Chrysler PT Cruiser was still available, a 2.2-liter turbodiesel unit with 122 hp. Its maximum speed was 183 km / h, and it accelerated to "hundreds" in 12 seconds.
A few years after the start of production, a novelty was released, which became known as the model with the prefix "Turbo". This car was offered with a 2.4-liter 218-horsepower engine. The model boasted not only a turbine engine, but also the presence of 17-inch wheels and a CPOS package.
Equipment
"Chrysler PT Cruiser", the photo of which is provided above, was offered in 4 different trim levels. The base was, of course, the one called "Base". A model with this configuration was offered with air conditioning, a tachometer, a 2-range steering wheel, a CD player, folding and removable seats, two airbags, steel rims and rear windows equipped with a wiper and heating. Good equipment. Even the telescopic steeringthe column was included in the equipment list.
Richer configurations could boast of having a central lock, alarm system, immobilizer, airbags, roof rails, multifunctional steering wheel. The seats were adjustable, ventilated and heated. And the air conditioner in more expensive trim levels had a built-in air purifier.
In the maximum Limited configuration, this car can now be purchased for about 300-350 thousand rubles. With a 2-liter 141-horsepower engine and low mileage in Russia (less than 80,000 km). This car has it all - a sunroof, alloy wheels, ASR (traction control), alarm with auto start, and even headlight beam adjustment.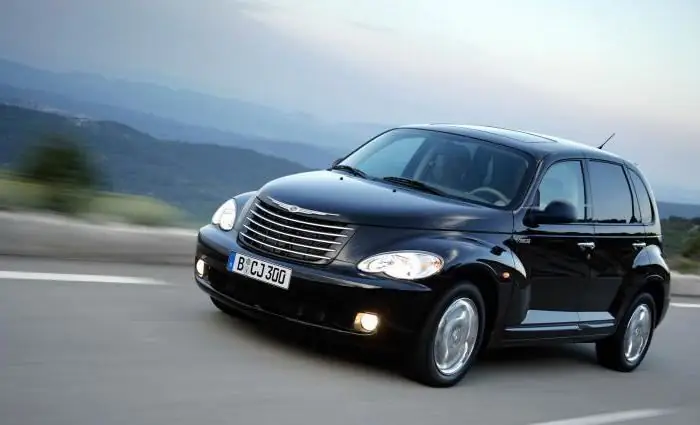 "Charged" version
It is impossible not to note the turbocharged "Chrysler PT Cruiser" with special attention. The 2.4-liter 4-cylinder in-line engine is its main feature. There were, however, two options - for 215 and 230 "horses", respectively. But with each motor, the maximum speed of the car was 201 km/h (with limiter).
This model was known with the prefix GT. In addition to a more powerful motor, she still had pretty good equipment. All wheels had disc brakes with anti-lock braking system and traction control, and the wheels were chrome-plated, larger (17 inches).
Also for these models, the bumper was painted in body color (both front and rear). The suspension for this model has been improved and lowered by 1 inch. And it is impossible not to pay special attentiona custom designed exhaust system that had a wider pipe and was also chrome plated.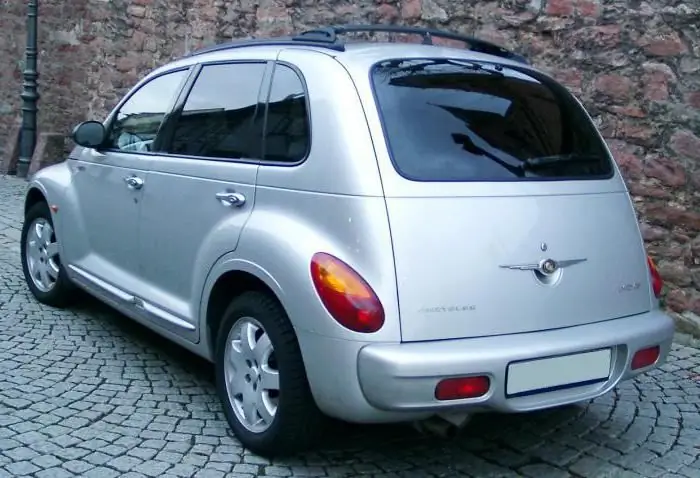 What are the owners saying?
A car like the Chrysler PT Cruiser gets mostly positive reviews. Of the minuses - a fairly large oil consumption. But in return, each motorist receives an excellent "torque" of the engine. On the plus side, parts are pretty cheap. "Chrysler PT Cruiser" in terms of repair is cheaper than well-known Japanese cars. In addition, even now, models from the 2000s consume less than 10 liters of fuel per 100 kilometers on the highway.
Another definite plus is that the Chrysler PT Cruiser engine starts immediately, even if it's -50 degrees outside. In any case, residents of the northern regions of Russia, who used this car, assure. And with proper care and careful operation, it will not require repair. Is that a small one, such as replacing silent blocks, oil, candles, timing and bearings.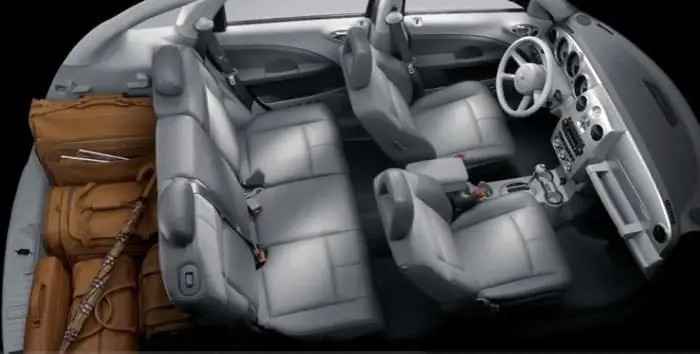 Cost
Finally, a few words should be said about the cost of this car. Its price depends on several criteria. This is the year of manufacture, engine, equipment and condition of the car.
400,000 rubles is an acceptable price for a model produced in 2007. For such a price, a person will receive a car in excellent condition, with a modest mileage and a 1.6-liter 116-horsepower engine working in tandem with the "mechanics". In this case, the machine will have maximumequipment. Side, rear, front and knee airbags, ABS, heated seats, power steering (which is also adjustable), full power accessories, parking sensors, halogen and LED headlights, alloy wheels - and this is just a small list of equipment.
In general, this car is an ideal option for a person who needs a comfortable, practical and original car at an affordable price.
Popular topic