Why do people choose 4WD motorhomes? The answer lies on the surface - our people tend to climb away from civilization, closer to nature, and not crowd in campsites, as most vacationers in Europe do. It is for these purposes that companies produce expeditionary motorhomes on an all-wheel drive base. They are equipped with everything necessary and, at the request of the client, can be completed with additional elements. You will learn about Hyde 4x4 motorhomes and others in this article.
There are a sufficient number of different models, ranging from Russian manufacturers to foreign ones, but it was invented abroad to put the top of the caravan on the base of an all-wheel drive chassis. This article will focus on several cars from various manufacturers.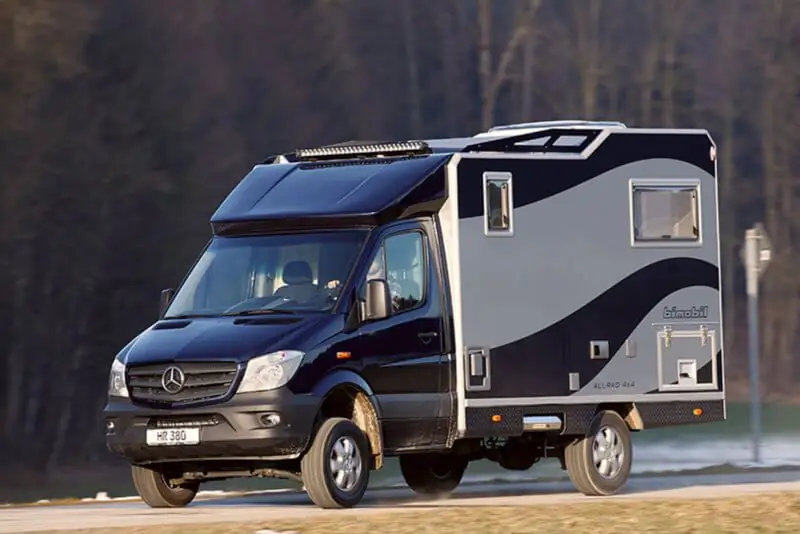 Bimobil HR380
This model is based on a Mercedes-Benz Sprinter chassis. It was shown in January 2018 at the annual exhibition inStutbert. The model immediately attracted a lot of attention. This is a very compact yet very roomy camper. It is in this car that Bimobil decided to install a drop-down bed that allows you to accommodate more people, but at the same time during the day, when interior space is needed, it does not take it up. This is truly an expedition motorhome.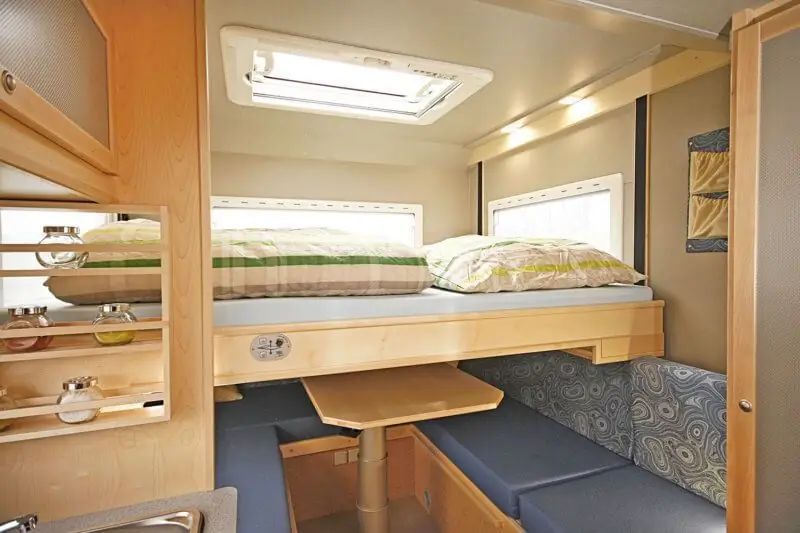 Nimble fellow
Besides the fact that it is built on the basis of the all-wheel drive chassis from Mercedes, you can optionally order a differential lock and a reduction gear, that is, a complete set of necessary equipment. Four people can fit in this motorhome without any problems, but two are most comfortable in it. The kitchen is spacious with plenty of space for cooking and lots of storage drawers. The bathroom is equipped with a separate shower, which is very convenient. Pressing a button above the dining group lowers the double bed, so if there are two people in the motorhome, the table can not be folded.
This circuit uses very practical and useful technology. A Russian person will surely like the presence of all-wheel drive and various locks, given the quality of our roads, as well as their absence.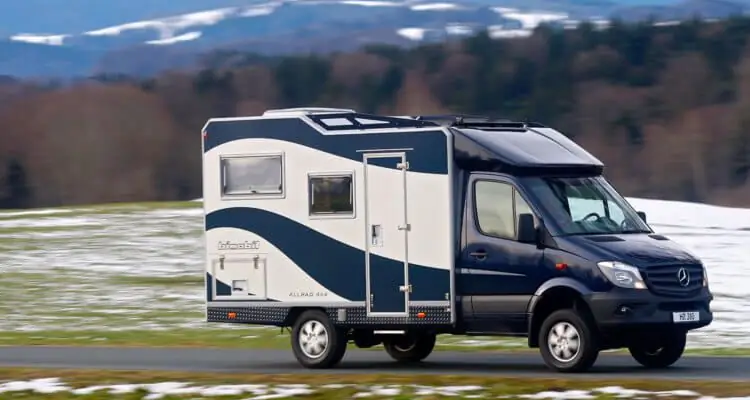 Starliner By Mauer wohnmobile
The body of this motorhome is made in one single integral body, which tells us that various kinds of gaps and cracks will not appear in it, which will eventually let moisture and drafts in.
The camper is based on the Oberaigner chassis. This is an Austrian chassis made for special services, so the resource promises to be quite large. It can truly be called a Mercedes all-wheel drive motorhome, because the chassis has a 6 × 6 wheel arrangement! Inside is a stunning interior made of quality materials: leather and wood. In order for passengers not to be bored on the trip, there is a multimedia system, TV, CD / DVD player.
The model is equipped with underfloor heating, a huge number of storage boxes, you will always have a place to place your things. The kitchen unit is equipped with a full-length refrigerator, microwave and induction hob. Artificial granite is used as a finishing material for the countertop. On the roof there is a large panoramic sunroof and air conditioning.
The shower is separate from the bathroom. The bathroom is quite large, at least there is enough space to wash and go to the toilet.
The bedroom is made very high quality, the furniture is fitted at a high level. As with the rest of the motorhome, the bedroom has audio speakers so you can listen to some relaxing music before bed. And along the perimeter of the bedroom there is LED lighting, which adds coziness and comfort.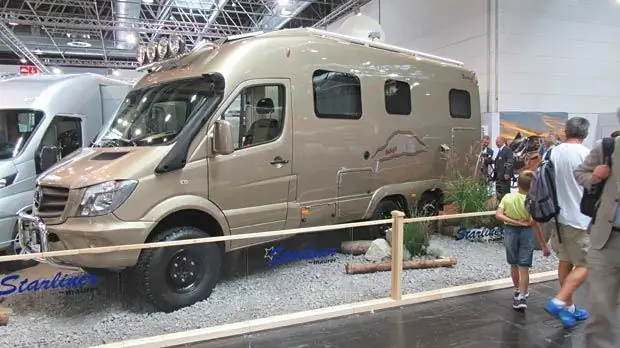 What about ours?
For some reason, Russian companies do not produce all-wheel drive motorhomes, or rather they are produced, but this is a different class of cars. Russian campers are most often built on a cargoplatform, for example, the base from Kamaz. They already have a completely different fuel consumption, they are more intended for hunters than for ordinary people, but since they exist, they should be in this article.
Motorhome "KAMAZ 43118"
It was built on the basis of a three-axle chassis from Kamaz 43118. Residential modules have a rectangular shape, made of sandwich panels. The presence of a fairly large layer of insulation and the presence of stiffeners allows you to feel comfortable in any terrain and climate. The entire motorhome is painted in camouflage.
The cabin itself received only the most necessary things, namely: music, an autonomous Webasto cabin heater and a rear-view camera. In order for you to be able to drive over any terrain, an electric winch is installed on the car. You can get into the living compartment using a retractable ladder. You can go inside through a large door. The interior is made in soft, pleasant colors. It contains elements of faux leather and suede, as well as waterproof laminated plywood.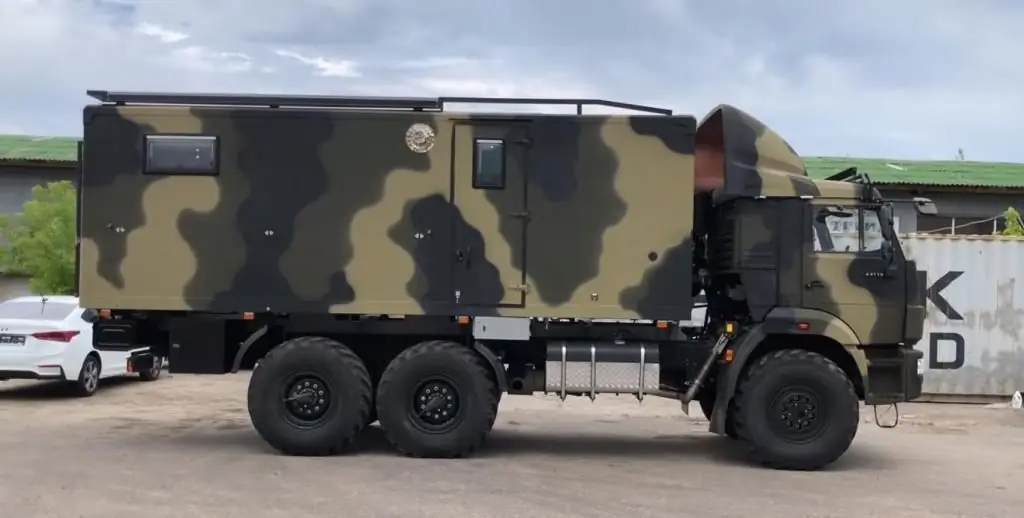 The kitchen of our motorhome is much simpler than European analogues, but it can accommodate as many as six people! But even in such a seemingly small kitchen, you will find everything you need: a gas stove, a microwave, a refrigerator, and even an extractor hood.
The shower cabin, as in European models, is located separately from the bathroom. The cabin itself has a heated tray, which is quite a nice option.
In addition to the dining area, which, if necessary, can be laid out for six beds, there is alsodepartment with a double bed equipped with an orthopedic mattress.
This is the end of the standard set of rooms, but, at the request of the buyer, a sauna can be installed in the motorhome. Do not forget that this all-wheel drive motorhome was created primarily for hunters and fishermen, therefore, in addition to the refrigerator, a chest freezer is installed here so that you can bring your prey home.
Reviews
Motorhome is a very convenient form of transport that allows you to travel with the whole family. As consumers note in their reviews, these models are practical and spacious. They are equipped with everything you need, so you can safely go on vacation without worrying about comfort.
Recommended: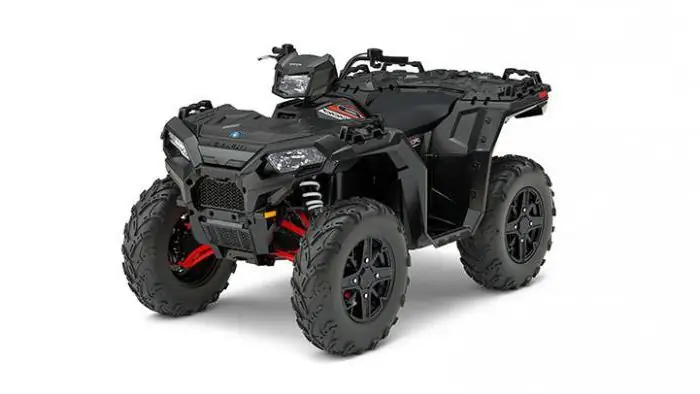 The ATV is not only a modern vehicle that fans of off-road travel love, but also a reliable all-terrain vehicle that can overcome even the most difficult routes. The trademark "Ste alth" is one of the few on the Russian market, which has managed to secure a wide circle of fans in a few years. What characteristics can the manufacturer present and is it profitable to buy this advertised brand?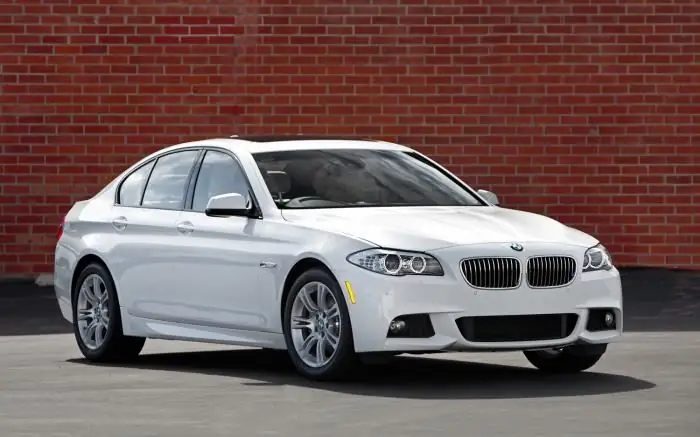 It is generally accepted that four-wheel drive vehicles "use" more fuel, but there are also instances of moderate appetite among them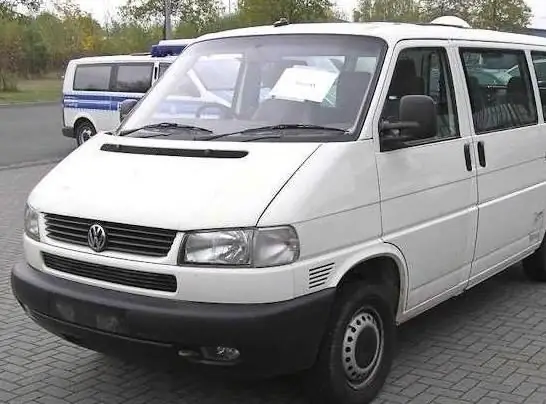 An article about the history of minibuses. The main advantages and disadvantages of two brands of all-wheel drive minibuses are given: "Toyota" and "Hyundai"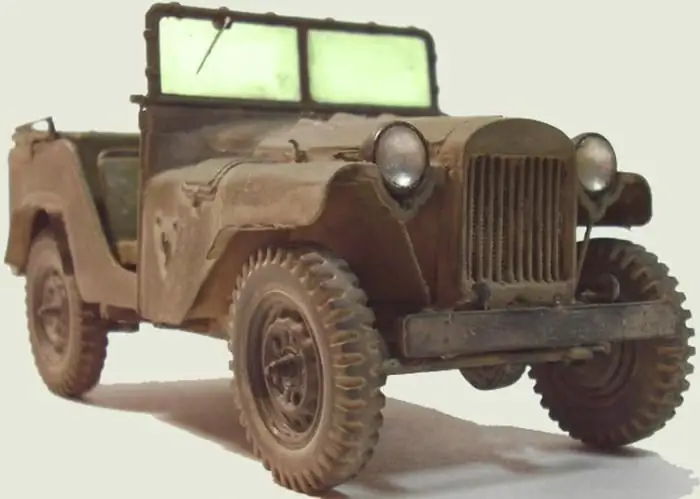 The all-wheel drive car as one of the popular and demanded types of cars makes up a significant part of the existing fleet of such cars, and their number is constantly growing. The advantages of such a vehicle and the opportunities that are provided to its owner more than cover the costs and some inconveniences associated with the operation of such a car
The article will tell about the history of the appearance of heavy motorcycles with all-wheel drive, about what a heavy Ural motorcycle is, about its technical characteristics and capabilities, as well as about what models are in the line of this brand