The Bavarian company has been working on the perfect look of its cars for 15 years. But the scope of the brand is quite rigid, so it will not be possible to roam much. But still, the BMW 7 Series attracts with its appearance, although there is nothing innovative in terms of design here. But the filling is a rather interesting component. Actually, we will talk about all the characteristics in this article.
Some general information
It's been about a year since Mercedes launched its main competitor, the W222, and the Audi A8 hit the road, the Bavarians had no room for error. That is why I had to copy a lot. For example, laser headlights are like those of an Audi, and an adaptive suspension and the smell of expensive French perfumes in the car's interior are a Mercedes feature.
But the Bavarians decided to improve many elements. For example, we put two perfume bottles, each of which can be programmed to spray ina certain intensity. As for the adaptive suspension, it has become more "smart". I learned how to work with GPS-navigation, which will suggest the relief. But whether these systems will work effectively, only time will tell.
BMW 7 Series and its features
Not without innovations that have not been used anywhere before. Now we are talking about gesture control. In the menu there is a "circle view" of the car, which allows you to scroll the car with a gesture and zoom in on one of the cameras. Actually, the expediency of this function is rather doubtful, but it is very interesting to see this for the first time.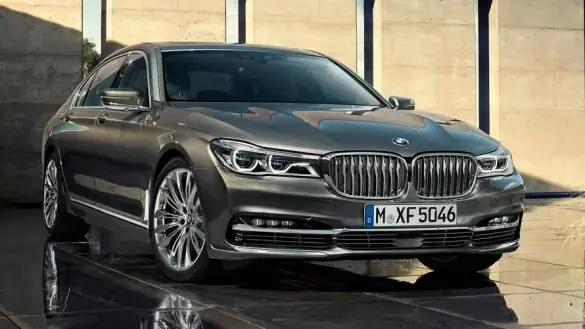 Although adjusting the music volume with a gesture turned out to be a very convenient thing. It is enough to turn your finger clockwise or counterclockwise, as the audio system will respond to the signal. But even here you need to get the hang of it in order to choose the best angle the first time. But if you sharply throw two fingers in front of the screen, then the music abruptly subsides. At this moment, you feel like a sorcerer driving a BMW 7 Series. If you take a sober look at things, then the touch controls look damp and have little functionality. But only an attempt to introduce such systems into a car is worth a lot.
What awaits us in the salon
The BMW 7 Series boasts quality finishes and ergonomics. Every detail looks very thoughtfully, which, in fact, is true. The multimedia steering wheel allows you to control music, communication and cruise control. Behind it is a fully electronic tidy, which has changed little in itsdesign with latest model.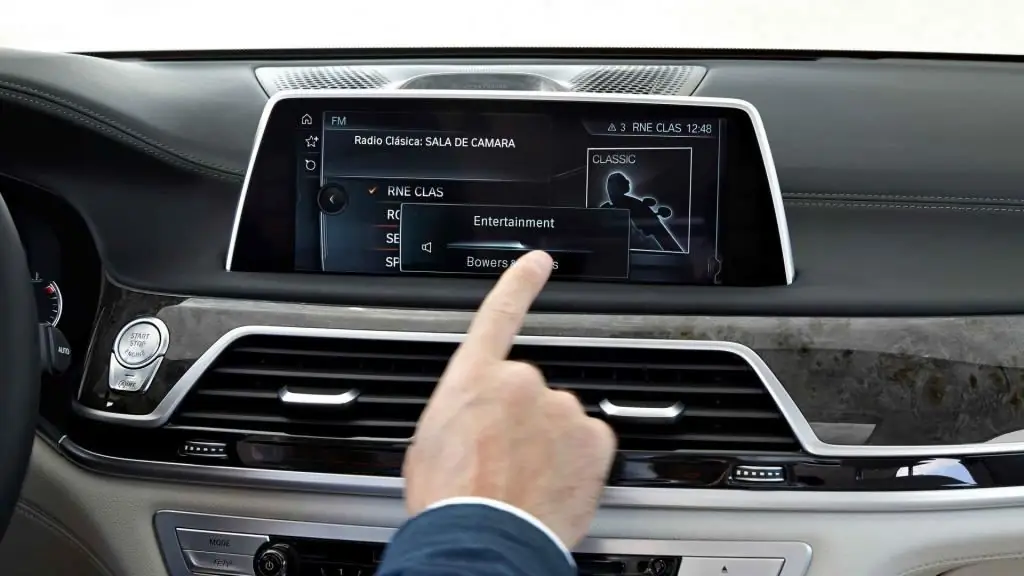 The center console is modern and very functional. What is only a 10-inch touch screen with gesture control. The climate control unit is also extremely simple and functional. As for the material used, it is wood, genuine leather and aluminum.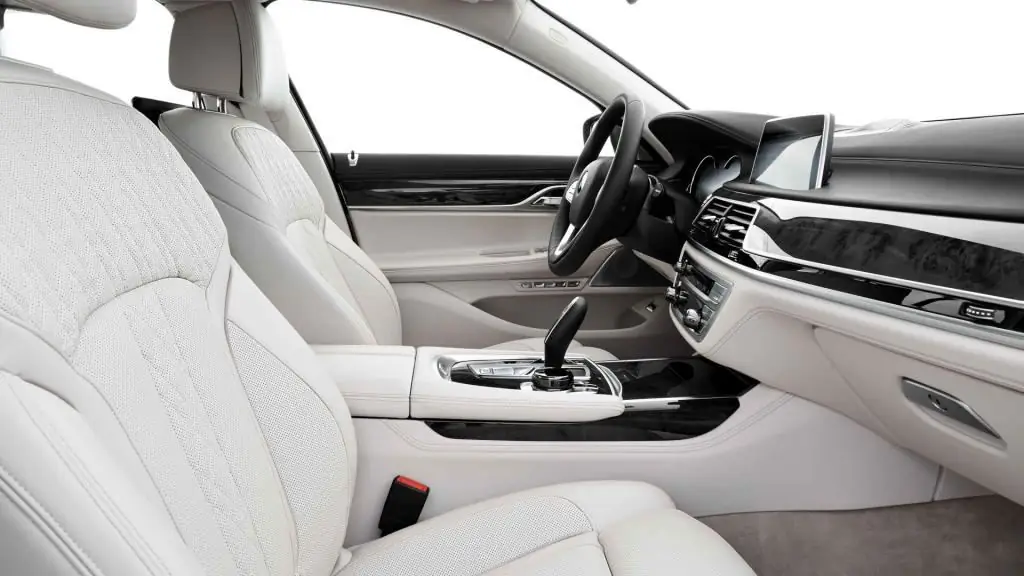 Seats BMW 7 series - a separate topic for discussion. All of them are ventilated and heated, there is even a massage function at the back. The profile of the front seats is thought out very carefully. There are ample opportunities to set the ideal position for the driver. As for rear passengers, they can enjoy 7-inch tablets while riding.
Auto specifications
On the Russian market "seven" is presented in 2 versions - 730d xDrive and 750i. Longer wheelbase models will be designated Ld and Li respectively. Let's look at each version in more detail:
750d - boasts a 3-liter turbocharged diesel powertrain. Its power is 265 hp and the torque is 620 Nm. Acceleration to hundreds in just 5.5 seconds, and for an increased wheelbase of about 5.9 seconds. Fuel consumption according to the passport is only 4.8 liters per hundred, and the maximum speed is 250 kilometers per hour.
730i - has a 4.4-liter V8 engine with 450 hp on board. The fuel supply is direct, all this is complemented by a pair of turbines. Torque 650 Nm. The maximum speed is the same as a 3-liter diesel, but the consumption is alreadyabout 8, 2 liters per hundred. True, the V8 accelerates to hundreds in just 4.4 seconds, which is very good.
Features of the new "seven"
In the 2016-2017 models, the Germans used the new CLAR technology, which involves the longitudinal placement of the power unit. The bodywork of the 7 Series is made up of carbon fibre, high-strength steel and aluminium. This combination can significantly reduce weight and improve dynamic performance, but repairs are many times more expensive.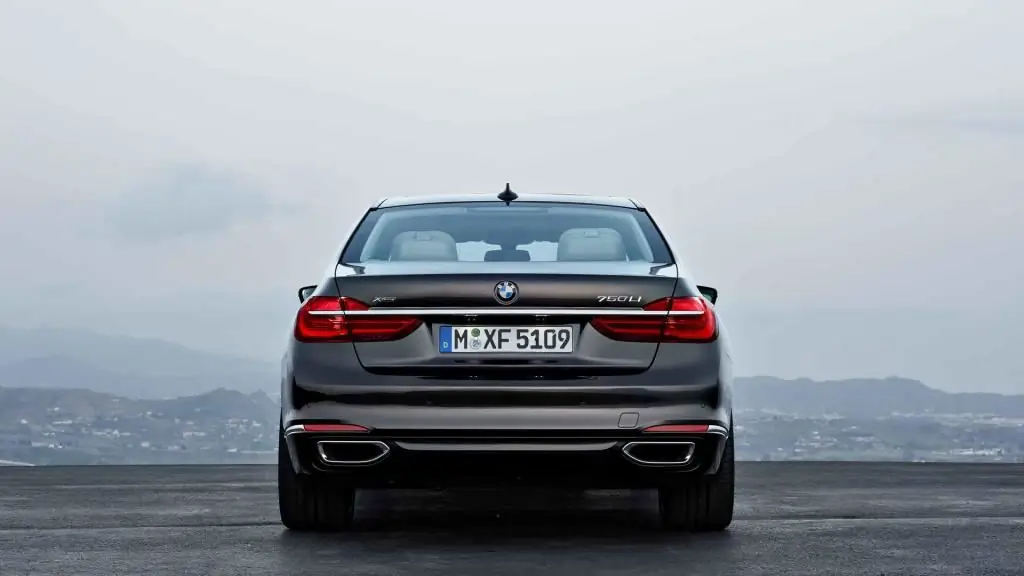 It is worth noting that the new BMW 7 can be controlled remotely. We are not talking about any races without the participation of the driver. But the system does an excellent job of parking. Especially true when there is no place even to open the door. In this case, the driver can park the car remotely, which is very convenient. The curb weight of the "seven" is 1915 kilograms. Whether it's a lot or a little, it's hard to judge. But apparently, the engine is quite capable of accelerating a 2-ton monster, and there is nothing to worry about. Nevertheless, the designers managed to reduce the weight by 160 kilograms compared to its predecessor, and this can be called an excellent result.
Improvement of some technical characteristics
Bavarians are very scrupulous about upgrading their cars. For example, almost all characteristics compared to the previous generation have been significantly redesigned and improved. This applies to the quality of interior trim and some exterior elements. For example, aerodynamic performance has been improved by 15%. To achieve such significantresults, the designers had to change the shape of the side mirrors, make a smooth bottom, rework the air intakes. Another "trick" - adjustable air dampers in the grille. They change the opening angle depending on the needs of the power unit and gearbox.
This is not all the changes that have affected the restyled BMW 7. There will be a hybrid model 740e. It will be equipped with a 2-liter gasoline engine and an electric motor. The latter will have a capacity of 95 liters. with., and in total the car will produce 326 liters. s., which is not even bad. Acceleration to hundreds is carried out in just 5.5 seconds, and fuel consumption is 2.1 liters. You can drive on an electric motor for about 40 km. A decent choice for daily driving to and from work, however, there is no information on the cost of the car yet.
Owner Reviews
Not all drivers of the "sevens" respond positively about the car, although they are the majority. If they talk about the strengths of the car, then we are always talking about comfort. Even in "sport" mode, the ride is as pleasant as possible. Even though the road will not be as good as we would like, this is completely unnoticeable behind the wheel of the 7 Series. Many note excellent handling compared to many Japanese and American cars. If you take a gasoline engine with an automatic and rear-wheel drive, then you can count on an average consumption of 15 liters. Well, for whom every penny is dear, the more suitable is a 3-liter diesel engine. It is reliable and torquey.
As for the cons, here they are. Highlyattention is often focused on the fact that the eminent German quality is gradually losing ground. Someone for 40 thousand kilometers had 5-6 warranty repairs. It would seem that replacing a thermostat or a wiper motor is a trifle, but this leaves its residue. At least that's what many drivers say in their reviews. The BMW 7 is a car to be enjoyed while it is under warranty. Post-warranty operation can hit your pocket hard, so in 3-5 years we boldly go for a new car.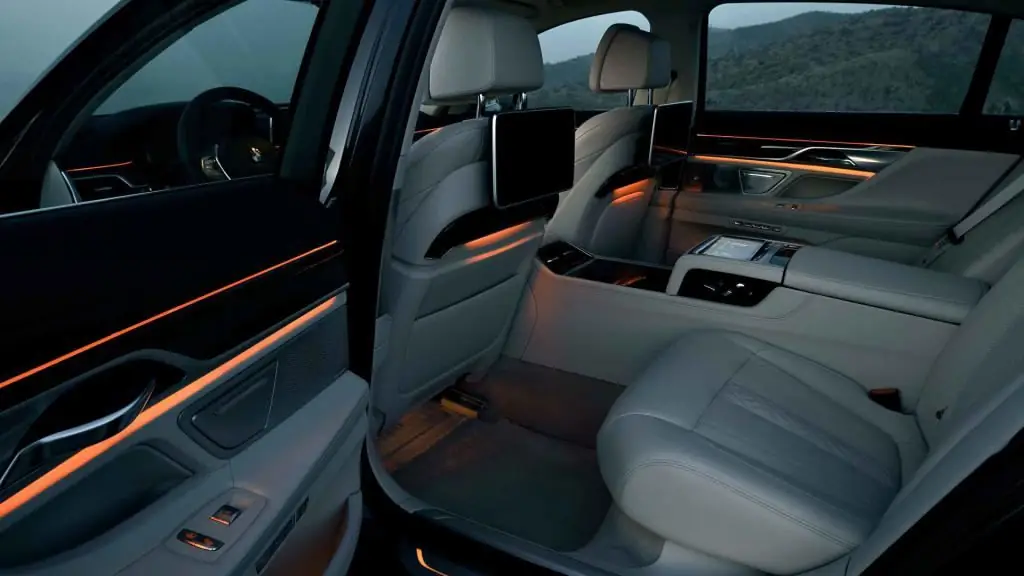 Seven options
The new generation of "BMW" will be equipped not only with laser headlights, but also with a large number of other useful electronic systems, depending on the configuration of the car. For example, all-round cameras will appear, there will even be an assistant when driving in traffic jams. A panoramic glass roof with 6 lighting options is also available. True connoisseurs of quality music will certainly appreciate the Bowers and Wilkins audio system. The head-up display, which has been enlarged by 75%, will also please the eye.
As noted above, rear passengers can enjoy a pleasant pastime with 7-inch removable tablets. The maximum configuration will be climate control with air ionization. In general, there is something to surprise even sophisticated drivers. As for the price, in Europe the starting price for a car is 80 thousand euros, respectively, it can be assumed that in Russia the minimum equipment will cost about 5.5 million rubles. But hardly lesswas to be expected, because you have to pay well for quality and comfort.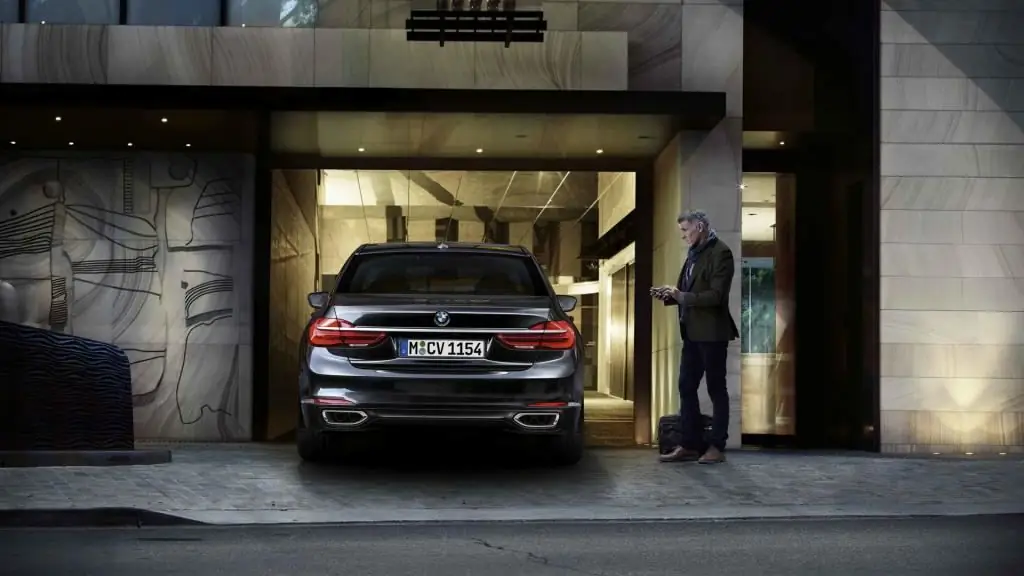 Summarize
So we looked at the new BMW 7 model. The characteristics of the car, as you can see, are very worthy. In technical terms, the car is very interesting. The Bavarians do not lose their brand and make classics with rear wheel drive. Although, buying a diesel, you can get an all-wheel drive model. Nevertheless, the power of the power units implies a fast and active ride even over rough terrain, and here it will be very useful if all 4 wheels are spinning.
The car, without any doubt, deserves a high score. Automotive experts highly appreciated the new model. Although it is not without flaws, it is worth buying it. Especially for highway or city driving. For off-road, it is still not very suitable, although, when necessary, it will definitely cope with the task. The Germans paid much attention to soundproofing and safety. Therefore, moving along the highway, even at high speed, you will feel comfortable. Well, if there is not enough money for a top model, you can start with the e65 body. The BMW 7 looks great in it.
Recommended: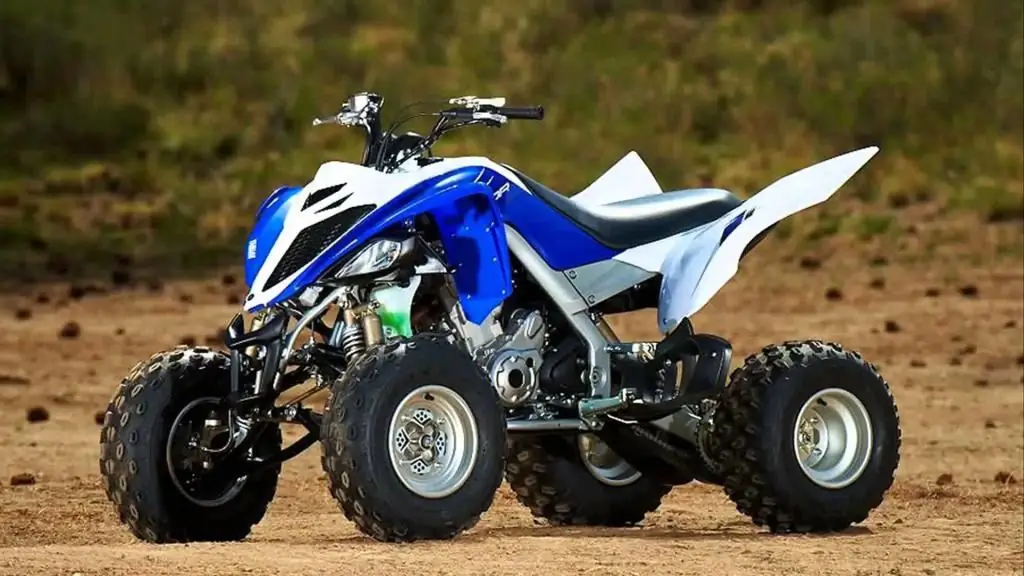 Japanese company Yamaha, specializing in the development and production of motorcycles, is not limited to motorcycles and develops scooters, snowmobiles and ATVs. One of the best ATVs of the Japanese company is the all-terrain vehicle "Yamaha Raptor 700"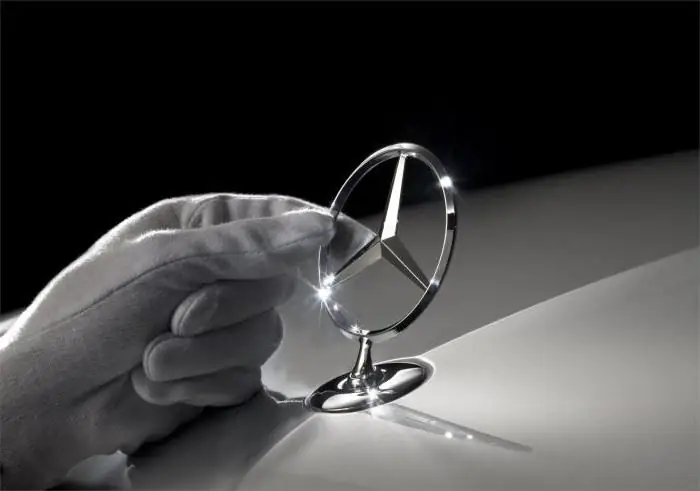 Badges of brands of cars - how diverse they are! With and without a name, intricate and simple, multi-color and plain … And all are very original and interesting. So, since German, American and Asian cars are the most common and in demand, then using the example of their best cars, the topic of the origin of emblems and names will be revealed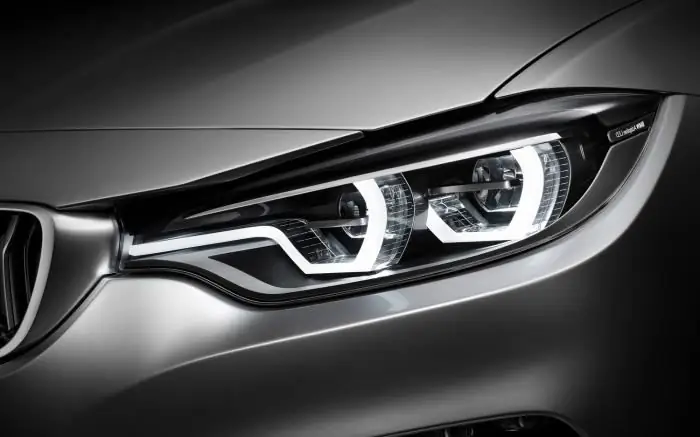 BMW 4 Series is a prestigious coupe from the Bavarian company, created to occupy a niche between the "troika" and the representative "five". BMW 4 was presented in 2013 at the Detroit Auto Show. Then the creators presented the body and the very concept of the future model. A version of the M4 and a convertible have already been shown in Tokyo. At the moment, the car is available in three versions - BMW 4 Coupe, Gran Coupe and Cabriolet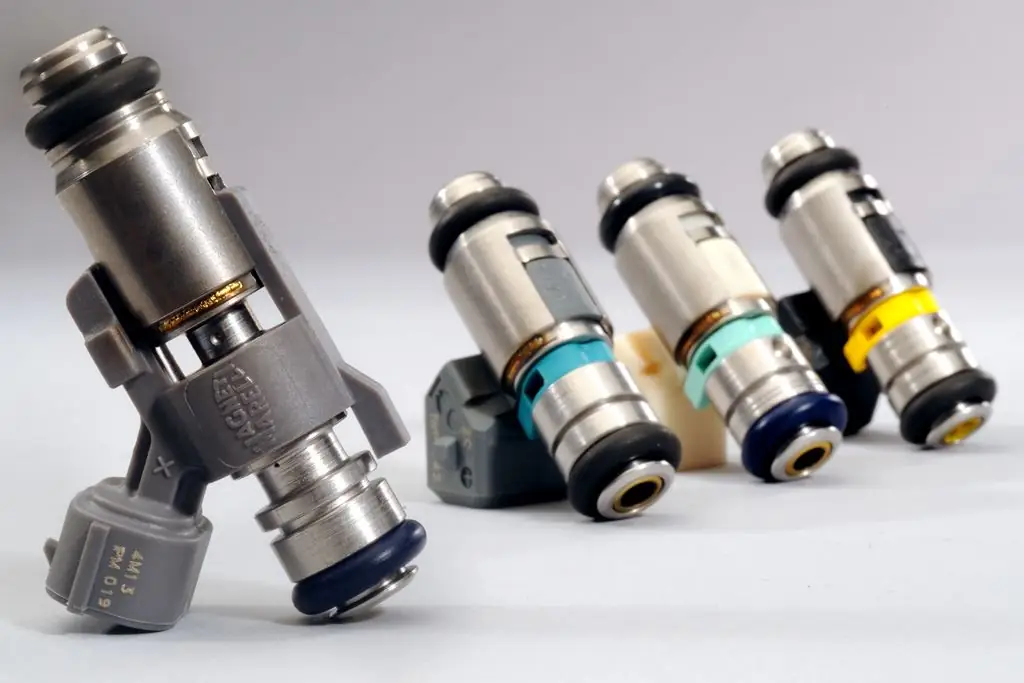 For more than a hundred years, the car has firmly established itself in our lives. During this time, managed to become a familiar, everyday means of transportation. Let's see what the difference is between a carburetor and an injector, what advantages and disadvantages they have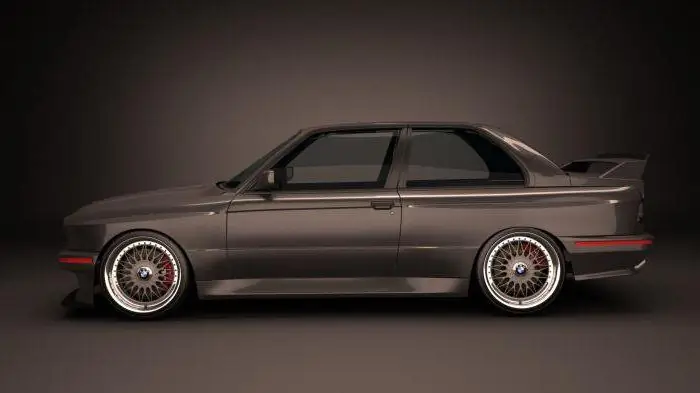 BMW E30 is a famous body. It has rightly become a classic. Well, indeed, at one time everyone knew about this car. And still many dream of buying it. So what should be said about this model in more detail