Honda CBR1100XX was released in 1996. At that time, he immediately took a leading position in speed, but later, focusing more on sports tourism, the manufacturer gave way to Kawasaki and Suzuki, which achieved higher speed indicators.
A bit of history
So, the Honda CBR1100XX, whose performance at that time was exceptional, gained great popularity, because in addition to power it had an excellent combination of quality, good handling, reliability and comfort.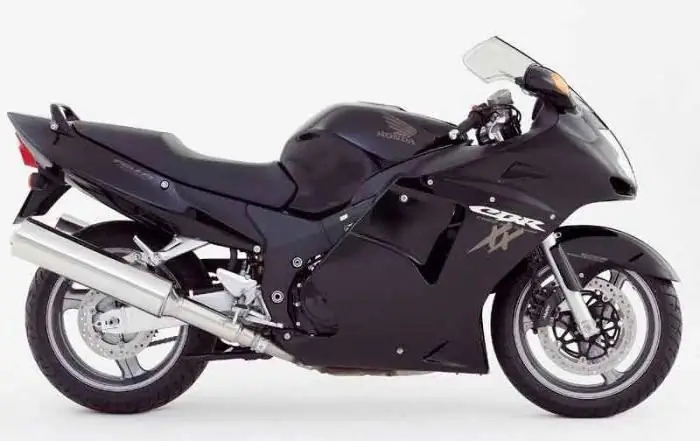 The modifications that appeared later were not changed much, because the model was originally developed very high quality.
But in 1999, the company decided to add an option to the motorcycle - a fuel injection system. The light ahead, air intakes, oil cooling systems and clutches have changed a bit. The main color until that time was black. But a little later, blue also spread.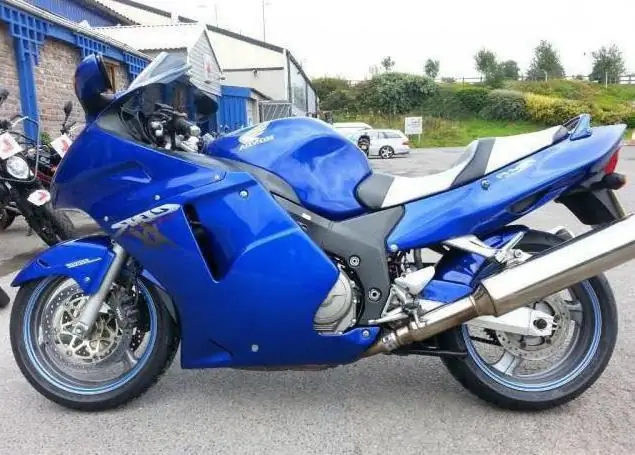 After that, no more changes were made for four years. Only in 2001 the panel was slightly redesignedappliances. But the mechanics were not touched.
Honda CBR1100XX Super Blackbird and its competitors today
For motorcycles, power is probably the main characteristic that is guided by when buying. The Super Blackbird held the lead until 1999 when Suzuki released their GSX 1300R Hayabusa, increasing speed by eight kilometers per hour.
In addition, another company, Kawasaki, also came out with their models - ZZR 1400 and ZZR 1200, achieving even higher speed results. Further, the struggle unfolded between these two manufacturers, while Honda improved the sports and touring style to a greater extent.
Motorcycle looks
Before the Honda Blackbird CBR1100XX was released, manufacturers were trying to reduce the size of motorcycles and increase their power as much as possible. But Honda went the other way. She made a really big motorcycle. His tail has a rather original shape, completing a harmonious design and giving a certain amount of aggressiveness. Since the release of the base model, the appearance of the motorcycle has hardly been changed.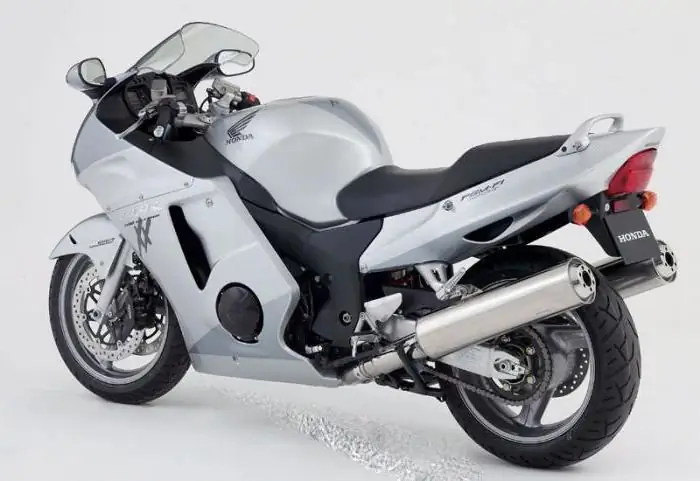 Specifications
Honda CBR 1100XX has a 1137 cc liquid-cooled 4-cylinder engine with 2 overhead camshafts. Thanks to these characteristics, the motorcycle has a smooth ride, and when riding there is incredible comfort for this class. Its ease of use has made it a favorite with many.bikers around the world.
Transmission, as in any Honda model, is made at the highest level. However, it is necessary to monitor the condition of the final drive chain and its tension.
The frame isn't really stiff, and you feel it when you ride it. But for speed tourism, everything is perfect here: good wind protection, a comfortable fit, a powerful yoke and a powerful engine - this is everything a tourist can only dream of.
The motorcycle is available in three versions:
injector;
carburetor;
injector with catalyst and lambda probe.
The braking system allows quick stopping when driving at any speed. However, a novice motorcyclist is hardly worth buying such a motorcycle right away. Many experts do not get tired of repeating this.
Motorcyclists about Honda CBR1100XX
But some bikers who have tried this bike think otherwise. They claim that riding the Honda CBR1100XX Super Blackbird is perfectly stable both in city driving and at decent speeds on the highway. At speeds of more than a hundred kilometers per hour, the motorcycle, in their opinion, remains absolutely controllable. It also justifies itself on turns, but, of course, one should not forget about caution in any case.
Since the advent of the "superthrush", as motorcyclists call it, it has become the most popular in its class. At present, three hundred kilometers per hour is no longer something transcendental, sincemodels came out with great potential. But at the time of the release, the main competitor, the Kawasaki ZZR 1100, quickly stepped off the podium, giving way to the Honda CBR 1100XX.
Today, many bikers prefer to purchase other models that not only are not inferior to him in power, but can even surpass. At the same time, one very significant advantage can be found in them, namely excellent handling. Of course, the management of the "thrush" is good. But at speeds over two hundred kilometers per hour, anxiety still appears, especially when cornering. Of course, an excellent braking system can save the situation. But for sporty riding, motorcyclists lean towards better-handling models.
Popular topic