Americans are very fond of big and spacious cars. Therefore, they have a large number of full-size SUV cars in their fleet. Chevrolet Suburban is a bright representative of this class. The car was developed by Chevrolet (a division of GM).
Today this SUV is one of the most popular. Its features and specifications will be considered in this article.

Almost 100 years in the automotive market
The first models left the assembly line in 1935. The car almost immediately attracted the attention of a wide audience. Impressive dimensions, frame construction and a powerful engine - all this is of great importance to many Americans. Currently, 11 generations of this model have already been released. It is produced under various brands such as GMC and Cadillac.
The latest generation of "Suburban" has not lost the classic features of the American automotive industry. But at the same time stylish and even aggressiveappearance and thoughtful design makes this SUV unusually relevant and modern. The headlights of the model are almost rectangular, and the radiator grille is made in the shape of a trapezoid, chrome-plated according to the classical scheme. In general, straight and even lines prevail here, but at the same time, the car cannot be called a "square" one. Its design is quite strict, which is especially emphasized by the impressive size of the SUV.

About the interior of the car
Actually, if the car looks very restrained from the outside, then inside everything is somewhat more concise. In this case, although some luxury is manifested, it is not too much. Unlike many modern cars, the interior is extremely simple. And it "clings" with its spaciousness and comfort. Finishing materials are also quite high quality. Leather seats and 4-spoke steering wheel. The instrument panel of the electronic type looks very stylish, its "light" backlight, which does not strain your eyes at all, stands out in particular. It has a minimum of hot shades and a maximum of cold ones, which is well perceived by the human eye.
In the center is a seven-inch on-board computer with a lot of useful features and settings. A little lower is the audio control panel, and even lower is the climate control. Actually, the cabin has everything you need for comfortable trips both on the highway and off-road. There are a couple of sockets for charging gadgets, as well as a USB output and an interface for a smartphone.

Does the Chevrolet Tahoe Suburban drive?
Motorists very often have the opinion that on asph alt an SUV gives a minimum of comfort. It is unlikely that such a judgment can be called correct. The presence of a frame structure does not yet indicate low vehicle controllability. "Suburban", for example, is equipped with a front spring and rear multi-link suspension of an independent type. This suggests that various kinds of obstacles and bumps while driving will have a minimal impact on the comfort of the driver and passengers.
The length and width of the body are 5.68 and 2.04 meters respectively. This suggests that driving in the metropolis and parking will be a real quest for the driver. At least until he fully gets used to the dimensions. But the clearance of 238 mm will allow you to park on curbs and cross various kinds of obstacles. Only now the mass of the car in 3, 31 tons becomes a problem. To move such a vehicle requires a serious torque.
Chevrolet Suburban specifications
The first thing you need to pay attention to the motor. The power unit of a gasoline type car. Its volume of 5.3 liters produces 355 horsepower. It may not seem like much, but torque is much more important here. 513 Nm are working from the bottom, so the 3.31-ton machine moves off the ground quite cheerfully, if I may say so.

Paired with a naturally aspirated engine, an automatic six-speedgearbox Hydra-Matic 6L80. It is very simple and reliable. The main features of the transmission in its modes are "trailer towing" and "active braking function when driving downhill". The last option, taking into account the mass of the SUV, is extremely relevant and necessary. The maximum speed of the Suburban is 180 kilometers per hour.
Consumer reviews
Chevrolet Suburban IX in the US market is considered one of the most popular full-size SUVs. The latest generation has many positive reviews. Consumers note the following benefits of the vehicle:
excellent salon functionality;
lots of space inside;
presentable appearance;
volumetric trunk;
engine with excellent traction characteristics;
quality audio system.
The latest generation has almost no negative reviews so far, apart from a few little things. For example, a limited number of readable DVD formats for rear passengers. The main disadvantage is the monodrive. Only the maximum configuration has all-wheel drive, which significantly increases cross-country ability.

Riding comfort
Designers constantly have to solve problems with the handling of this kind of SUVs. The fact is that a long wheelbase, high ground clearance and weight contribute to a natural deterioration in handling. If the Suburban is in a straight line at highspeed rulitsya normally, then in turns you need to be extremely careful. Banks and rolls are common.
It was possible to slightly increase handling due to the soft suspension. Chassis has a really high smoothness. If the roadway defects are insignificant, then the driver and passengers simply will not notice them. Even on serious bumps, you will not feel like in a tractor. In general, handling can be rated at 3/5. It will be especially difficult for the driver on a winding road.
Family car
Something, but there is enough space in the cabin of the Suburban for a large family, transportation of oversized cargo and other purposes. It is worth noting that the trunk volume is 1255 liters. This allows you to transport household appliances or furniture. But that's not all. If you remove the 3rd row of seats, then the volume doubles and is already about 2500 liters. If necessary, you can place luggage on the roof of the car by installing special arches.
Chevrolet Suburban, a photo of which you can find in this article, is perfect for traveling with the whole family, for example, at sea or for a long vacation in nature. You can take everything and even a little more with you. It is for these qualities that the car is so valued in America.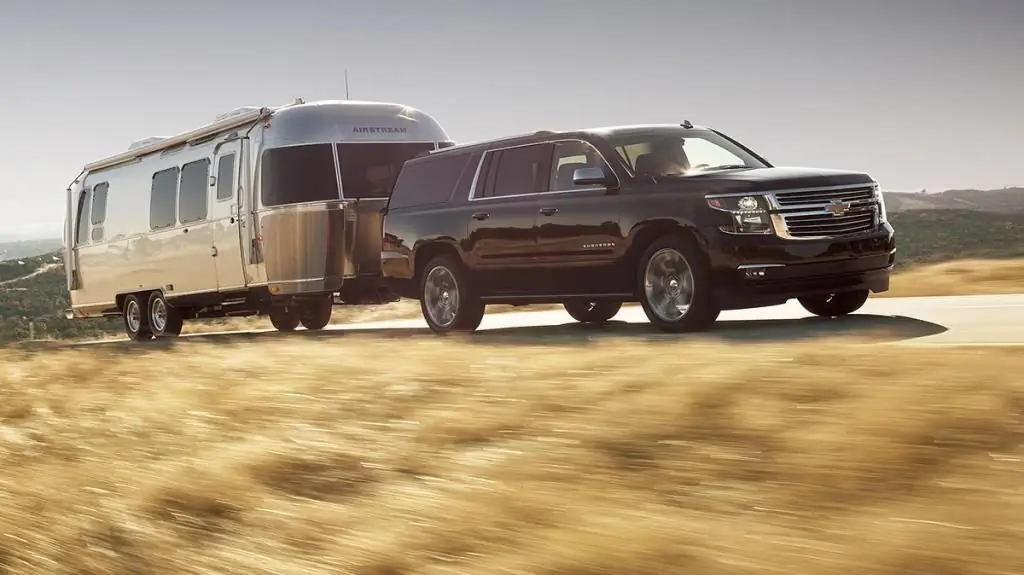 Summarize
The latest generation of "Chevrolet" is equipped with several power units. The most powerful engine is an 8-liter aspirated engine with a capacity of 340 hp. With. There is also a 6-liter power unit with 320 hp. With. The latter is quite difficult to buy. It can be doneonly on order, but you will have to wait at least six months.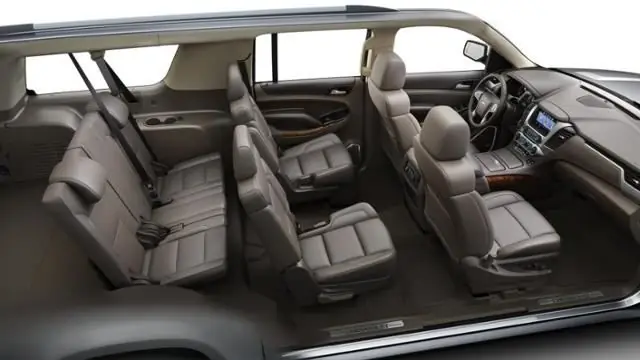 Of course, this car is not for everyone. Firstly, it is not cheap at all, and especially if it is with a top-end engine and in the maximum configuration. Secondly, for such a machine, an appropriate application is necessary. If you plan to use it in a metropolis, then this is not the best solution. She eats a lot of gasoline, maneuverability is low, and almost all the features of the model are lost. But for traveling to different cities, and sometimes rough terrain, with friends or family - this is what the Suburban SUV can easily handle. The machine just has a high margin of safety and a good resource of spare parts. It has reinforced suspension parts, so there is nothing to fear.
Recommended: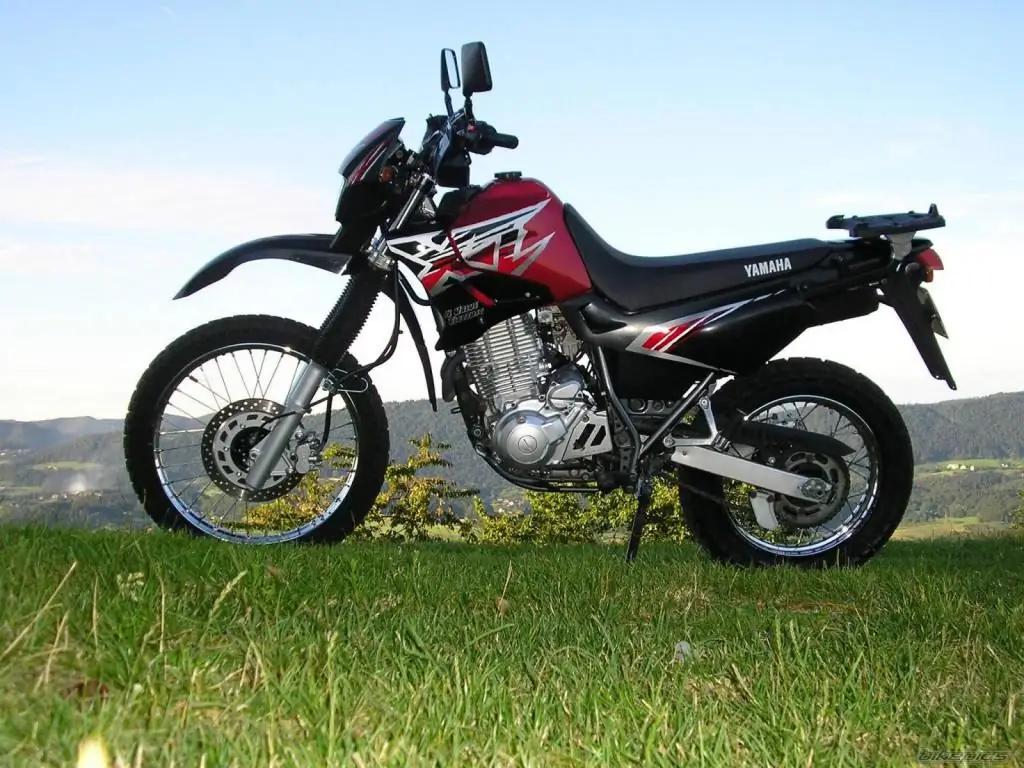 The XT600, developed in the 1980s, has long been considered a legendary model by the Japanese motorcycle manufacturer Yamaha. A highly specialized enduro over time has evolved into a versatile motorcycle designed to travel both on and off the road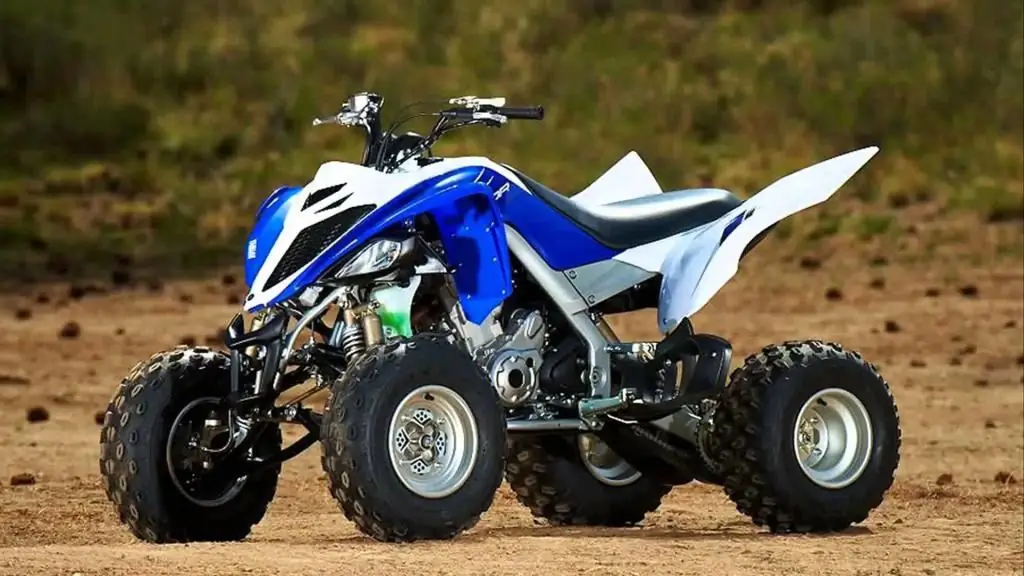 Japanese company Yamaha, specializing in the development and production of motorcycles, is not limited to motorcycles and develops scooters, snowmobiles and ATVs. One of the best ATVs of the Japanese company is the all-terrain vehicle "Yamaha Raptor 700"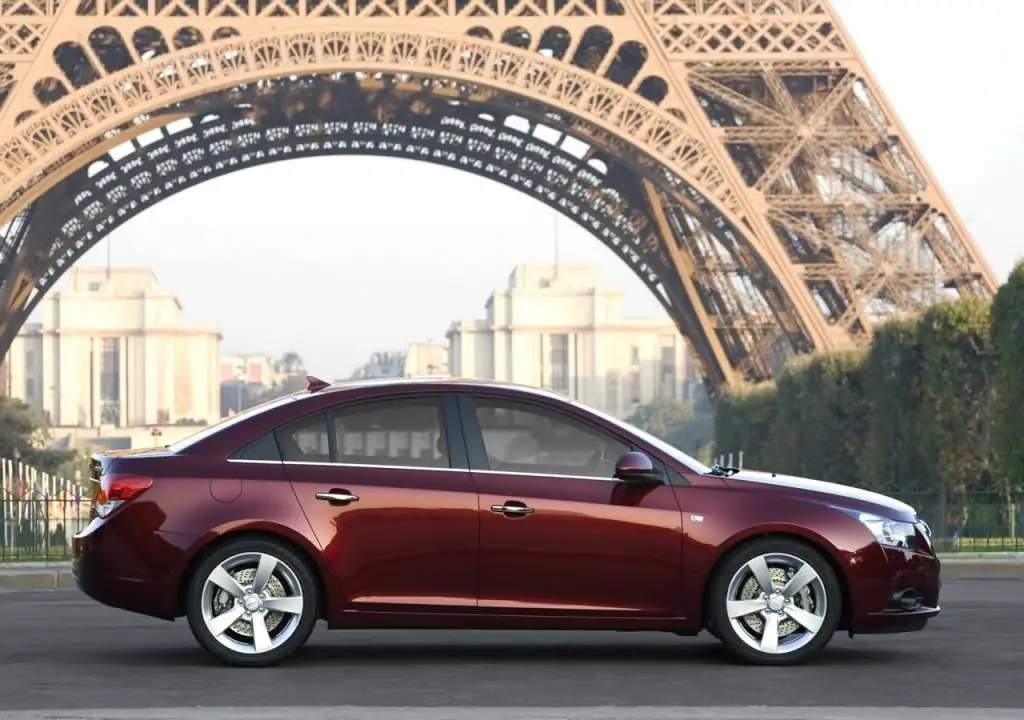 In Russia, Chevrolet Cruze hatchbacks and sedans were produced at the company's plant in St. Petersburg (Shushary). With a station wagon body, cars were produced at the Avtotor plant in Kaliningrad. Reviews about this car are somewhat contradictory, especially in the Russian automotive community. In this article, we will analyze the pros and cons of the Chevrolet Cruze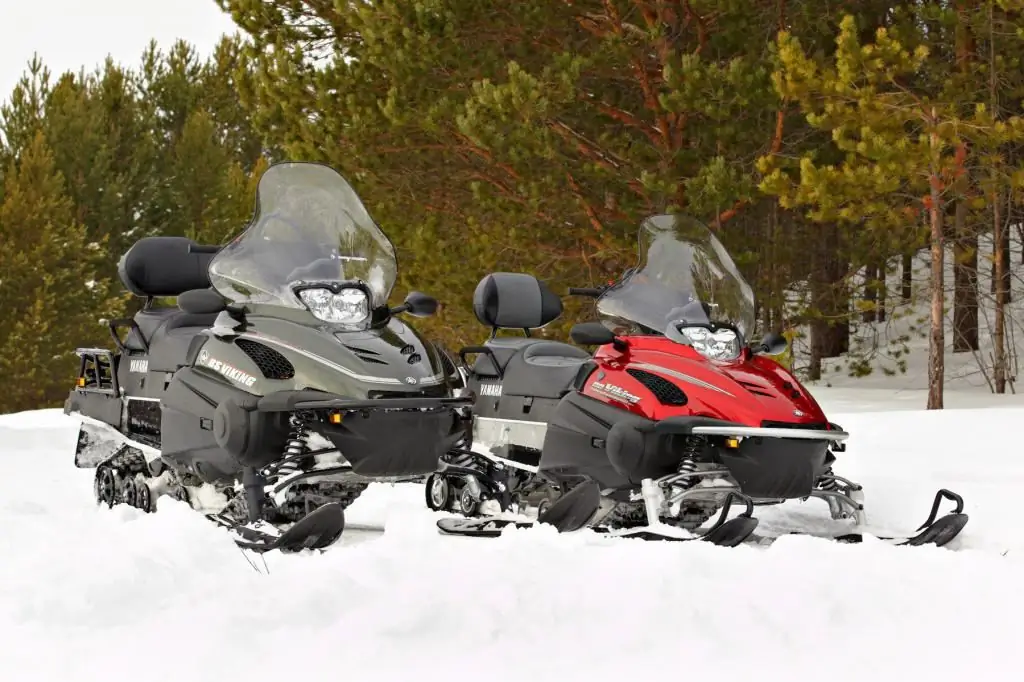 "Yamaha Viking Professional" - a real heavy snowmobile, designed to conquer mountain slopes and snowdrifts. From the curves of the front bumper to the roomy rear luggage compartment, the Yamaha Viking Professional literally speaks of its utility snowmobile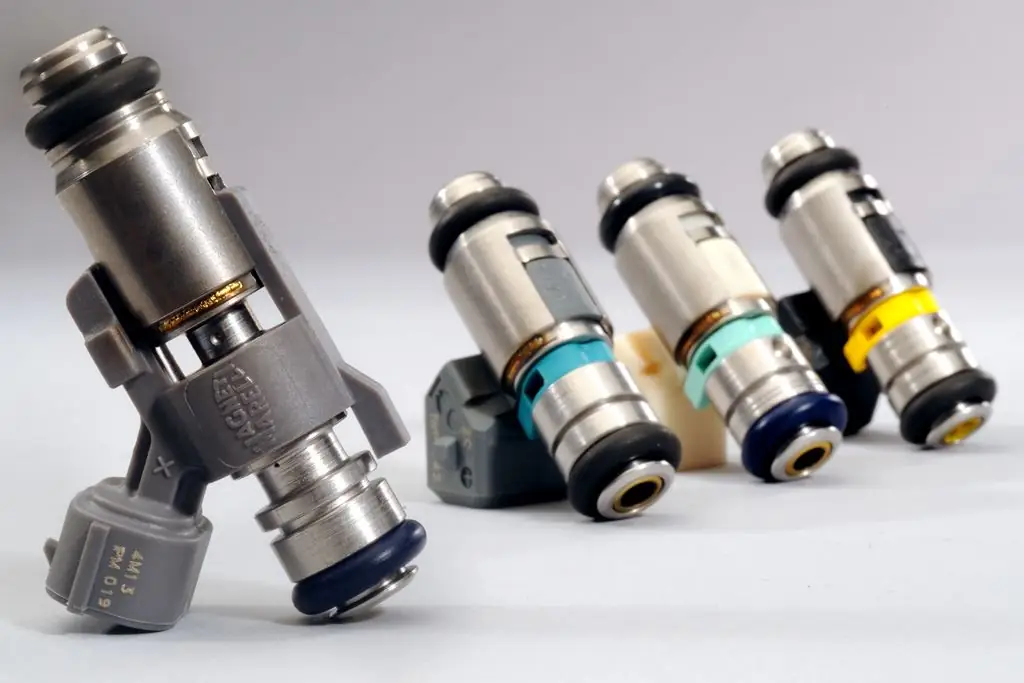 For more than a hundred years, the car has firmly established itself in our lives. During this time, managed to become a familiar, everyday means of transportation. Let's see what the difference is between a carburetor and an injector, what advantages and disadvantages they have