Honda VFR 800 is one of the most beautiful "Japanese" with a sporty behavior. First released by Honda in 2000, it has not lost its relevance to this day. This is not surprising - great design, high (for a sport bike) level of comfort and excellent technical characteristics - all this has made the Honda VFR motorcycle so famous and popular for 13 years.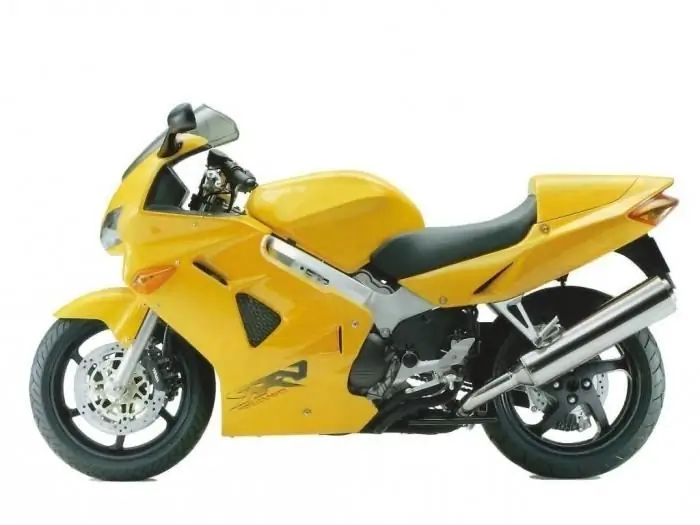 As many people know, this bike belongs to the sports and tourist class, which indicates the versatility of this technique. Smooth asph alt, mountain passes, sandy roads - all this is equally well suited for driving a Honda VFR. And what is remarkable, on this motorcycle the driver will be able not only to get over all obstacles, but also not to feel discomfort.
If we talk about technical characteristics, then, first of all, we should talk about the heart of this bike - about its motor. It is a four-stroke, equipped with four cylinders and sixteen valves, and is liquid-cooled.
The engine capacity is 782 cubic centimeters, its power reaches 107 horsepower, and the torque is 8750 rpm. The volume of oil required for the normal operation of the engine is 3.8 liters. Turnoversat idle they reach 1200. The Honda VFR 800 has an injection fuel system with a tank capacity of 22 liters. The transmission is a chain, the number of gears is six.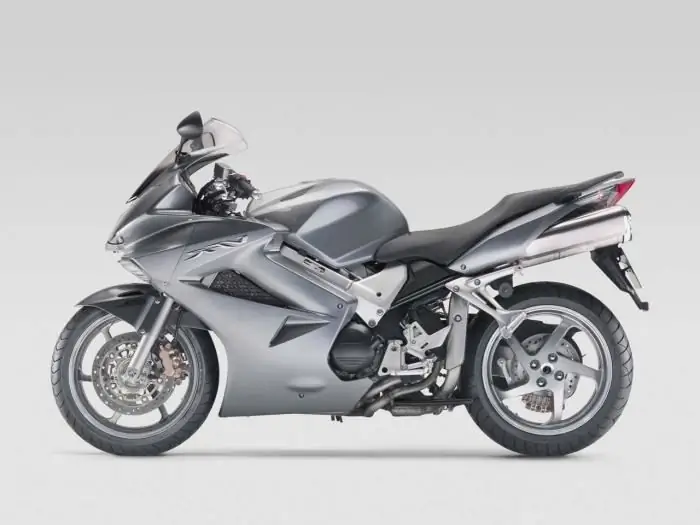 With such impressive data, the motorcycle has small dimensions, which is very convenient for the pilot, as it is easy to hold in any maneuvers. The weight of a fully equipped Honda VFR 800 bike is only 208 kilograms, its length reaches two meters, and its height is one meter. At the same time, the motorcycle can take away a fairly large load - its carrying capacity is 195 kilograms. The maximum speed of the motorcycle reaches 235 kilometers per hour.
Like any technique, the Honda VFR 800 motorcycle has its pros and cons. Its undeniable advantages include speed and maneuverability, which allow you to move with sufficient speed along a difficult track with a large number of turns, and this is a very important property for a sports motorcycle. This bike is also famous for its increased level of comfort - even after driving hundreds of kilometers on a not very flat road, the driver will not feel too tired and overwhelmed. The softness of the ride is ensured by a good suspension and high-quality shock absorbers installed by the manufacturer.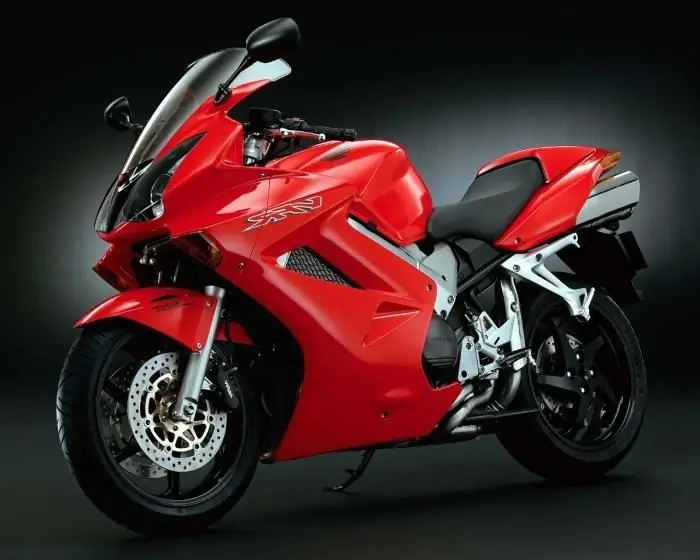 Also appreciated by the owners of the Honda VFR 800 is its excellent braking system, good balance and almost no vibration. The traction power of the motorcycle is no less remarkable - it manifests itself even at low speeds, which makes it easy to get up.on the rear wheel.
However, this bike also has disadvantages, although they are not numerous. Due to the wide side cases, the width of the motorcycle has significantly decreased, which prevents a comfortable ride in city traffic jams, and fuel consumption is not too small. In addition, after reaching 6800 rpm, acceleration is quite sharp.
One more thing - the Honda VFR 800 has a fairly complex design, so its self-repair is very difficult.
Popular topic