There are various family type cars. First of all, they include minivans and minibuses. There are many such models on the market, and it is very difficult to choose the best among them. In this article, only some arbitrarily chosen family cars are considered. To introduce objectivity, the ratings of various sites, organizations and publications, as well as user reviews were taken into account.
Classification
First of all, it should be noted that family cars usually include those that have a minibus, station wagon, minivan body. Any of them can have 7 seats. The differences are in the proportions of the body and the layout of the cabin.
Universal - the most squat among the named options. Most of these cars are built on the basis of sedans and differ from them only in the back. Minivans, although they can be built on the basis of passenger models, have individual bodies that are higher than station wagons. Plus, they are more upright. Due to this, their salons are usually more spacious, especially in height. Passenger minibuses are usually not created on the basis of cars. ATthey are generally larger and more spacious than minivans. 7-8 seats is the minimum number for such models. Therefore, they are rarely used as family cars.
It should be noted that many full-size and even some mid-size SUVs have 7-seat versions. Such cars have station wagon bodies and their interior configurations correspond to it, so these cars are also considered family cars.
By size, minivans are divided into compact, mid-size and full-size. Machines of the first type are similar in size to compact urban models. Usually they have 5 seats. These are, for example, Nissan Note, Opel Meriva, Citroen C3 Picasso. Mid-size cars can be 5- or 7-seater (Mazda 5, Renault Scenic, Opel Zafira, etc.), while full-size cars have 7-8 seats (Chrysler Pacifica, Toyota Estima, Volkswagen Transporter, etc.). This article discusses some of the latest types of machines.
According to the cost, minivans, like other cars, are classified into budget, middle class and expensive. The cheapest options on the local market are Chinese manufacturers in the absence of such models from Russian firms. The only car of this type is Lada Largus, which is a station wagon, but has a 7-seater modification. And then it is only a local version of the Dacia Logan MCV. "GAZ Sobol" and "UAZ 2206" are minibuses and are rarely purchased as family cars.
It is difficult to define a clear line between mid-range minivans and expensive models. The first one caninclude most compact machines of various origins, as well as some medium and full-sized ones. The most expensive are premium minivans, especially for corporate use.
By purpose, these cars can be divided into family and executive. The former have functional, spacious, comfortable interiors. They can be quite well finished and provide an extensive list of equipment, but the main parameter of the interiors of such cars is usually functionality. This type includes most minivans of various sizes (Opel Meriva, Mazda 5, Hyundai Grand Starex, etc.).
Executive models are vastly superior in terms of finish, features and comfort. Such minivans are distinguished by the fact that their interiors are close to business-class cars in terms of decoration and equipment and can even surpass some of them. In addition, they usually have a more advanced technical base than family options: more efficient power units, more advanced transmission, more complex chassis. These are, for example, Toyota Alphard, Mercedes Benz V-class, etc.
Toyota Alphard
This is a Japanese model, produced since 2002. Now the third generation reigns on the market (since 2015). The manufacturer positions the Alphard as a top-class car, so it is not available to everyone as a family minivan.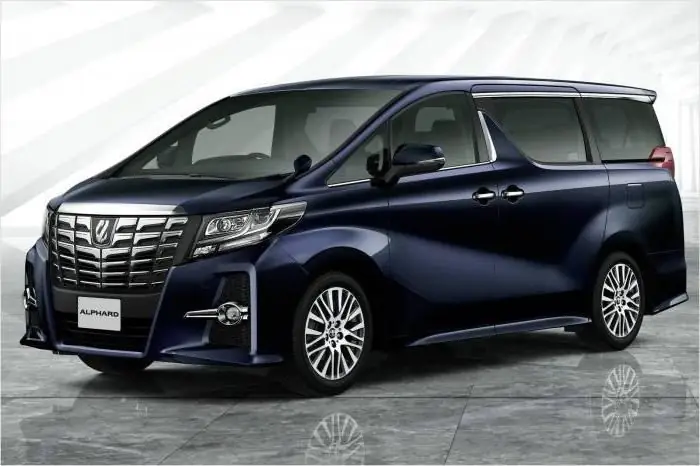 It is equipped with three engines: 2AR-FXE, 2AR-FE and 2GR-FE. The first is a 2.5 liter 4-cylinder engine with a capacity of 152 hp. with., twistingmoment 206 Nm. The second engine has the same design, but different settings, thanks to which the power and torque figures have increased to 182 hp. With. and 235 Nm. The most productive 3.5 liter V6 engine has a capacity of 280 hp. With. and a torque of 344 Nm.
4-cylinder versions are equipped with a stepless variator, and cars with a V6 - a 6-speed automatic transmission. For all options, except for the simplest, there is a choice of front or all-wheel drive. The least powerful version can only be all-wheel drive. The presence of such a transmission is a significant advantage for a model that is positioned as a family car for long trips.
McPherson type front suspension, double wishbone rear.
Alphard features a luxurious 7-seater interior finished with high quality materials. It has many electronic systems. In terms of design, equipment and comfort, this family minivan is comparable to business-class sedans and luxury SUVs, so it is used not only as a family, but also as a representative.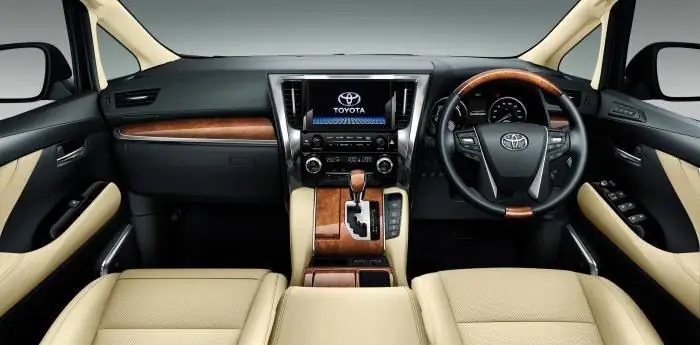 The cost in the local market starts at almost 3.3 million rubles, and in Japan - from $39.5 thousand.
According to the owners on the site Drom.ru, Toyota Alphard is the best minivan. They gave it 9 points. In the rating-avto.ru list, he took 5th place.
Honda Odyssey
This Japanese car has been produced since 1995. The 5th generation was released in 2013.
Odyssey is equipped with two engines: LFA and K24W. Both of them4-cylinder. The first volume of 2 liters develops 145 liters. With. and 175 Nm. The second has a volume of 2.4 liters and is found in three settings. Depending on them, it has power and torque indicators of 175 hp. s., 225 Nm, 185 l. s., 235 Nm, 190 l. s., 237 Nm.
2 liter engine is equipped with automatic transmission, and 2.4 liter version - CVT. The least powerful version is front-wheel drive, and some variants with 2.4L engines are equipped with all-wheel drive.
McPherson type front suspension, uncut beam rear (for front-wheel drive versions), or De-Dion type (for all-wheel drive versions).
The Odyssey's interior isn't as luxurious as the Alphard's, but it's quite modern and in line with its peers. In addition, it is 8-seater.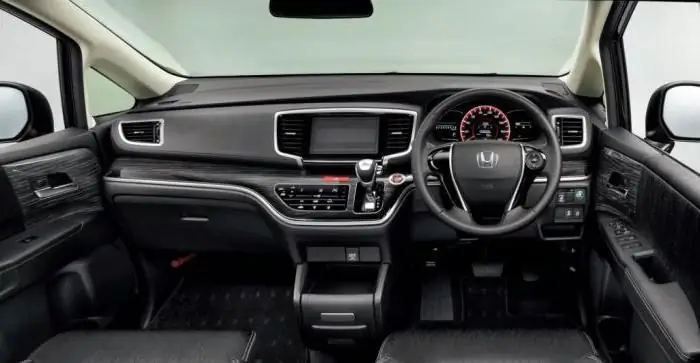 Price in the Japanese market is about $31k.
On the U. S. News minivan rankings, the Honda Odyssey ranks second. edmunds.com recommend it as the best minivan. The Internet resource autobytel.com ranked Odyssey 5th in the ranking of the most expensive minivans, 6th among new ones, 4th in the list of cars with the highest mileage on one tank of fuel, 9th among low-powered ones. The owners also rate this car highly (8.4 points on the Drom.ru website). In addition, the Odyssey received a very high safety rating from the EuroNCAP organization.
Chrysler Pacifica
This large family car started a new story this year, although the company has produced similar models before. However, some other American family cars had this name. It was first used forprototype of a luxury minivan in 1999. From 2004 to 2008. Pacifica was called a mid-size crossover. The new model is a large family car that is a descendant of the Chrysler Town & Country, which has been produced since 1982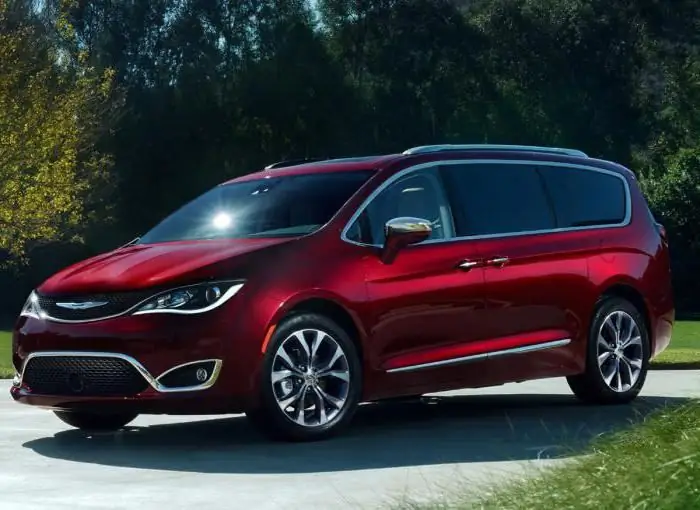 Two powerplants are available for the machine. Petrol 3.6 L V6 develops 287 hp. With. power and 355 Nm of torque. In addition to it, a hybrid version is available, including the same derated up to 248 hp. With. and 312 Nm V6 electric motor and 16 kW battery.
Pacifica is equipped with a 9-speed automatic transmission. Available in front- and all-wheel drive.
McPherson front suspension, rear multilink.
Salon can be 7- or 8-seater. There is an extensive list of both standard and optional equipment.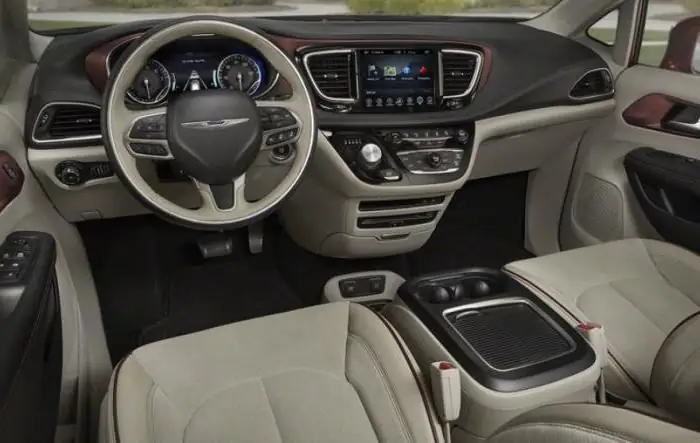 Prices in the US start at $28.6k.
Despite the fact that this car has recently appeared on sale, he managed to get good marks. So, the site U. S. News awarded him the first place among minivans. Autobytel lists the Pacifica as the 6th most powerful machine, the 10th most expensive, and the 3rd most economical.
Kia Carnival
Korean minivan produced since 1999. Since 2014, the third generation has been on the market. In America and Britain it is called Sedona.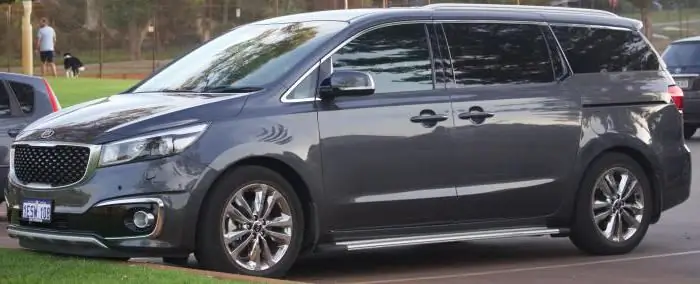 There are 2 engines available for the car. Diesel 4-cylinder with a volume of 2.2 liters develops 202 liters. With. and 441 Nm. The more productive 3.3L V6 haspower 280 l. with., torque 343 Nm.
Both engines are equipped with a 6-speed automatic transmission. The drive can also be only front.
McPherson suspension front, multi-link rear.
Salon is available in 7- and 8-seater versions. Its trim and equipment are up to par with family cars like the Chrysler Pacifica.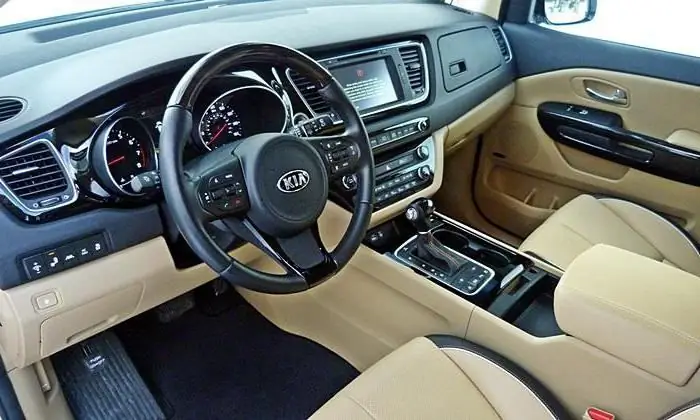 In the US market, the cost of Sedona starts from $26.5 thousand.
In the U. S. News ranking, the model takes 4th place. It is also recommended for purchase by edmunds.com. Autobytel.com ranked the Sedona 7th in new minivans, 8th in low-cost, and 5th in fuel-efficient.
Volkswagen Multivan
This European machine is an improved version of the Transporter produced since 1950. 6th generation in production since 2015.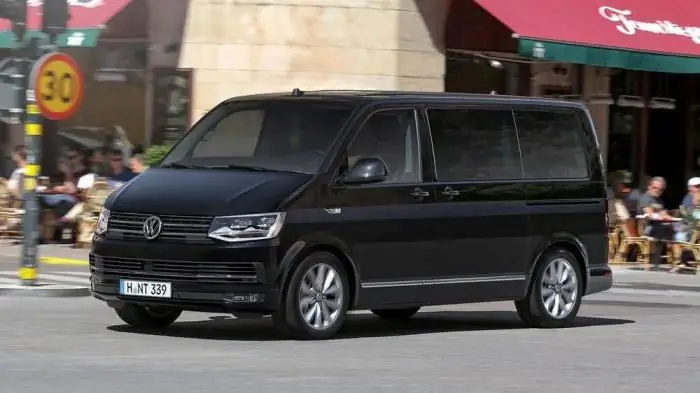 The car has an extensive range of 5 engines. Petrol versions are represented by two 2 liter turbocharged engines: the first develops 150 hp. With. and 280 Nm, the second - 204 liters. With. and 350 Nm. There are three diesel options. They are represented by a 2 liter four-cylinder turbocharged engine, which develops 102 hp depending on the settings. s., 250 Nm, 140 l. s., 340 Nm, 180 l. s., 400 Nm.
For the simplest petrol and second diesel engines, a 6-speed manual transmission is available. The least powerful diesel is equipped with a 5-speed manual. The most powerful diesel and petrol versions are equipped with a 7-speed robotic gearbox. All optionsfront-wheel drive, but all-wheel drive is also available for them, except for the least powerful gasoline and diesel engines.
McPherson front suspension, double wishbone rear.
7-seater salon is very well decorated and richly equipped in all trim levels due to the positioning of the model. Simpler versions have Transporter.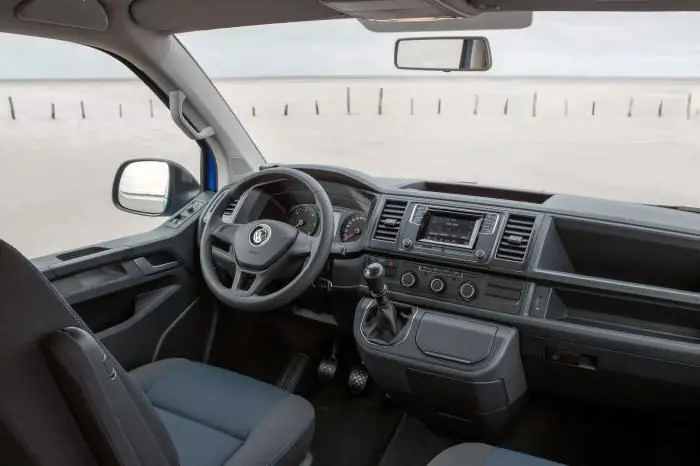 This explains the high initial cost of the car, which is more than 2.5 million rubles on the local market.
In 2014, the Multivan was voted the best family car in Europe, although it was a legacy model.
Chinese models
Above, family cars from manufacturers known around the world were considered. Chinese cars can not be compared with them in terms of prevalence. This is primarily due to the fact that many Chinese minivans and other models are available only in the home market or are supplied to developing countries. What's more, many machines are based on well-known manufacturers.
Cars from China in general, including Chinese minivans, are attractive with a very favorable price-to-equipment ratio. At a cost at the level of budget models, many of them are equipped with a class higher. However, often such machines have problems with quality, reliability and safety. In addition, in terms of technical perfection, they are usually at the level of cars of the end of the last century. So, many Chinese manufacturers use licensed Japanese engines from just those times.
Geely Emgrand EV8
Thisthe 2010 model has a very rich 7- or 8-seater interior. The manufacturer tried to bring it closer in terms of finishing to world-class mid-level models like the Honda Odyssey discussed above. The technical base is also perfect enough for a Chinese car. Emgrand EV8 is equipped with 4-cylinder engines of 2 and 2.4 liters. The first develops a power of 140 liters. s., the second - 162 liters. With. They are equipped with a 5-speed manual or 6-speed automatic transmission. The design of the running gear is traditional: McPherson in front, uncut beam in the back. The cost in China starts from 100 thousand yuan.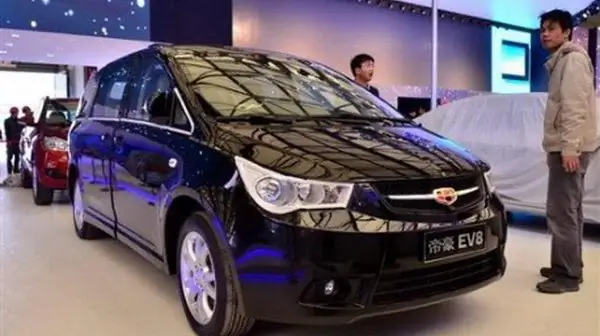 Chery Cross Eastar
A more traditional budget Chinese model, produced since 2008. In terms of body shape and interior configuration, it looks more like a station wagon than a minivan. 7 seats in a simply trimmed cabin correspond in terms of economy class cars. This model is equipped with a 2 liter four-cylinder engine with a capacity of 136 hp. With. complete with 5-speed manual transmission. Front drive. McPherson front suspension, rear, which is unusual for such a budget car, a multi-link design.
Great Wall Cowry
Minivan 2008 with 7 seats. It is a prime example of copying design from leading manufacturers. In this case, the Toyota Voxy was taken as the basis for both the exterior and the interior. In terms of workmanship and technical parameters, the model traditionally lags behind the original. Cowry equipped with 4-cylinder licensed enginesMitsubishi. The 2 l version is available in two performance versions: 105 l. With. and 143 l. With. 185 Nm, 2.4 liters develops 163 hp. s., 200 Nm 2 l machines are equipped with a 5-speed manual transmission, 2.4 l options - a 4-speed automatic. McPherson front suspension, rear semi-independent.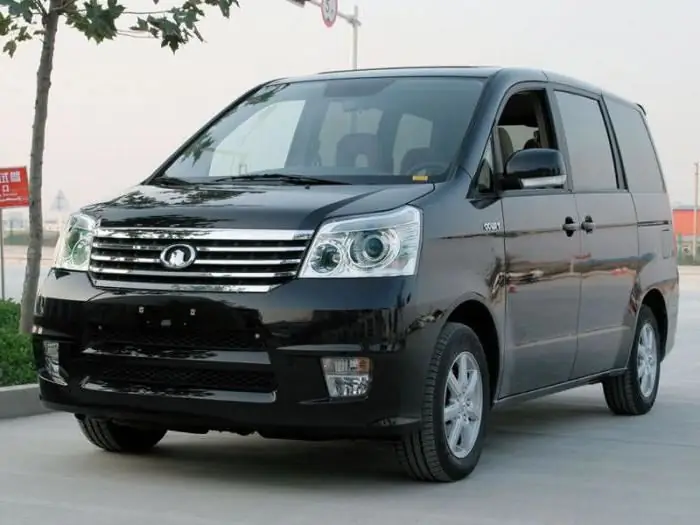 Other models
Above, only some models of minivans were considered. Such cars of this type as Renault Espace, Mercedes Benz V-class, Mazda 5, Toyota Sienna, Opel Zafira, etc. are also very popular in the world market.
Marketplace
Minivans and passenger vans are very popular in major markets: Europe, North America and many countries in Asia. In Europe and Japan, compact and mid-size models are most in demand among such cars. In the North American market, full-size family cars are traditionally popular. In developing Asian countries, simple inexpensive models are most often bought. On the local market, the class of minivans is one of the least in demand. We althy consumers use mid-size and full-size SUVs and even similar-sized sedans as family cars. People with modest financial resources get what they need: mostly compact sedans and crossovers. Passenger minibuses are used mainly for commercial purposes. Station wagons are also unpopular. Thus, family cars traditional for the whole world, such as minivans and station wagons, are not common in the local market, with the exception of SUVs.
Recommended: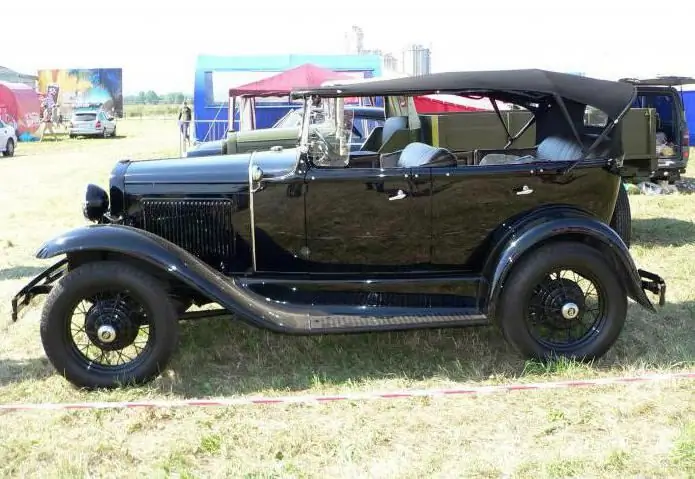 The Soviet Union was considered a powerful country throughout the world. In the USSR, they reached great heights in science and medicine. It was the Soviet Union that conquered space and launched a technology race that would turn the whole world history upside down in the future. It is thanks to the best minds of the USSR that the space industry will then begin to develop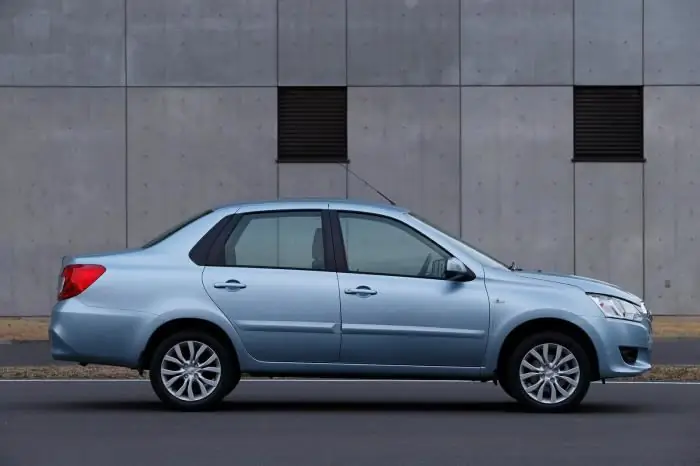 To buy a budget and at the same time reliable car, you need to choose wisely. What models from the Japanese car industry are suitable for this purpose?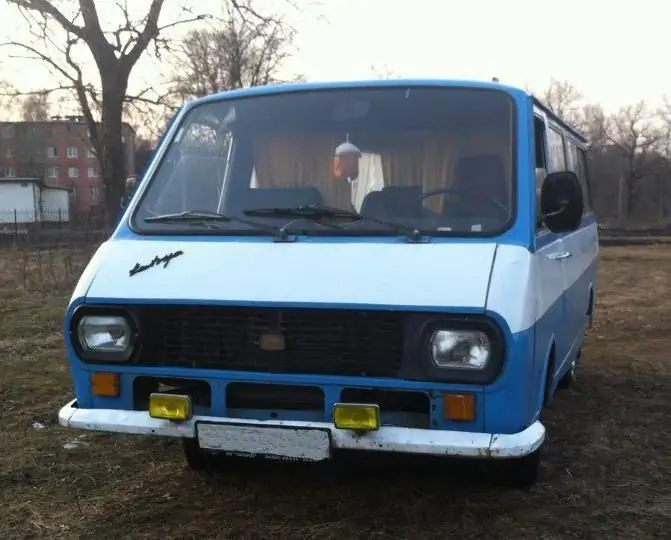 Everyone has seen such cars. Someone went to work on this, someone to study, someone worked for such. In addition to passenger versions, there have been very successful developments of cars for official use. This is a minibus, and not just a minibus, namely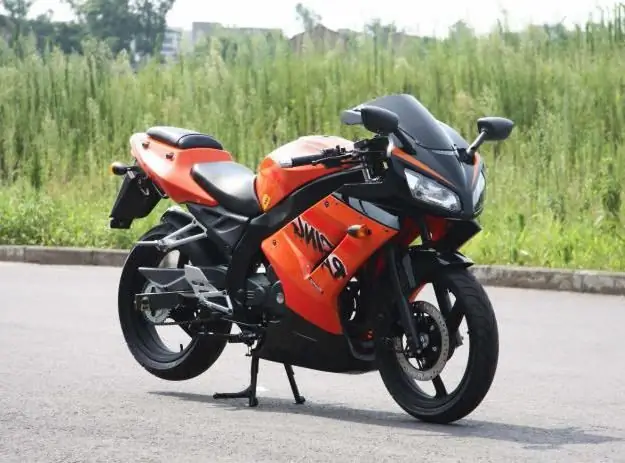 Motorcycles are used in almost every area and field of activity. The most common on the roads of modern Russia are Chinese motorcycles of 250 cubic meters. An overview of popular models and their characteristics, read the article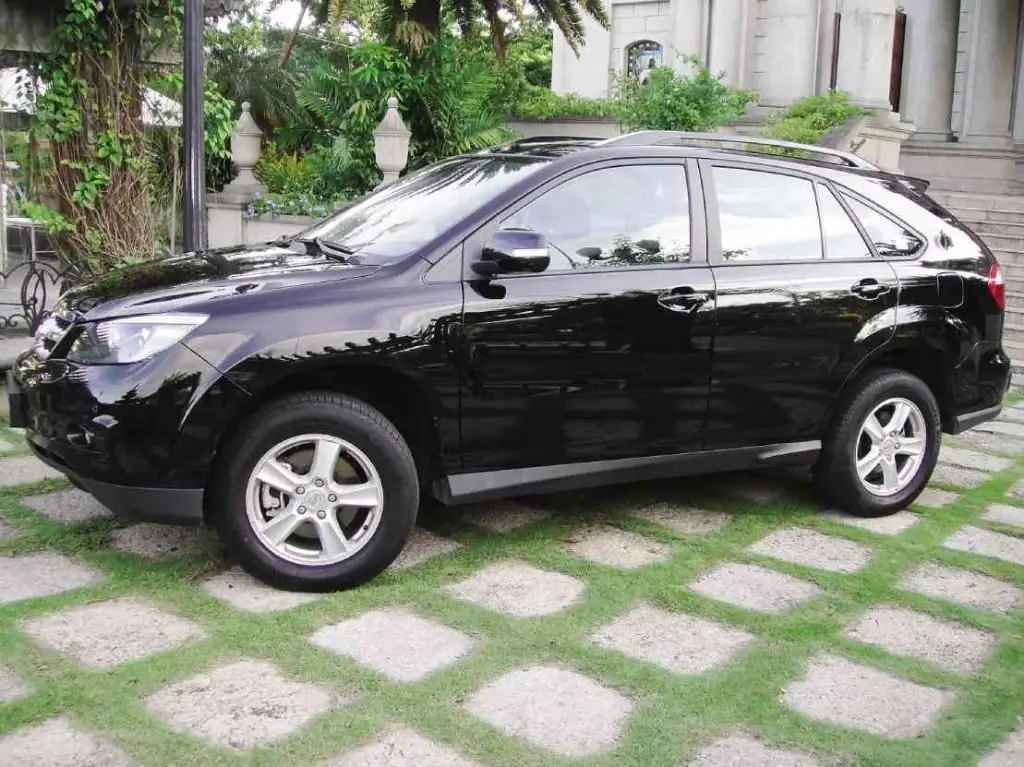 Chinese 4x4 vehicles are becoming more and more popular in many countries around the world. In Russia, their sale is also flourishing. Therefore, it is worth figuring out what is the demand for them, what they are and what kind of cars people love the most