Cargo commercial vehicles (including mining trucks) are not the last in production. It plays a major role in the process of delivering goods of various origins. All work and further development of mining and processing plants and enterprises depend on its effectiveness. Many people know about the size and power of Belarusian mining dump trucks, namely BelAZs. But recently the plant decided to set a record by creating the largest car in the world called BelAZ-75710. Serial production of this truck started this year (2013) and today we will look at what it really is, the new 75710th dump truck.
Specifications
According to passport data, the world's largest vehicle BelAZ-75710 is capable of transporting bulk materials weighing up to 450 tons. To date, no modern dump truck can boast of such an indicator of carrying capacity. Therefore, even during development, the Belarusians applied for a bookGuinness World Records, describing the new BELAZ as the largest car. You can see a photo of this colossus just below.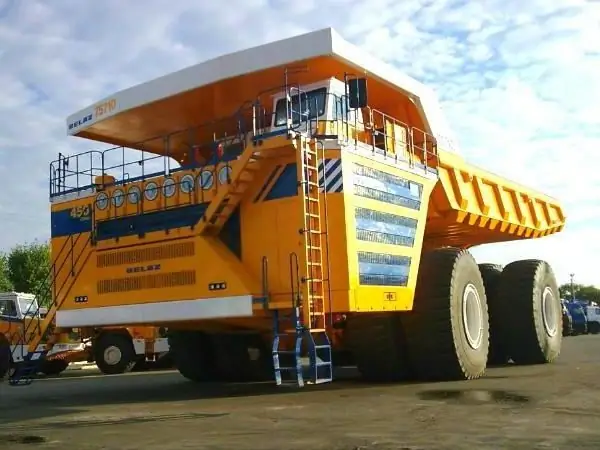 Continuing on the technical specifications: the dump truck, with its gross weight of 810 tons (empty, it weighs about 360 tons), is equipped with a huge diesel engine, whose power is 4,600 horsepower. This is more than 10 times more than the capacity of modern KAMAZ. Thus, the novelty is capable of transporting about ten wagons of coal at the same time, and 4 large twin wheels allow the car to move not along rails, but along a conventional dirt track. Each pair of wheels (there are 8 in total) has its own drive, while the maximum speed of the car is about 64 kilometers per hour. As for the transmission, it was developed jointly by Belarusian developers and Siemens. As a result, the dump truck is equipped with an 8-speed electromechanical gearbox.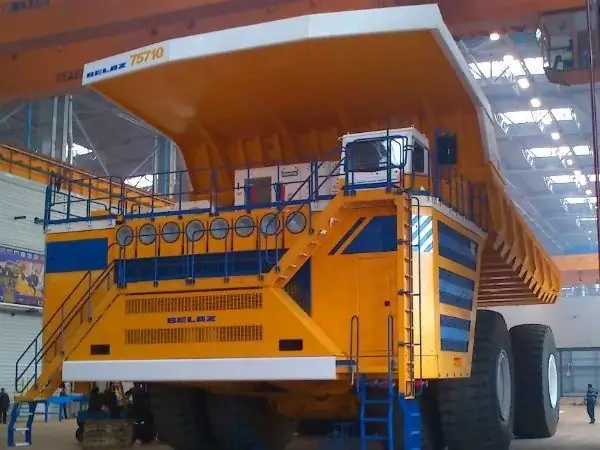 Besides all this, the world's largest car BelAZ-75710 has a number of other features, including new Michelin tubeless pneumatic tires. Among the new electronic assistants, one cannot fail to mention the ROPS system, which allows the dump truck to move without any tipping over during cargo transportation. The noise level and the norm of environmental emissions now fully comply with modern European requirements, which makes it possible to use the world's largestcar BelAZ-75710 not only in Belarus, but also in all countries of the world.
Conclusion
In conclusion, I would like to note that the development of a new BelAZ-75710 commercial vehicle has become a new step in the development of the Belarusian industry, and now it is possible that this particular model will become the world standard for mining dump trucks. This level was achieved through the implementation of high technologies in the development, complex calculations and tests.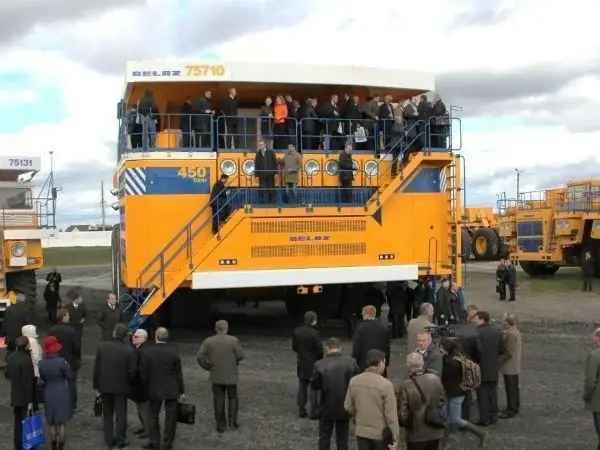 Now we can definitely say that the world's largest car BelAZ-75710 will have no competitors at all in the next 10 years.
Popular topic