In recent years, a special class of off-road motor vehicles - a pit bike - is rapidly gaining popularity in our country. There are several reasons for this. The price is of no small importance. Not everyone can afford a full-size cross-country vehicle, but pit bikes are quite affordable and have all the prerequisites for purchasing as a "familiar" motor transport. Riding these small motorcycles is an exciting hobby that is suitable for both the younger generation gaining experience in riding a motorcycle, and for quite serious and accomplished riders who are looking for unusual sensations from riding a new class of equipment. Irbis ttr 125r is a representative of this category of motorcycles, well known to motorists. What is interesting about this model?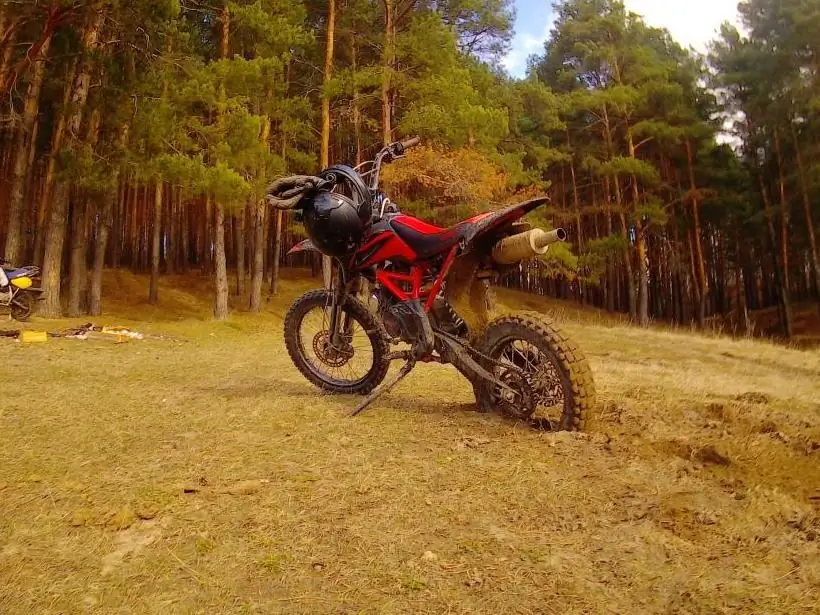 The birth of a class
Initially, pit bikes were used by technical staff during the preparation and conduct ofcompetitions in sports car and motorcycle disciplines. These small motorcycles were conceived as a means of quickly moving around the "pit lane", and this is what they owe their name to. The first to give pit bikes their familiar look were the engineers of the Japanese company Honda. So, in the late nineties, they launched into mass production a motorcycle model of small dimensions and with a small-capacity engine called the Honda CRF 50. Despite its modest size, this baby was already fully prepared from the factory for races on cross-country tracks. When holding competitions, it has since become customary to single out pit bikes in a separate class.
Reliable and unpretentious
Below in the photo Irbis ttr 125r, mass-produced by many manufacturers mainly in China. In many ways, he resembles his classmate from Japan, but significant differences lie behind the external similarity. The motorcycle is equipped with a four-stroke internal combustion engine with a volume of 125 cubic centimeters. This power unit is built on the basis of a motor that was once installed on another model from the Honda company - the Honda Cube, widely known throughout the world.
Despite the fact that the progenitor of this motor was operated in completely different road conditions, motorists are extremely positive about the engine of the Irbis ttr 125r motorcycle. The reviews speak of trouble-free operation for many hours, subject to the temperature regime and the oil change interval. The volume of the oil sump is only 950 grams, which has nosave on this procedure and more often delight the engine with new oil. In the basic version, a kickstarter is used in the engine start system, however, depending on the configuration, a specific instance of the Irbis ttr 125r can be equipped with an electric starter. The motor consumes AI-92 gasoline, the consumption is very low, which is expected for such a cubic capacity. With a tank volume of just over four liters, it is enough for about 5-8 hours of active driving.
Wheels and suspension
Pitbike has a wheel arrangement of quite a standard value for this type of equipment. Front disc -17, rear -14. The front suspension is a classic inverted fork with a diameter of 33 mm, the rear is a monoshock with a direct-to-swingarm mounting system, the progression unit is not used. The suspension travel of the Irbis ttr 125r is 150 millimeters both front and rear. This is enough to move through almost any type of terrain - from gentle slopes and plains to mountainous terrain.
Max load
The spinal frame, welded from tubular elements, means the motor is mounted in its lower part, as if in a suspended state. The Irbis ttr 125r is quite suitable for use by an adult rider of average build, however, it should be remembered that exceeding the maximum load on the pit bike structure, which is 125 kilograms, can lead to premature failure of the motorcycle components and assemblies, as well as deformation of the frame structure.
Recommended: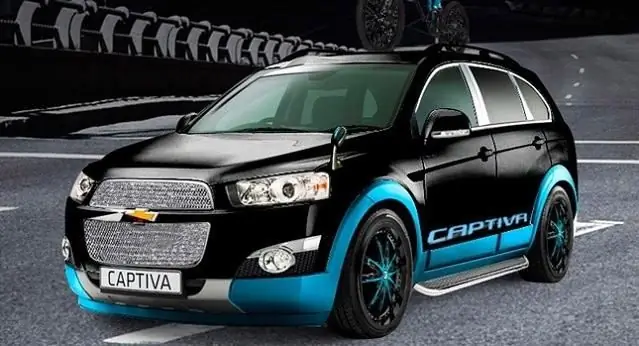 Under the name Chevrolet Captiva, the car is sold in India, Europe, South Asia and the Middle East. And in South Korea, this car is called Daewoo Winstorm, the Australians and New Zealanders - Holden Captiva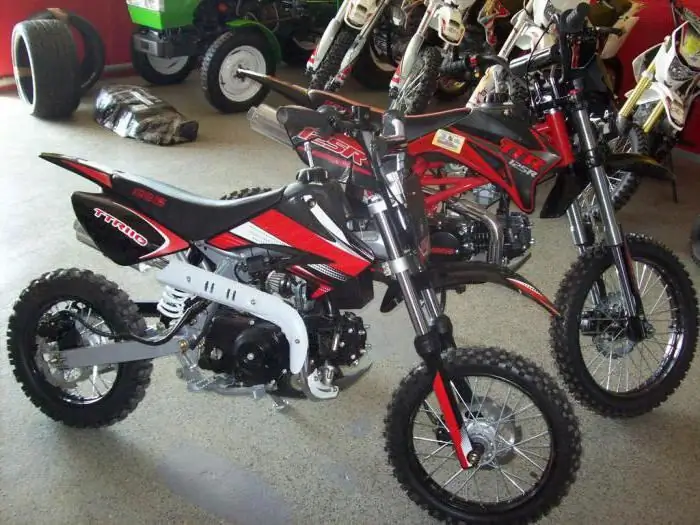 This article will focus on the famous pit bike "Irbis" TTR-110. Consider its features, positive aspects, as well as customer reviews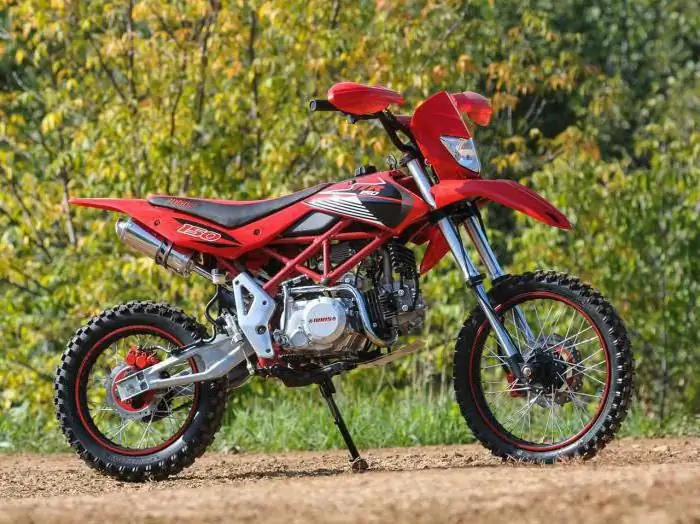 The Chinese motorcycle "Irbis TTR 150" is considered one of the best representatives of the class. It is used, as a rule, in extreme competitions. Irbis Motors has long introduced several models that are part of the enduro class. Recently, the transport range was replenished with a middle peasant, who received an engine of 140 cubic meters. This model is considered the most optimal for those people who want to have a motorcycle of small dimensions and low cost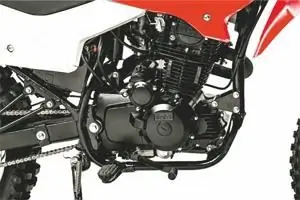 If you want to choose a motorcycle for yourself that would cost a little, be easy to maintain and at the same time could go where SUVs never dreamed of, then after reading the information provided in the article, you will definitely make your choice
The Irbis TTR 250 motorcycle is an ordinary Chinese budget option. By being careful during the purchase, you can get a fairly cheap enduro, which, with some luck, can even last several seasons