American cars are not very popular in Russia. Many associate them with something expensive and voracious. Some cars from the USA really fit such criteria. But in America, quite family cars are also produced. One such example is the Chrysler Voyager. Owner reviews of this minivan are generally positive. And today we will take a closer look at what this car is.
Characteristic
So, what is this car? The Chrysler Voyager is an American five-door, eight-seat minivan built on a front-wheel drive platform. This machine was developed not only for the North American market. Many models were exported to Western Europe. Also note that Voyager is a complete copy of the Dodge Caravan minivan. The main target audience is family people, for whom practicality and interior space come first.
Design
Although this car was onEuropean market, her design is purely American. In front - a huge chrome grille with a corporate emblem, no less large headlights and a massive bumper with two foglights. Externally, the car vaguely resembles an SUV. What this minivan looks like from the outside, the reader can see in the photo below.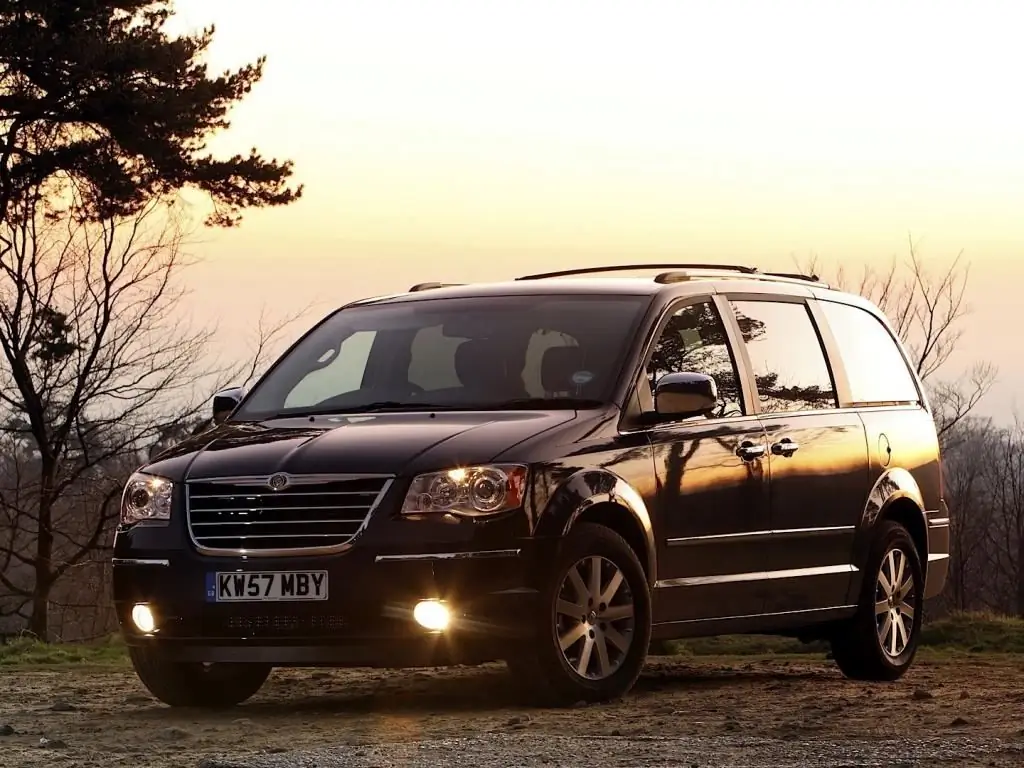 Flaws in bodywork
Chrysler Voyager is a truly American car, distinguished by its pathos and massiveness. Despite the fact that the production of cars was discontinued in 2016, the design of the car is quite fresh. But as the reviews note, the Chrysler Voyager is prone to corrosion. The body needs to be monitored and maintained regularly. Especially metal does not like our reagents. Often, on ten-year-old specimens, mushrooms and rusty spots appear on the arches, sills and on the bottom. This is perhaps the main drawback of the American minivan, reviews say.
Chrysler Voyager: dimensions, ground clearance
The car has a fairly solid size. So, the total length of the car is 5.18 meters, width - 2, height - 1.75 meters. The wheelbase is 3078 mm. At the same time, the minivan does not have high ground clearance. On standard wheels, its size is only 15.5 centimeters. Given such a long base, there is no need to talk about the cross-country ability of the Chrysler Voyager minivan. This machine is not designed for dirt roads. Its main element is the track. We also note that, in addition to its impressive size, the Chrysler Voyager has a solid mass - about 2145 kilograms. Also, the car is able to take on board up to 630 kilograms of luggage. Total tot althe mass of the machine reaches almost 2.8 tons.
Salon
Due to the large doors and low thresholds, getting into the car is very comfortable according to reviews. Inside the car looks no less presentable. For the driver, a four-spoke multifunction steering wheel with a comfortable grip and a leather seat with electric adjustments are provided. In addition, the seats are equipped with armrests. This applies to both driver and passenger seats. There is really a lot of space in the cabin, as evidenced by the reviews.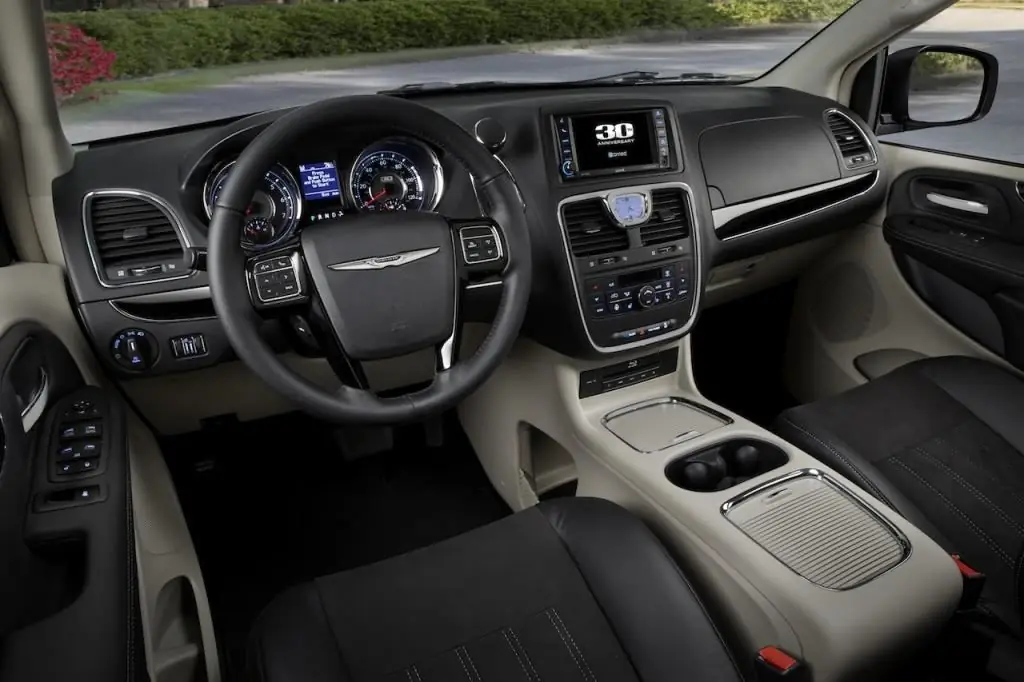 Everywhere there are convenient niches and compartments for things. The instrument panel with chrome-plated edging of dials also looks unusual. The gear lever is in a special place. If on many American cars it is placed near the steering column switches, then here the handle is located on the front panel. In general, the location is convenient. And to see which box mode is currently on, the driver will be able to thanks to the digital indicator on the instrument panel. Between the driver's and passenger seats is a roomy box for things. There are also two cupholders here. On the center console is a multimedia system with an on-board computer, a climate control unit and a pair of deflectors. Analog clocks look very unusual against this background. You will definitely not see this on European minivans.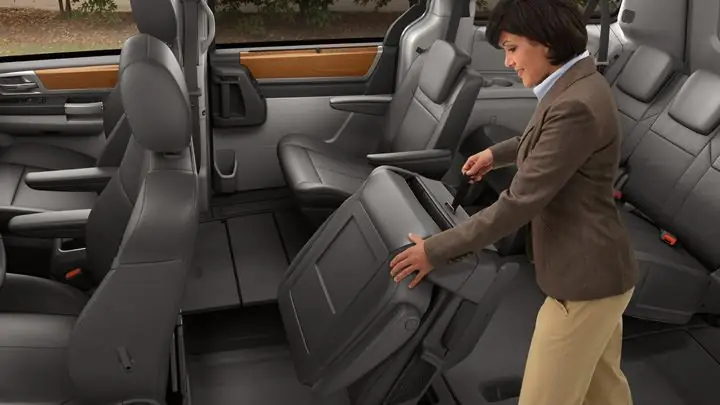 Let's move back. Voyager's interior is organized as follows: "2+2+3". The first two rows have electrically heated seats with a widesetting range. But behind is a three-seater sofa. But as the reviews note, the Chrysler Voyager can only accommodate two adults here.
Trunk
One of the main advantages of the American Voyager is the trunk. It can hold up to 934 liters of luggage. At the same time, it is possible to fold the rear row of seats. Thus, even small-sized furniture can be transported. The maximum volume of the trunk with the seats folded down is 3912 liters. Another plus of a minivan is a flat floor. Due to the high roof and flat floor, you can move around the cabin without any problems, reviews say.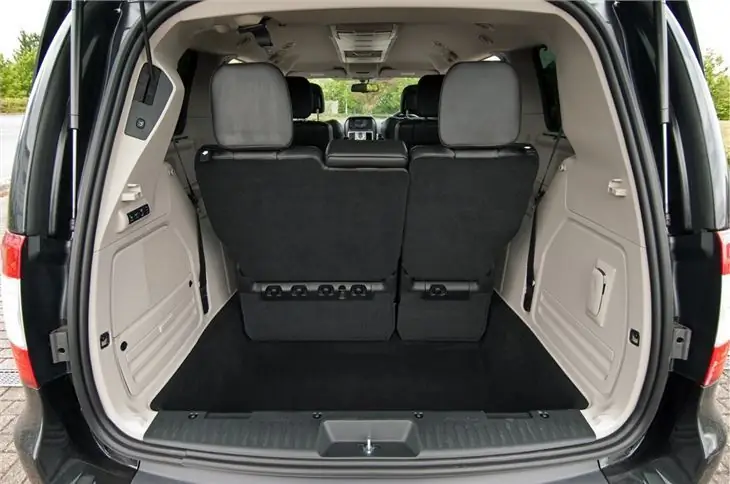 Equipment level
Among other features, it is worth noting a good level of equipment. Already in the basic configuration there is:
Front and side airbags and curtain airbags.
Acoustics for nine speakers with a subwoofer.
17" alloy wheels.
Three-zone climate control.
Xenon headlights.
Heated seats.
Power windows for all doors.
Specifications
The buyer was offered a choice of two power units. But the transmission is always the same. This is a six-band machine. Torque is transmitted to the front wheels.
A 2.8 liter diesel engine is available as standard. This is an in-line four-cylinder turbocharged unit with direct injection and a 16-valve head. Maximum power - 163 horsepower, torque - 360 Nm. As notedreviews, "Chrysler Voyager" (diesel, 2.8 l) has good traction already from one and a half thousand revolutions. The average fuel consumption is 8.5 liters. Efficiency is a big plus, but, as the reviews say, the Chrysler Voyager (2.4 l) is by no means a fast car. Suffice it to recall that the mass of an empty minivan is more than two tons. Up to a hundred in the best scenario, the Chrysler Voyager accelerates in 12.8 seconds. The maximum speed is 165 kilometers per hour.
Also note that older models also had a 2.5-liter diesel engine. According to reviews, the Chrysler Voyager (diesel, 2.5 l) also does not differ in acceleration dynamics. This 143-horsepower car accelerates to hundreds in 12 seconds. But, as the reviews say, the Chrysler Voyager (2.5 L) is very reliable, as it does not have a complex injection system.
In a more expensive configuration, the American minivan was equipped with a gasoline naturally aspirated six-cylinder engine. This V-shaped unit had a volume of 3.6 liters and developed power up to 283 horsepower. the engine is distinguished by distributed injection and a 24-valve gas distribution mechanism. Torque - 344 Nm at 4.4 thousand rpm.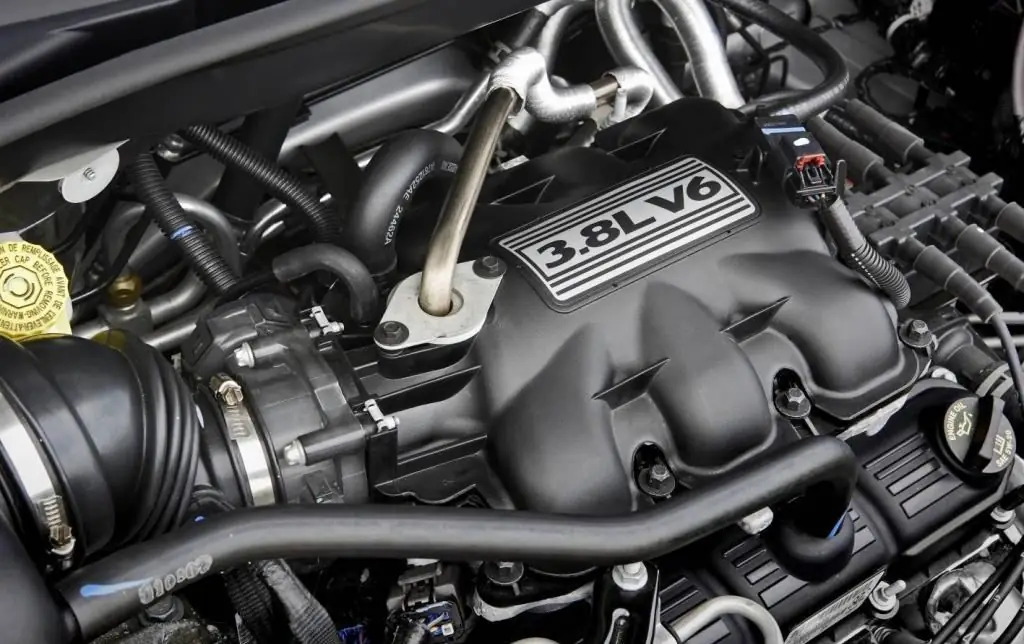 Unlike the previous unit, the power is very impressive. According to passport data, the car is gaining a hundred in 9.5 seconds. This is a good result. The maximum speed is 208 kilometers per hour. But you need to understand that such a motor will definitely consume more. The minimum consumption is 11 liters per 100 kilometers. In the city of Chryslercan eat up to 15 liters. Therefore, for those who care about savings, a "solid fuel" unit is recommended. What can be said about the reliability of a gasoline engine? The engine does not have a complex injection system and is characterized by the simplest possible design. Any minder can carry out a major overhaul (which, fortunately, will be required on the run no earlier than three hundred thousand). But diesel internal combustion engines have expensive fuel equipment. In order not to give a lot of money for repairs, it is worth refueling at proven gas stations, changing filters on time and periodically cleaning nozzles.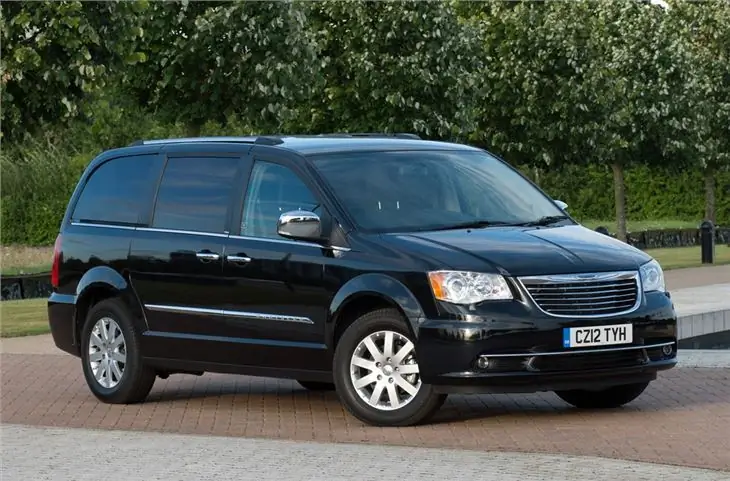 Chassis
This car is built on the Chrysler RT front-wheel drive platform, where the engine is located transversely. Front - independent suspension "MacPherson" with springs and anti-roll bar. Behind - a semi-dependent beam with a jet bar. Steering - rack-and-pinion with hydraulic booster. The brakes are fully disc, already in the basic version there is an ABS system and brake force distribution. The main disadvantages of the Chrysler Grand Voyager minivan are reviews that include a small resource of stabilizer struts. They do not like our roads and often require replacement.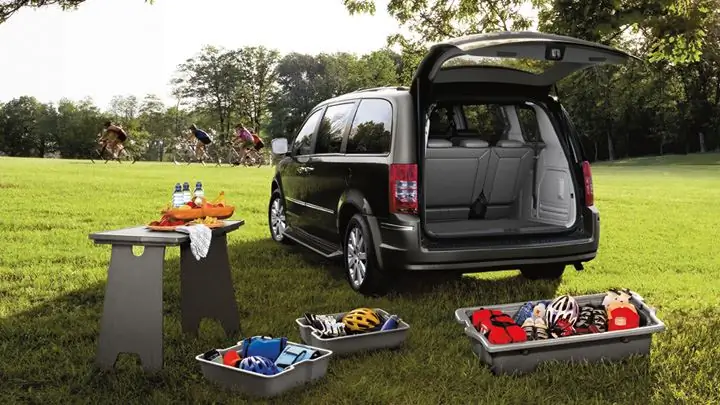 How does the Chrysler Voyager behave on the move? Owner reviews say that the car handles well, despite its class and large mass. Yes, this is not a sports car, but the car enters the corners quite confidently. As the reviews say, the Chrysler Voyager has a soft and long-travel suspension. The steering wheel is light and not devoid of feedback. Brakes work great.
Conclusion
So we've looked at what the Chrysler Voyager is. Who is this minivan for? This "American" should be considered for purchase by those people who often travel outside the city with a large family. The car is comfortable, unpretentious in service. But the version with a gasoline engine is frankly voracious when compared with diesel engines.
Popular topic