Fiat minibuses are a good option when you need to regularly carry passengers or cargo. They combine reliability and great design.
The concept of minibuses
These are small class buses that differ in length and number of seats. Their length, according to some data, should be up to 5 meters, according to others - up to 6. The same disagreements apply to the number of passenger seats: 8-10 or 9-15 seats.
Therefore, such confusion with the definitions and among car owners. Most often, small buses and minivans also belong to this class of cars. The minibus differs from the former in length, and from the latter in the number of passenger seats.
Vans are also often included in the category of minibuses. The features of vans include the absence of rear side windows, increased body height and the presence of a partition between the passenger compartment and the cargo compartment.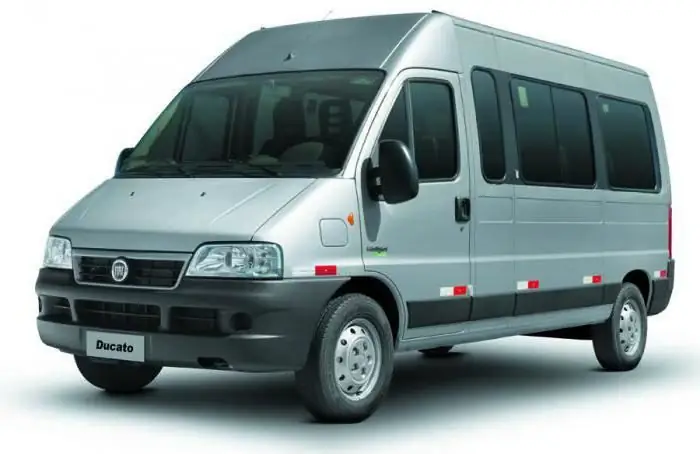 And since the division of cars into these classes is somewhat arbitrary, in the article we will consider Fiat minibuses, the lineup of whichincludes minibuses, minivans and vans.
Lineup
Fiat is an Italian car manufacturer. A certain volume of the entire production of the company is occupied by Fiat minibuses. The lineup (photos are available in the article) of a car with this type of body is represented by several models:
"Fiat Ducato";
"Fiat-Doblo"
"Fiat-Scudo".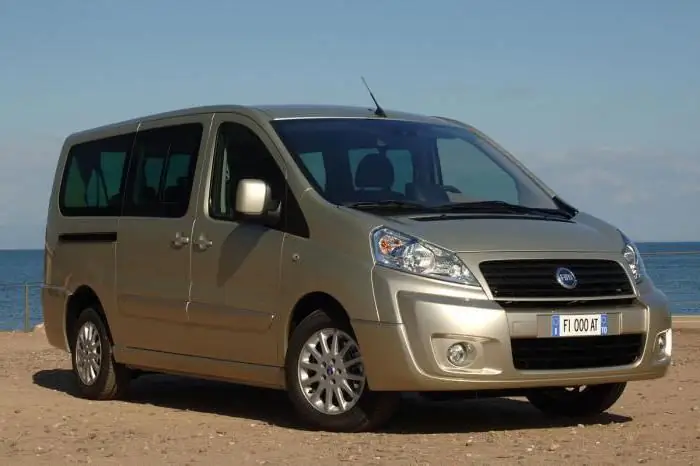 All these Fiat minibuses have been produced for several years. They have various modifications.
Ducato
This model is reliable, economical, comfortable and practical. It is produced in three bodies: minibus, van and combi. You can also choose from three wheelbase lengths and two body heights.
From 1981 to 1994, the Fiat-Ducato was produced in three models:
Chassis (single cab or double cab truck). A diesel engine with a volume of 1.9 liters and a power of 69 liters was installed on it. s.
Fiat-Ducato-Van (van) with 1.8L and 2.0L petrol engines and 1.9L and 2.5L diesel engines.
"Panorama". This is a minibus with 8 passenger seats. It was produced with engine volumes of 1.9 l (diesel), 2.0 l (gasoline), 2.5 l (diesel).
In 1994, the Fiat Ducato Van and Fiat Ducato Panorama were changed, but production continued until 2006.
Since 1995, the production of the Fiat-Ducato Cabinato, which is still in production.
Doblo
Fiat-Doblo minibuses began to be produced in 2000. New models are still emerging. It is the manufacturer's most successful commercial vehicle, versatile and flexible.
Fiat-Doblo was produced in various modifications, differing not only in engines, but also in bodywork.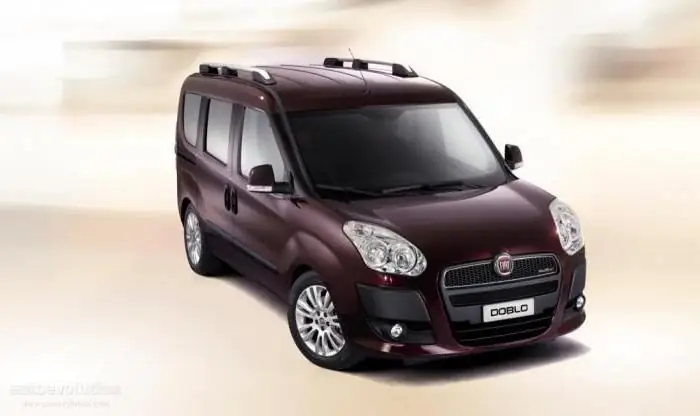 From 2000 to 2004, models were produced in the following modifications:
1, 2L, 80L Fuel Injection Petrol with., up to a hundred accelerates in 16 s, 5MKPP, front-wheel drive.
1, 2L, petrol, top speed 142 km/h, power 65 hp s.
1, 6L, gasoline, 13L. with., accelerates to 168 km/h.
1.3L Diesel Direct Injection Turbo 70HP with., acceleration to hundreds in 15 seconds.
1, 9 l, prechamber diesel, power 63 l. s., it takes 20.9 sec. to accelerate to hundreds.
1.9L Common Rail Diesel Injection Turbocharged 101HP s., accelerates to 100 km/h in 12.4 seconds.
In 2004, the car has undergone changes. Improved models were produced for another 5 years. In 2009, Fiat-Doblo-Cargo minibuses went on sale. They also had various modifications and versions. Engines were installed on them 1.4 liters and 1.6 liters of gasoline, as well as 1.3 liters and 1.9 liters of diesel. In addition to the main one, versions of "Maxi" and "Long" were produced. The release of these models continues to this day.
Another model, the release of which is alsostarted in 2009, "Fiat-Doblo-Panorama". It is produced only in three modifications: 1.4 l gasoline, 1.3 l and 1.9 l diesel. Their production continues.
Skudo
Since 1998, Fiat has begun producing a new group of cars under the general name "Scudo".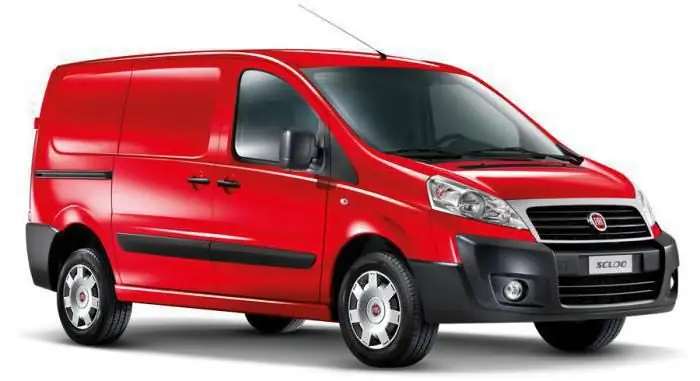 The first generation of Scoobo Combi was assembled until 2003. Three types of engines were used: gasoline with a volume of 1.6 liters and 1.8 liters, diesel 1.9 liters.
Since 2003, only one modification of the Scudo-Combi has remained - a 2.0 liter turbodiesel. It was assembled until 2006.
At the same time, the production of the Skudo-Van van began. The first generation was equipped with a 1.9 turbodiesel engine. The second generation (since 2007) already had three engine options:
2, 0L petrol;
2, 0 L Myltijet;
1, 6L JTD.
Since 2007, Skudo-Panorama minibuses have also been produced in three variations:
1.6L JTD direct injection, 4 cylinders, front wheel drive, speeds up to 145km/h, consumption 7.2L mixed driving, 90hp. s.
2, 0L Myltijet, 118L s., turbocharged, direct fuel injection, front-wheel drive, top speed 160 km / h, 7.4 liters of fuel are spent per 100 km.
2, 0 l petrol, distribution injection, front-wheel drive, power 138 hp. s.
Reviews
Many fans of bigger cars choose Fiat-Scudo minibuses. Reviews are different. Most of them are positive.The owners describe the vehicle as reliable, comfortable, roomy. There are complaints about the stiff suspension, frequent "bugs" on the body.
"Doblo" according to reviews is a practical, economical, versatile car with good cross-country ability and carrying capacity. Of the minuses - a minimum of comfort and average handling.
Positive reviews are also left by the owners of Ducato. Profitability, large dimensions, spaciousness, reliability - these are the characteristics given to it. Disadvantages - low ground clearance. Many owners feel that the car is too low.
When choosing a minibus for yourself, be sure to pay attention to Fiat products. Italian cars are reliable, spacious and economical.
Popular topic