The Toyota Hilux pickup truck debuted back in 1967. Initially, this car was produced exclusively for the domestic market of Japan, and only in 2005 it was introduced to European motorists, and since 2010 it has been sold in Russia. From 1967 to 2004 5 generations of this model were released, and in the spring of 2005 the sixth generation Toyota Hilux debuted. Production of this model began immediately in four countries of the world: South Africa, Thailand, Indonesia and Argentina.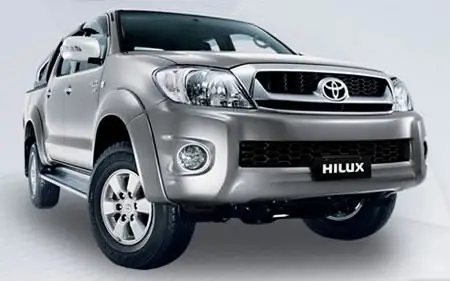 The main difference of the new car "Toyota Hilux" is a reinforced spar frame, upgraded front and rear suspensions, more economical engine. The pickup truck is available with three types of cabs: ordinary, extended and double. The length of the car has increased by 340 mm, now it is 5130 mm. The wheelbase was increased to 3085 mm, which allowed to increase the interior space in the cabin and in the car body. The increase in the wheelbase was also reflected in the ride of the car - it became more comfortable. Compared with previous generations, the new Toyota Hilux model has significantlythe build quality has improved: panels made of high-strength steel with an anti-corrosion coating are fitted closer to each other, the gaps between them have been reduced to 4-5 mm. Due to the aerodynamic shape, fuel consumption has been reduced and wind noise has been reduced when driving.
The Double Cab pickup can comfortably accommodate five people. The rear seats have become longer, it became possible to change the tilt of the back. Added adjustable headrests. It became possible to fold the rear seat, which increases the volume of the luggage compartment. The interior is decorated with high-quality materials, the upper part of the cabin is covered with a special anti-shock coating.
The 2005 Hilux came with a five-speed manual gearbox, with a differential lock available as an option. Pickups were produced in the form of full-fledged SUVs and economical 4x2 versions.
Since 2006, all-wheel drive variants with a four-door cab began to be equipped with 3-liter turbodiesel engines with a capacity of 171 hp. With. These engines worked with both five-speed manual and four-speed automatic transmissions. With "mechanics" pickup "Toyota Hilux" speeds up to 170 km / h, and with "automatic" - up to 175 km / h. Fuel consumption was 8.3 liters per hundred kilometers.
Toyota Hilux is supplied to the Russian market with two types of diesel engines: direct injection and turbocharged. Unit with a volume of 2.5 liters with a capacity of 144 liters. With. equipped with a five-speed manual gearbox, and the one that has indicators of 3.0 liters and 171 liters. s., - five-speed automatic gearbox. Both models are equipped with all-wheel drive and a front differential disengagement system. In the combined cycle, fuel consumption for a 2.5 liter engine is 8.3 liters per hundred kilometers, and for a 3.0 liter engine - 8.9 liters per hundred.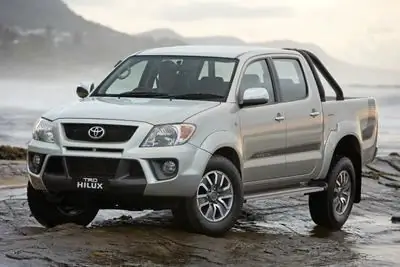 In 2013, Toyota introduced the updated Hilux New SUV. Increased ground clearance, reinforced suspension, increased frame and body strength - these are the characteristics of the new Toyota Hilux model. Reviews of motorists about this car vary, because how many people, so many opinions. But they all boil down to the fact that the Hilux pickup truck is an unpretentious "hard worker". Particularly good for cross-country driving, economical and reliable.
The last thing you should pay attention to is the price. "Toyota Hilux" in Russian car dealerships costs from 1,090,000 rubles (with a 2.5-liter engine) and from 1,408,500 rubles (with a 3-liter engine). The final price of the car will depend on the configuration you choose.
Popular topic